National Security in the Trump Era Is Focus of Reagan Defense Forum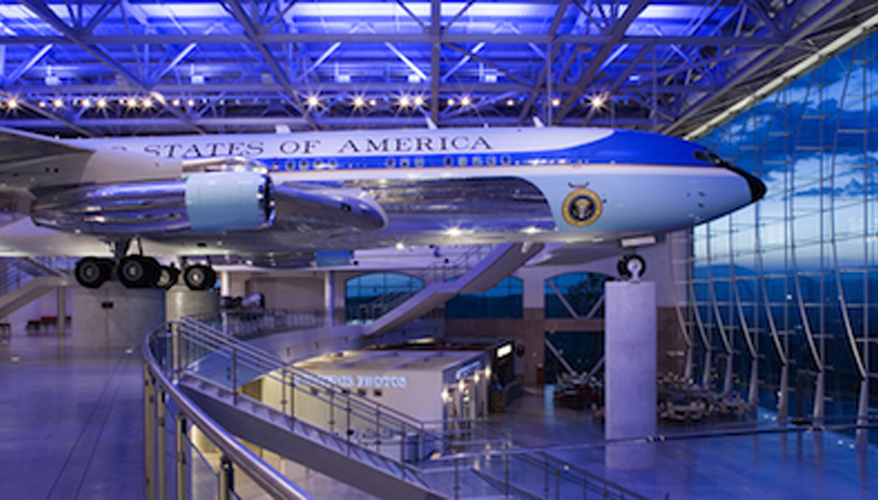 Photo: Ronald Reagan Presidential Library
SIMI VALLEY, Calif. — A who's who of the national security world are assembling this weekend at the 2016 Reagan National Defense Forum. Coming on the heels of the selection of retired Marine Corps Gen. James Mathis to be secretary of defense in the Trump administration, a central topic here is the passing of the baton.
The fourth annual gathering at the Ronald Reagan Presidential Library — with about 650 Pentagon officials, foreign allies, lawmakers and defense industry executives in attendance — has been proclaimed to be the "Davos" of defense. The theme this year is "Peace Through Strength: National Defense and the New Administration."
As the forum gets underway, the defense establishment welcomed the news of Mattis as President-elect Donald Trump's pick to run the Pentagon. The choice of Mattis — a hard-charging combat-tested Marine who also brings a unique set of political skills — is being widely praised and provides reassurance to the defense establishment that Pentagon priorities will have a capable champion.
For the first time since the Truman administration, a recently retired general would be in charge of the Defense Department. This will require Congress to authorize a waiver to a federal law that forbids appointments of officials to top civilian posts who have been on military active duty within the last seven years. Senior lawmakers have indicated they will support such a waiver in order to get Mattis confirmed.
One immediate reaction on the secdef selection is that Mattis should help elevate the defense agenda as the new administration becomes consumed with initiatives that Trump has stated will be his top priorities, like tax reform, infrastructure projects and the overhaul of health care. Also heartening to defense insiders is Mattis' deep familiarity with the role of the U.S. military in global security, and a sense that he understands the need to balance the use of hard and soft power to deal with complex security challenges.
Inside the D.C. beltway, concerns about the defense transition are honing in on areas like projected military spending increases and how the future Pentagon leadership will work with Congress to advance its priorities. Mattis would be taking over at a time when relations between the Pentagon and Congress are rocky at best. Even with a Republican-controlled legislature, fissures are likely to continue over fiscal and policy matters. With defense hawks in key leadership positions in Congress, the party is divided and there is likely to be continuing gridlock over spending levels. The leaders of defense policy committees have been adamant that they will continue to pursue aggressive organizational and procurement reforms.
Congress has yet to pass a budget for fiscal year 2017, but much of the attention now is on the longer-term picture. Trump has called for a military buildup but the political and fiscal obstacles would be significant, analysts and experts have said.
The incoming administration has promised a trillion-dollar infrastructure bonanza and across-the-board tax cuts. "So will there be anything left for defense?" asks Mackenzie Eaglen, a national security fellow at the American Enterprise Institute. Analysts have estimated the buildup that Trump touted during the campaign would require a $55 billion to $60 billion a year boost to the defense top line. Even if a less ambitious plan is adopted, the military would still seek a $20 billion to $25 billion increase to fund existing programs.
As to how that will be funded, "I don't think he [Trump] has thought through that very much," Eaglen said Dec. 1 at an American Enterprise Institute forum. "I confirmed that talking to members of his landing team," she said, referring to the group of industry and government insiders who are overseeing the Pentagon transition.
Trump's suggestion that business reforms and "efficiencies" would free up enough money to rebuild the military is "pure fantasy," Eaglen says. The George W. Bush and Obama administrations have tried that, with poor results, she adds. "The military buildup is getting more elusive the more I listen to the litany of priorities of this president."
A "politically smart" approach for the administration would be to mash together infrastructure and defense priorities by investing in military procurements, Eaglen suggests. "Automotive, aerospace and defense is what we build in America. Those are primary manufacturing bases." Defense projects would both satisfy military needs, create jobs and boost a sagging industrial base.
In the absence of a plan to tie defense spending to economic growth, Eaglen says, the Pentagon becomes just "another mouth to feed at the federal trough."
Industry analyst Byron Callan, of Capital Alpha Partners, speculates that Mattis will be an "effective fighter for DoD budgets." However, he tells investors in a research note, the defense budget "will still be framed against other competing fiscal priorities and debt concerns."
Fiscal responsibility groups are sounding alarms about the prospect of massive infrastructure spending combined with tax-code changes that could drain $5 trillion from the Treasury.
Committee for a Responsible Federal Budget chairmen Mitch Daniels, erstwhile Defense Secretary Leon Panetta, and former Rep. Tim Penny, I-Minn., in a statement, called such a move "myopic."
Defense Reforms
As fiscal fights in Washington potentially put a damper on the defense agenda, the industry and the Pentagon's procurement bureaucracy expect clashes to continue with Congress over acquisition reforms. The newly passed National Defense Authorization Act all but sets the stage for further bickering with the Pentagon over how to reorganize the office of the defense secretary and a new rounds of reform initiatives to compel the Defense Department to buy innovative technology from the private sector.
Defense executives are looking for clues about the future direction of Pentagon procurement initiatives and innovation efforts launched by Defense Secretary Ashton Carter and his deputy Robert Work.
Congress strongly rebuked Carter in the 2017 NDAA bill by breaking up the office of the undersecretary of defense for acquisition, technology and logistics into two, or possibly three positions. The thinking is that responsibilities for day-to-day procurement management should not be in a silo with technological innovation efforts.
Current Undersecretary for AT&L Frank Kendall "has done a good job," said House Armed Services Committee Chairman Rep. Mac Thornberry, R-Texas. "But it's impossible to make one person responsible for buying things and also be the chief innovation officer," he said Nov. 30 at a Foreign Policy Institute conference. The law gives the Pentagon one year to figure out the implementation. "This is not the final answer," Thornberry cautioned. "We're not done with organizational reform, acquisition reform, personnel reforms."
In another blow to the Pentagon's innovation initiative, the NDAA restricts expenditures by the Defense Innovation Unit Experimental. The DIUx is a signature Carter effort to attract commercial companies to the defense market.
Analysts have praised the DIUx as a potentially important step to shake up the procurement system. "DIUx is great, but what we haven't seen is a fundamentally different approach to generate military advantage. That's what we need," said Ben FitzGerald, of the Center for a New American Security.
William Greenwalt, a procurement expert on the staff of the Senate Armed Services Committee, said the Pentagon's acquisition system, despite many attempts to overhaul it, is still "optimized to win the Cold War." DIUx is a step in the right direction, he said, "but we need to think in a different manner."
Industry Regulations
There is still no substantive move in the Defense Department to tweak regulations to attract technology firms, Greenwalt said. "Someone in DoD has to understand how commercial companies think." The innovation is happening in the private sector, so the Pentagon has lost leverage. "If they have the technology, we have to change how we think."
Amid the transition talk is rampant speculation that Trump will roll back contracting regulations introduced over the past eight years by the Obama administration.
Howard McKeon, of The McKeon Group, a lobbying firm, said nobody really knows yet what Trump is going to do. He said he is fairly confident, though, that Trump "will remove obstacles in the regulatory space." Any reforms would primarily benefit small businesses, which have been burdened by compliance demands. "The prime contractors have been able to deal with that. The subcontractors and small businesses just can't afford to do it."
Executive orders signed by Obama have been wide ranging, many focused on worker pay and benefits and safety. Industry groups generally have opposed these measures, arguing that they deter companies from wanting to enter the government market. "Will more companies want to come back if the regulations go away? We're seeing a number of people jump in," McKeon said. "Our business has increased significantly because people have a feeling that it will be easier to deal with the government."
Richard Arnholt, a contracting attorney at Bass, Berry & Sims, said contracting regulations in recent years have added hundreds of millions of dollars in costs to federal suppliers. "And most of that cost would be passed on to taxpayer as higher cost paid by agencies." Reporting and auditing, burdens are especially onerous for commercial companies and a "deterrent to doing business with the government."
Matt Vallone, director of research and analysis at Avascent, noted that "Trump is very hard to predict, but I do think there will be a rollback of executive orders in the near-term." Further regulatory relief would likely take a long time as new agency leaders take a deeper dive, he said. Congress, meanwhile, is planning on changing its rules to allow it to consider regulatory repeals in an en bloc manner.
Topics: Homeland Security, Defense Department