F-35 New Year's Wish: Efficient Production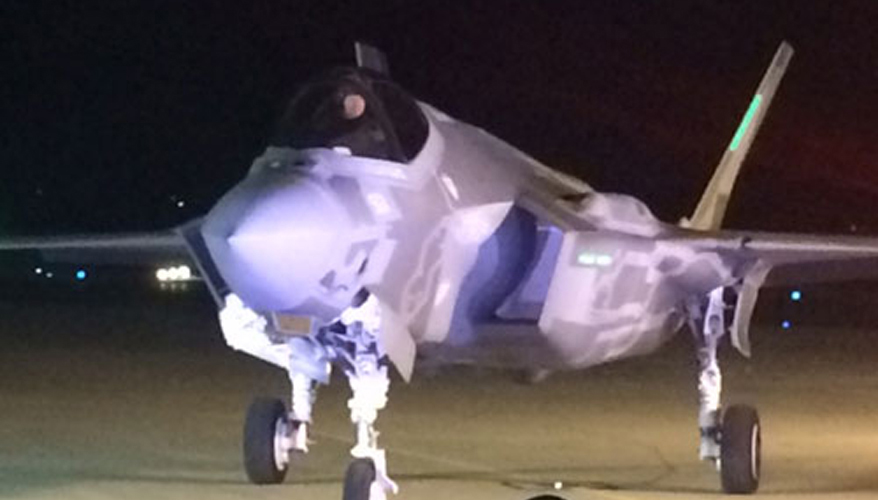 One of Israel's two F-35 joint strike fighters upon arrival at Nevatim Air Base
Photo: Lockheed Martin
Lockheed Martin is building four F-35 fighters per month, even though its manufacturing plant has the capacity to produce 17.
With the program under an intense spotlight — in the wake of President-elect Trump's disparaging tweetstorm this week about F-35 costs being "out of control" — the company's best hope is that once production accelerates, the price tag for the aircraft will stabilize at about $85 million a piece. The current unit price is about $111 million.
"The rate we're building is insufficient," said Robert Weiss, executive vice president of Lockheed Martin Aeronautics.
It is economics 101 that a low production rate keeps prices high, but for the F-35, the implications are even more far reaching. All the current buyers of the aircraft — the U.S. Air Force, Marine Corps and Navy, as well as non-U.S. customers — are modernizing their fighter fleets, and the longer it takes for them to buy the current generation of the F-35, the longer they will wait, and the more they will have to pay, for new upgrades and improvements that are planned once the program is in full-rate production, Weiss said at a Foreign Policy Initiative conference in Washington, D.C.
Besides basic economics, it is important to ramp up production so buyers can move past the growing pains of introducing a new fleet and can start planning for the future, he said, "We should buy the mature systems we have. I would begin there. The next step is to modernize these airplanes," Weiss said. "We need to continue to invest in technology for future fighters. We should buy the one that's available to us, and put it on an aggressive modernization path," he said. "The budget is not there to do that now."
The fear, he said, is that the F-35 could become a "bill payer for everything else."
By virtue of this being the largest single Pentagon weapons acquisition in history, such a scenario is not unreasonable.
The entire U.S. program of 2,457 is projected to cost $340 billion in 2017 dollars. Foreign sales of the F-35 also are central to keeping prices down and establishing industrial partnerships with key U.S. allies.
The Pentagon in its fiscal year 2017 budget requested 43 F-35As, 16 F-35Bs and four F-35Cs. Congress might add funding for more aircraft when it takes up the defense appropriations bill in April, before temporary funding authority runs out. An additional 53 aircraft would be produced for foreign buyers.
But Lockheed is looking for a more significant financial commitment from the Pentagon, including a three-year "block buy" of up to 450 aircraft starting in 2018, which would give the company breathing room to negotiate prices with subcontractors.
Forty F-35s were produced in 2015 and the expectation is that 160 a year will be built by 2020. The block buy is what Lockheed is banking on to keep the program on track, said company spokesman Michael Rein.
Pentagon officials have hinted that they are ready to move forward with production commitments but it's not clear how much of a damper Trump's bashing may have put on the negotiations process. "We are all in wait-and-see mode," said Rein.
Lockheed recently received a $1.3 billion advance payment on a potential $7.2 billion deal for Lot 10 low-rate initial production aircraft. After a major dispute between the Pentagon and Lockheed over Lot 9 prices, this latest payment is seen as a positive sign, noted defense industry analyst Roman Schweizer of Cowen Washington Research. This could boost annual production to 90 aircraft.
It makes sense for the company to lock in a deal before the Trump administration takes office, Schweizer wrote in a research note. "We see little risk that a Trump Pentagon would derail or curtail the program but admit that this is an unknown."
In response to Trump's tweet, Lockheed's F-35 Executive Vice President Jeff Babione said company leaders "welcome the opportunity to address any questions the president-elect has about the program. …
We project the price of the aircraft will be $85 million in the 2019 -2020 timeframe."
Industry analyst Byron Callan, of Capital Alpha Partners, sought to appease jittery investors. "Until the costs and risks of conceivable alternatives are known, compared to current F-35 plans, we don't believe investors should panic over the program's prospects based on a single Trump tweet."
Beyond its cost and schedule challenges, the F-35 faces continuing criticism from the Pentagon's top weapons tester J. Michael Gilmore. He accused the program office of providing "misleading" responses to questions about F-35 tests from Senate Armed Services Committee Chairman Sen. John McCain, Bloomberg News reported this month. Both Gilmore and McCain have called out the program over the years for performance issues.
Also creating headwinds for the program is an emerging debate about how the Pentagon should go about investing in next-generation technology. Big-ticket hardware like the F-35 brings luster to a nation's armed forces but also drains significant resources, analysts have argued. The concern is that the military becomes overly dependent on expensive weapons systems at the expense of lower-cost, perhaps more effective alternatives, suggested Ben FitzGerald, senior fellow at the Center for a New American Security.
The Pentagon needs a "fundamentally different approach" to defeating enemies in the battlefield, he said at the FPI forum. "I'm not criticizing F-35, but that may not be the right approach. It costs $40,000 per hour to fly, and we'll be rolling that out against people in $4,000 vehicles. That's a self-imposed cost-imposing strategy," he said. "We can't just put out expensive platforms that assume efficiencies over 50 year timelines. We need to address what's happening today."
Topics: Air Power, Air Force News, International, Global Defense Market