ROBOTICS AND AUTONOMOUS SYSTEMS
United Kingdom Hosts Underwater Drone Exercise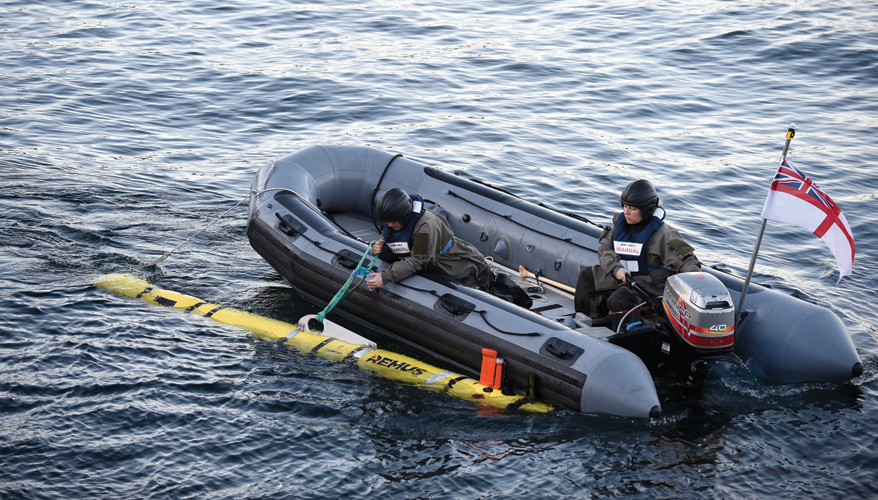 Photo: Navy
Unmanned underwater and surface vehicles made a splash at a recent military exercise hosted by the United Kingdom.
Known as Unmanned Warrior, a number of countries came together in October to test underwater drones in the choppy and treacherous seas of western Scotland.
This "has been an ongoing exercise between a whole host of allied nations," said Derrick Marcus Tepaske, who works for the Office of Naval Research's global division as a science advisor to U.S. Fleet Forces Command. "Here on site we have the Brits, Canadians, Australians and Americans with their unmanned underwater vehicles and for the first time they have been able to have them collaborate and demonstrate autonomous behaviors.
"These systems are able to work in platoons and squads, task each other to conduct unmanned surveillance of targets of interest, and the engineers … have been working to make all those connections possible from a multi-national perspective," he said during a phone call with reporters.
The countries deliberately tried to push the envelope with the technologies they brought to the exercise, said Cmdr. Peter Pipkin, the Royal Navy's fleet robotics officer.
Collaboration during the exercise was key, he said. The United Kingdom worked closely with ONR to execute a variety of experiments.
"I have been hugely enthused by how much the U.S. Navy and ONR in particular have lent … [to] the U.K. and Unmanned Warrior," he said. "It's not a trivial thing to lift up the number of people and the amount of equipment that they have [brought] over to demonstrate."
That collaboration is particularly important to the United Kingdom because the country does most of its operations with partner nations like the United States, he said.
Out of 50 technologies brought to the exercise, 10 were from the United States, Tepaske said. The multi-national teams conducted a variety of missions including mine countermeasures, command and control, intelligence, reconnaissance and surveillance, and port security operations, he said.
Systems such as Liquid Robotics and Boeing's sensor hosting autonomous remote craft platform were tested. The unmanned surface vehicle was used over the two-week demonstration and successfully detected and tracked an advancing UUV and a manned diesel submarine, Liquid Robotics said in a statement.
Capt. Beth Creighton, the U.S. officer in charge of the exercise said: "We've accelerated our learning about autonomy to advance that collective naval war fighting advantage. We've definitely enjoyed tremendous collaboration in the science and technology realm and improved U.S. and coalition interoperability."
Topics: Global Defense Market, International, Robotics, Robotics and Autonomous Systems