ROBOTICS AND AUTONOMOUS SYSTEMS
QinetiQ, Milrem Unveil New Ground Robot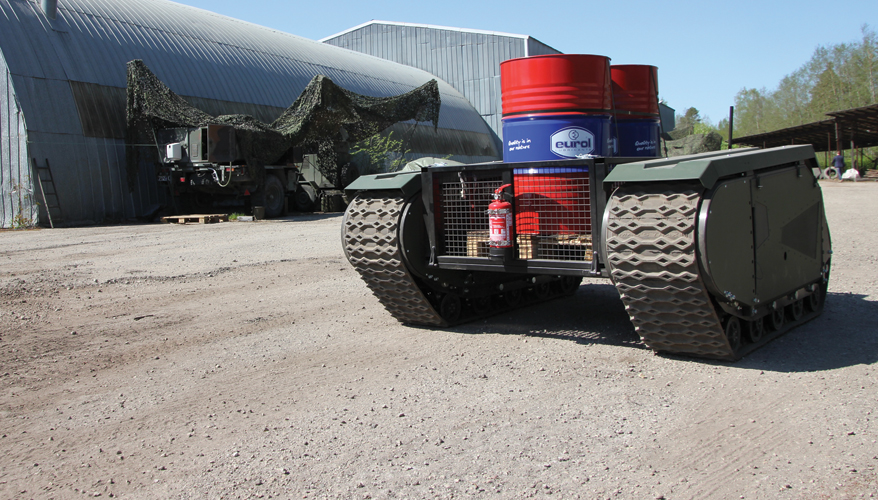 Photo: Milrem
A new unmanned ground vehicle could provide relief to soldiers by reducing some of the weight many have to carry during missions, one company executive said.
The modular, hybrid system — known as Titan — was unveiled during the Association of the United States Army's annual conference in Washington, D.C., said Kuldar Väärsi, the CEO of Milrem, an Estonian company.
"The purpose is to support the squad," he said. "It can carry the rucksacks, the water, the ammunition, whatever the squad is carrying."
Removing some weight from a soldier's load — which can sometimes exceed 100 pounds when on patrol — allows for troops to move faster and farther, he said.
Milrem partnered with QinetiQ to produce the system. The vehicle is based off Milrem's tracked hybrid modular infantry system, and QinetiQ provided the vehicle's robotic control technology, he said.
The company plans to enter the vehicle into the U.S. Army's forthcoming squad multipurpose equipment transport program competition, Väärsi said.
During a recent industry conference, the Army announced that it would be putting the program on an accelerated acquisition path. The service plans to focus on the development of one robot that can carry 1,000 pounds, as opposed to a family of small, medium and large systems, officials said.
The Titan has a payload capacity of 1,500 to 2,000 pounds. It can operate for more than 100 kilometers and more than 72 hours when operating with diesel and its electric-hybrid system, which is powered by batteries. It can run on a silent mode for two hours when only electrical power is used.
The system can be used for a variety of missions besides transporting cargo, Väärsi said. It can also be used fully autonomously, Väärsi said.
One goal is to "take the soldiers out of the danger zone," he said. "You can equip this vehicle … with a sensor package, you can equip it with a weapon station, you can equip it with a CRBN [chemical, biological, radiological and nuclear defense] system."
The vehicle would be manufactured in the United States.
Topics: Robotics, Robotics and Autonomous Systems