Political, Economic Forces Creating Headwinds for Defense Industry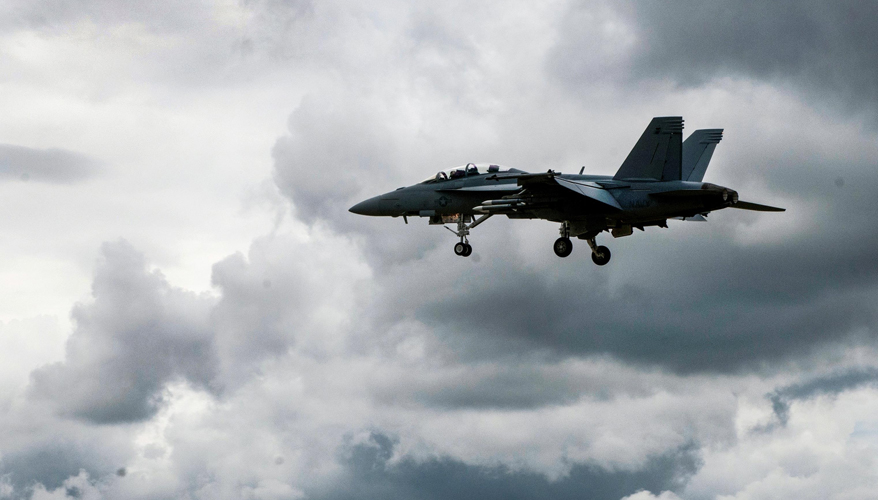 F/A-18 aircraft
Photo: Defense Dept.
In the public's perception, the defense industry is an all-powerful behemoth that wields immense influence.

But the reality is quite different, industry experts insist. In size alone, the military-industrial complex that President Eisenhower warned about is a shadow of its former self. And its political clout has waned. Only a handful of Pentagon contractors crack the Fortune 100 list, and when one looks at the current size of the industry in the context of the U.S. economy, the glaring truth is that defense is a declining sector that is at risk of shrinking even further, says Tom Davis, senior fellow at the National Defense Industrial Association.

Trends that point to a smaller and less financially secure industry mean the U.S. military faces the real possibility that it will not have a strong enough base of domestic suppliers to produce advanced weapons and cutting-edge technology, Davis said Dec. 7 at the Dwight D. Eisenhower School for National Security and Resource Strategy. In a joint presentation, Davis and NDIA President and CEO Craig McKinley made the case that the much-feared military-industrial complex is weaker than most people realize.

The Eisenhower School, a component of the National Defense University based at Fort McNair, in Washington, D.C., provides graduate level education to senior members of the armed forces, government civilians, foreign nationals and industry executives.

By way of perspective, Davis noted, the combined annual revenue of the top five defense firms — Boeing, Lockheed Martin, General Dynamics, Northrop Grumman and Raytheon — add up to about 40 percent of Wal-Mart sales, or less than 30 percent if one does not count the commercial aerospace revenue of the top five defense firms.

"This vividly demonstrates our major message," he told NDU students. "The nation's current military-industrial complex has devolved into essentially a niche business that has greatly contracted since the end of the Cold War in 1991 and continues to do so." Only four defense firms were in the Fortune 100 last year. General Dynamics, Boeing, United Technologies and Lockheed Martin. Only Lockheed Martin and GD are "pure" defense firms, defined as those having over 70 percent of their revenue coming from Pentagon programs.

To further drive the point home, McKinley cited recent numbers that show that Apple Corporation, with cash on hand and near-term equity convertibles, could basically buy the top five defense companies outright.

"The defense industry that many continue to believe is large, sprawling, casting a giant shadow across the national economic landscape, is actually a small, compact, niche business that is more fragile than is widely recognized," he said. "But beyond these structural changes, many of them largely unrecognized, there are also some organizational and perceptual changes within the major companies themselves that need to be recognized and understood by the industry's customer base."

The issue for the Defense Department, McKinley stressed, is that the "more compact the industry becomes, the less technological innovation is stimulated, and the less cost leverage the customer has."

Rising costs and reduced competition in the market have spurred tension between the industry and the Defense Department. Declining spending on new weapons systems in recent years reshaped corporate behavior as companies opted to spend their cash on share buybacks and paying out dividends, which has fueled customer discontent, Davis noted. "The government needs to understand that defense companies, like all companies in any business, are in it to make money. Making money is not unpatriotic — a perspective I'm confident the president-elect endorses," he said. "The perception is that defense companies make a lot of money; the reality is that historically their margins have been well below those of most commercial manufacturing firms. … If we are going to have a market-based defense industry, we need to understand what 'market-based' actually implies, especially as the number of firms in the market decreases."

These warnings come as President-elect Donald Trump continues to send signals that he will not be as friendly to the defense sectors as pundits and analysts might have anticipated. In a public spat with Boeing, Trump criticized the company last week for charging a "ridiculous" price to build new presidential aircraft to replace the aging Air Force One, and blasted executives for trying to make "too much money."

Aerospace Industries Association President Dave Melcher recently voiced concerns about the political climate the industry faces, including the prospect of anti-trade policies that could harm U.S. aerospace sales overseas. "We're hopeful that newly elected officials will recognize the need to invest more in urgent national security needs," he said Dec. 6 in a speech at an AIA media event in Arlington, Virginia.

"We have no illusions that getting positive action on our entire industry agenda will be easy," he said. "No doubt we're going to have significant challenges with the new administration and Congress" on issues such as defense budgets and trade.

Melcher alluded to "strong headwinds affecting policy making in Washington." He specifically called out the "sorry state of deficit politics, marked by the prolonged budget uncertainty, and unreasonable austerity of recent years." He noted that, for an incoming administration that has made jobs a top priority, it should matter that aerospace and defense are among the few sectors that employ skilled manufacturing workers. In 2015, manufacturing jobs accounted for the vast majority of aerospace and defense employment of nearly 1 million workers.
Topics: Budget, Defense Department, Defense Innovation