Greek Defense Industry Seeks Global Partners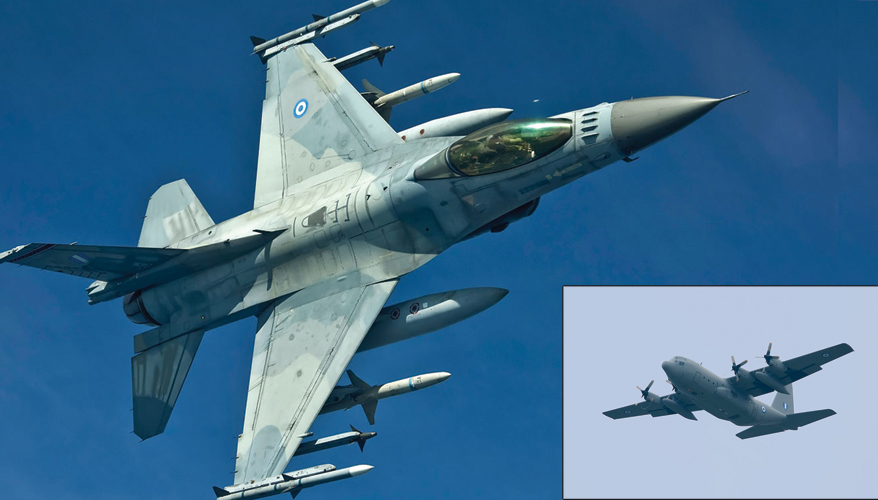 A Hellenic Air Force F-16 jet fighter and C-130 military transport aircraft.
Photo: Hellenic Air Force
As Greece continues to fight the effects of a lasting economic recession, its defense industry is looking to partner with foreign nations — such as the United States — to stay afloat, industry leaders and a defense official said.
The country is focusing on upgrades and maintenance of its current military systems, while increasing cooperation among its public and private companies and those abroad, said Alternate Defense Minister Dimitris Vitsas at the Hellenic Pavilion during the Association of the United States Army's annual conference in Washington, D.C.
"We have plans to upgrade our armaments," including the Greek army's Patriot surface-to-air missile system and rolling airframe missile systems — both produced by Raytheon, he said. The Raytheon-built Sea Sparrow anti-aircraft and anti-missile weapon system — used by the Greek navy — is also targeted for an upgrade or replacement, as is the service's Harpoon over-the-horizon anti-ship missile system, which is manufactured by Boeing.
Additionally, Greece plans to modernize its P-3 Orion maritime surveillance aircraft, Vitsas said.
The defense industry is still reeling from the effects of the 2008 global economic crisis, industry leaders said.
"It's very hard … to go through what happened in 2009," said Sotiris Paraskevopoulos, sales manager for TurboMed, a Perama, Greece-based manufacturing and ship repair company.
Many companies that invested in expensive equipment when more development was occurring are now closed due to the crisis, he said. "Everyone else is a little bit afraid to take a step forward, because it's still an unstable situation," he added.
The country's largest defense company, the Athens-based Hellenic Aerospace Industry, recently signed a multi-year contract with Lockheed Martin to provide maintenance on Greece's fleet of F-16 fighter jets and C-130 military transport aircraft, said Zacharias Gkikas, the company's chairman of the board. "We are looking to extend this contract for an additional five years," he said.
Despite the economic pressures, Greece has continued to be one of the top defense spenders in Europe, contributing about 2.4 percent of its GDP toward its military, said Magnus Nordenman, deputy director of the Brent Scowcroft Center on International Security at the Atlantic Council, a Washington, D.C.-based think tank.
But only about 30 percent is spent on infrastructure, operations, maintenance and procurement, while the rest goes to personnel, he said.
Mandatory military service in Greece forces the country to support a significant number of personnel, Vitsas said.
"We are trying to [meet] our obligation to NATO," Vitsas said. "It is a balance — what NATO needs and what we need."
The country has also stepped up its defense spending in response to a global refugee crisis. Vitsas said the country has invested in identification systems, night vision cameras and search-and-rescue equipment to help with the influx of refugees from Syria, Afghanistan, Iraq and elsewhere. Over 1.2 million refugees have crossed by sea into Greece since 2015, according to the United Nations Refugee Agency.
Though little has changed for Greece's economic situation in the past year, Vitsas is optimistic that the tide will turn, and is pushing for the country to be more self-sustaining when it happens.
"We have a target: 20 percent of the needs of the Greek army to be covered by our defense industry," he said. "At this time, it's 9 percent. So I'm trying — me, my colleagues and so on — to cover this gap."
Topics: Global Defense Market, International