Industry Bullish on Military Virtual Reality Market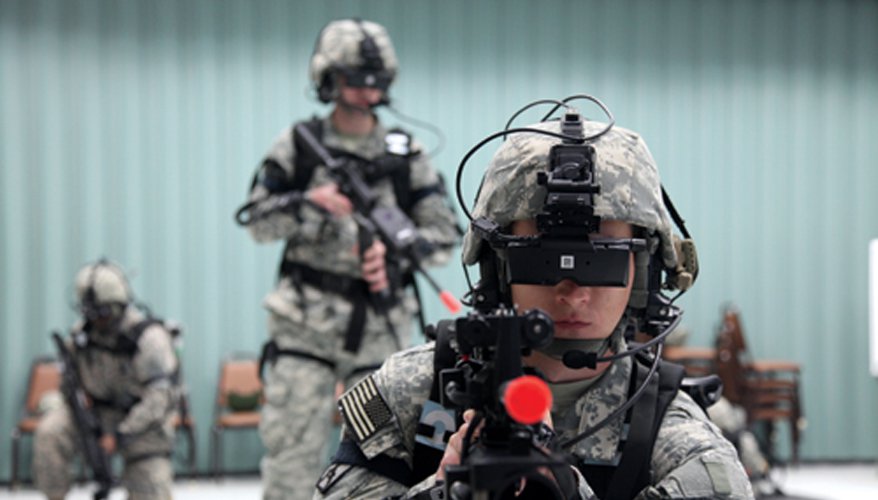 Photo: Army
ORLANDO, Fla. — At the world's largest training and simulation conference, industry members said they were optimistic that the U.S. military will increase its spending on virtual reality systems in the years ahead.
Manufacturers of such technology — which can virtually transport troops at home base to a battlefield in Europe or the Middle East using just a pair of goggles — have insisted that their systems can improve troop training at a fraction of the cost of live training.
The defense industry has also benefited from an explosion in commercial technology that has given their systems higher fidelity while decreasing costs, company executives said in interviews at the National Training and Simulation Association's annual Interservice/Industry Training, Simulation and Education Conference.
The virtual reality market for defense and government is still in its infancy, said Dennis Wikoff, president of Vertex Solutions Group. Compared to previous iterations of I/ITSEC, this year there was a marked increase in virtual reality companies on the exhibit floor, he said. He expected that to grow substantially in the future.
"You're going to see an order of magnitude increase in the numbers of companies doing VR next year," he said.
His company, which is based in Urbana, Illinois, currently is developing a prototype system for Air Force Special Operations Command. The device, which is meant to provide AC-130J Gunship pilots with cockpit familiarity, consists of an Oculus Rift head-mounted display, a control yoke and a throttle device.
Under the contract, which is worth around $1 million, Vertex will provide AFSOC with five devices, the first being delivered in January, Wikoff said.
While the military has signaled that it is interested in virtual reality, so far there have been few contracts. "We are one of the first companies to have a funded program to do virtual reality," he said.
Most opportunities have been for small business or research contracts, he said.
"I haven't seen a lot of regular mainland acquisitions that are geared toward virtual reality yet," he said. However, "I would expect that in the next year or two, especially as budgets start to rebound, that we're going to see more and more virtual reality requirements."
Defense contractors pursuing virtual reality technology have benefited greatly from the commercial market, Wikoff said.
"Our approach is we want to take advantage of commercial technology because the government is never going to be able to invest as much in a single device like an Oculus Rift as Oculus Rift will … in keeping it progressing generation after generation," he said.
However, improvements still need to be made. Commercial providers of virtual reality headsets need to increase the fidelity of their system's visual resolution, he said. Current devices typically are at 1080 pixels per inch, but for users to be able to see fine print it will need to increase to a 4K resolution, he added.
Atul Patel, director of advanced technology and innovation at Lockheed Martin, said his company is also looking toward the commercial market for innovative products in virtual reality.
"The virtual reality market is definitely growing and I think probably the leading element there is going to be on the commercial side where you start looking at gaming platforms," he said. "You see a lot of new gaming platforms that are bringing in VR ... [and head wearable systems] to their environment.
"We can actually leverage a lot of that technology to apply it to our" products," he said.
Lockheed doesn't have plans to develop its own virtual reality goggles, but rather to use what is already available commercially, he said.
"We expect the VR market to progress very aggressively over the next five to 10 years," he said. "What may seem like a pretty bulky head wearable that you may see in today's environment will change significantly as we move forward."
Virtual reality goggles could some day be used for both F-35 joint strike fighter pilot and maintainer training, Patel said.
"When you're looking at the full motion simulator, you've got that virtual environment that is being projected on large displays whether it's a dome or whether it's fixed screens," he said. "Imagine being able to take that environment and bring it ... into a smaller footprint, whether it's a head wearable, whether it's a helmet that they're using. I think that changes the dynamic quite a bit."
For maintainers, goggles could be used to simulate an F-35 so trainees wouldn't have to actually access the platform and they could train in a variety of locations, he said.
Dave Fluegeman, vice president of simulation at Barco, a Belgium-based company that designs and develops visualization products, said the market for custom-made headsets is gone.
"The consumer market has accelerated so fast over the last few years and the performance of those headsets is finally coming up to the standards that simulation and training needs," he said. "A couple of years ago you couldn't be on an Oculus Rift ... [or] some other device and sustain the use in a real exercise because the consistency of performance just wasn't there."
More and more large system integrators are taking advantage of virtual reality headsets, Fluegeman said. They are getting "really innovative with how they are taking a consumer product and raising the performance of it and bringing some of the things that were missing," he said. "That really signifies to me some growth and opportunity."
Amy Kruse, chief technology officer at Cubic Global Defense, said the company has yet to see a large formal program from the military looking for virtual reality headsets.
"There are no requirements for training systems that have virtual reality in them," she said. "The Army is looking at that, but we haven't seen that solicitation present itself."
The military will soon have to make decision about how it wants to approach procuring virtual reality technology, she said.
Topics: Training and Simulation