Shipbuilding Industry Awaits Decisions on Future Size of the Navy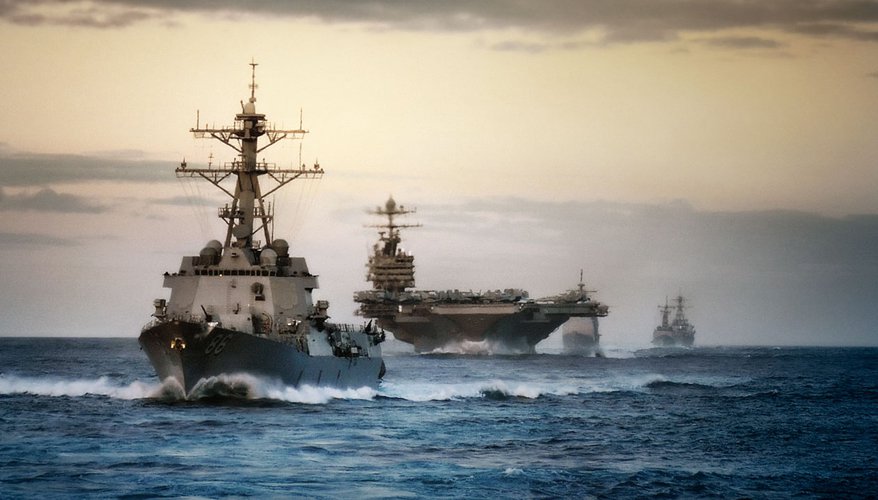 Photo: Navy
President-elect Donald Trump's pledge to add nearly 50 ships to the U.S. Navy above what service leaders have recommended has been greeted in Washington with a mix of glee and apprehension.

A naval buildup obviously would be welcome by an industry that has struggled to stay afloat producing a handful of ships a year, sometimes under work-share agreements that keep yards from operating at efficient rates.

With no real insight into how or when the Trump administration would deliver on that commitment to expand the Navy, industry groups are meeting behind closed doors with Navy leaders, in hopes of better understanding the service's thinking as a new team of civilian leaders prepares to take over.

"The industrial base is more than ready to ramp up," said retired Navy Rear Adm. Jeff Brooks, a senior adviser at The Shipbuilders Council of America.

But he cautions that a buildup can't happen overnight. Shipyards are sized and staffed based on the current plan to gradually increase the size of the Navy from 272 to 308 ships over the next decade. Any augmentation beyond that would require extensive planning, massive investments in infrastructure and skilled personnel, and assurances of a predictable workload. "Which is why we are in discussions with the Navy," Brooks told National Defense.

That the Navy's fleet of 272 ships today is overstretched is not up for debate, Brooks said. The question now is whether 308 ships will remain the desired target and, if the number were revised upward, how would the Pentagon fund that growth. "Shipyards need to make informed decisions" before they make any moves to upgrade their facilities or hire more people, he said. "We have a very resilient industrial base," but it takes years to train workers and line up specialized suppliers.

"I'm confident we can do that," said Brooks. "But it's really going to be dependent on the Navy setting the requirements, having a good dialogue with the industry and getting contracts in place." The contracting process is no small matter as negotiations often take months or years, depending on the type and complexity of the ships acquired. "Those have a tendency to be very cumbersome at times," Brooks said.

Although Navy shipbuilding accounts have been relatively flat in recent years, yards have been shedding excess capacity as they have had no reason to expect a work surge. The nation's sole producer of nuclear-powered aircraft carriers, Newport News Shipbuilding, a division of Huntington Ingalls Industries, has been reducing its workforce over the past year. BAE Systems and General Dynamics' Bath Iron Works also have laid off workers.

If a decision is made to add more ships above the current goal, the Navy will face a chicken-or-egg question. It will need yards to become more efficient to support bigger buys, but shipyards need larger orders and stable, long-term commitments so they can operate more efficiently, noted Matthew Paxton, president of the shipbuilders group.

How the Navy might respond to a Trump administration mandate of a larger than anticipated fleet is unclear, he said. "It's speculative to say what happens with a 350-ship program of record," he said. "We try to work very closely with the Navy to have them set those requirements."

The current program to take the Navy to 308 ships was the result of a a 2014 update to a force structure assessment that the Navy completed in 2012, according to Ronald O'Rourke, naval specialist at the Congressional Research Service. The Navy's force-structure goal is adjusted every few years, and has been in the range of 306 to 328 ships since 2006. "The Navy is currently conducting a new assessment, and some observers anticipate that this will lead to a new Navy force-level goal for a fleet of more than 308 ships, although not necessarily 350 ships," said O'Rourke.

Advocates of increasing the size of the Navy beyond 308 ships point to China's naval modernization and aggressive posture in international waters, resurgent Russian naval activity, and chronic difficulties that the Navy has experienced meeting requests from regional U.S. military commanders for day-to-day in-region ship presence around the world.

"To help meet requests for forward-deployed Navy ships, Navy officials in recent years have sometimes extended deployments of ships beyond — sometimes well beyond — the standard length of seven months, leading to concerns about the burden being placed on Navy ship crews and wear and tear on Navy ships," O'Rourke noted.

Navy officials have testified that completely satisfying requests from regional U.S. commanders for forward-deployed Navy ships would require a fleet of substantially more than 308 ships, he said. Navy leaders told Congress in March 2014 that meeting such requests in full would require a Navy of 450 ships.

From a budgetary perspective, a 350-ship Navy seems a bridge too far. "The Navy faces challenges in achieving its currently planned 308-ship fleet, let alone a fleet of more than 308 ships," said O'Rourke. The Congressional Budget Office estimates the current shipbuilding plan would require, on average, an additional $4.5 billion in shipbuilding funds per year. Such funding, he pointed out, "is only a fraction of the additional funding that would be needed to support a larger force structure." There would be new expenditures for ship weapons, for operating and maintaining the more ships, for the required ship crews, and possibly for bases and support facilities.

Even the 308 ship Navy would require funding increases to the Pentagon's top line, and it is anyone's guess how much more money the Trump team will recommend for future years' budgets.

Jerry Hendrix, senior fellow at the Center for a New American Security, said the Navy has to "think about what to build" if it were given more money.

The fleet has shrunk precipitously from 540 ships in 1988 to today's 272, and vessels spend a lot more time at sea than they have in decades. "Ships are suffering from maintenance readiness, crews suffer from retention issues, strained from nine or 12-month deployments," Hendrix said at a Heritage Foundation gathering.

"The last time we had 350 was in 1998," he said. What would the Navy acquire if it had to grow to 350? That is a big question that will require comprehensive analysis, he said. Given today's demands, the Navy should probably buy frigates and submarines, he said. "The 350 number is an opportunity to balance needs."

Initially, it would make sense to order more destroyers and Virginia-class submarines that have warm production lines, said Hendrix. "You can't start new lines and hire the workforce. We have to start front loading now," he said.

"The industrial base doesn't want to take risks for short spurts of efforts, they need multiyear block buys."

A more pressing question now is whether the new administration and Congress will agree on a budget that would accommodate a bigger shipbuilding account. The Bipartisan Budget Act of 2015 canceled the automatic reductions in discretionary spending for 2016 and 2017. Defense spending was capped at $551.1 billion for 2017. Current law limits defense spending to $549 billion in 2018. Looking further ahead, if and when the Budget Control Act spending restrictions are lifted, the Pentagon would have to present a budget that takes into account many competing needs.
Topics: Defense Department, Maritime Security, Navy News