ROBOTICS AND AUTONOMOUS SYSTEMS
Defense Innovation: Autonomous Revolution Faces Information Technology Hurdles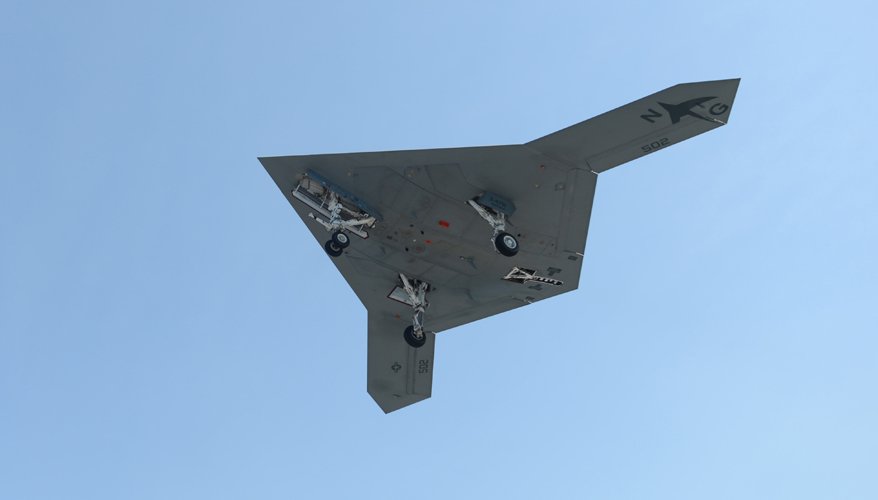 An X-47B unmanned combat air system (UCAS)
Photo: Navy
The Pentagon is confident it will outduel rising competitors with a mix of devastatingly lethal weapons like ultrafast missiles, swarming drones and autonomous killer robots. Autonomous warfare ambitions, however, are running into the hard cold reality of the military's fragmented intelligence picture.
Super-smart war machines, to be effective, must plug into cutting-edge artificial intelligence systems that can collect, process and analyze voluminous amounts of information in ways that have not been possible to date. While the spotlight has been on projects to develop autonomous spy aircraft, bombers and submarines, experts caution that the performance of these systems would be severely limited without a data processing and analytics infrastructure to help connect the dots and deliver reliable real-time intelligence.
The information grid is the less-talked-about piece of the "third offset," the military's strategy to overpower future enemies. It is also emerging as the most difficult task.
The Pentagon has yet to figure out how to create a data architecture that would satisfy the intelligence demands of autonomous systems, said Matthew Hummer, director of analytics at Govini. The Arlington, Virginia-based company is a big data and analytics firm that tracks and draws conclusions from government spending trends.
"If we have autonomous systems that are continuing to collect mountains of data, we probably need to have an autonomous process as well to actually make use of that," Hummer said in an interview. He suggested the Pentagon must "first establish a robust and integrated PED architecture" in order for autonomous surveillance systems to reach their potential. PED is short for processing, exploitation and dissemination.
Pentagon spending on data science and analytics grew by 39.4 percent to $1.1 billion in fiscal year 2016 compared to the annual average from the previous five years, according to a new Govini study. Spending on real-time processing technology grew by 35.7 percent to $1.5 billion.
These investments are seen as important steps in the transition from a platform-centric to a data-focused modernization strategy. For autonomous systems to be successful, the key is how the data that they collect aligns to previously collected data "for a more complete situational awareness," said Hummer. "It's the data science, analytics, machine learning and artificial intelligence that is really underpinning all these autonomous investments that are likely to happen or are actually happening now."
The information grid is what will allow commanders in warzones around the world to tap into the intelligence collected by autonomous vehicles that are operated by the U.S. military services or foreign allies. Similarly, the intelligence could be used to deploy armed autonomous systems and target their weapons.
With a PED architecture in place, said Hummer, autonomous vehicles could reach their full potential. Of significance to the defense industry, this architecture would open the floodgates for the development of platforms for use in the air, ground and sea that would suddenly become so much more valuable because they can share data "across domains."
The Pentagon has invested nearly $60 billion in autonomous systems between 2011 and 2016, according to Govini. Unmanned aircraft accounted for 56.8 percent. If the military had an integrated information grid, the Pentagon would be motivated to buy more underwater and ground autonomous systems to create an all-domain intelligence collection network. Current systems tend to operate in isolation from other assets, resulting in fragmented concepts of operations and limited ability to share information.
The military in recent years has slowed down its purchases of traditional unmanned platforms and is eyeing a new generation of systems. Now the focus is turning to autonomous intelligence networks that receive data and turn it into insight that can be used for decisive action. "This will shape the future of autonomy," said Hummer.
A much-overlooked piece of autonomy in defense systems is the actual autonomous part of data processing, he noted. That explains why investments are being directed to artificial intelligence, cloud computing, software and custom applications that are built from the cloud infrastructure. Tech companies, he said, "need to be finding their way into these new markets."
The operative term here is "cross-domain solutions," said Hummer. That is why he questions why the Pentagon continues to invest in service-specific intelligence systems like the Distributed Common Ground System. Each service is acquiring its own version of DCGS. "In my opinion, the autonomy PED architecture needs to be much more broader and much more robust than just DCGS," he said. "The whole point in the third offset strategy is to have all these autonomous platforms seamlessly integrated and communicating with each other."
Until there is a more cohesive plan to integrate data, he added, "a lot of the investments in the platforms themselves are actually pointless. You need to have a much broader architecture and that architecture needs to be automated."
The military's difficulties in connecting stove-piped data sources are creating an opening for Silicon Valley firms to offer solutions. But like the military, tech companies can be guilty of taking a narrow view, Hummer suggested. "This is about transitioning technologies that are operating in petri dishes into a broader setting."
In a much-publicized clash with the government, Silicon Valley-based Palantir is suing the Army over its decision to reject the company's proposal for a next-generation DCGS. Players like Palantir and others are shaking up the market by offering cloud capabilities as a service, and using agile approaches to create custom software applications. "Finding a way to integrate these capabilities into an architecture is critical," Hummer said.
"If we want truly autonomous capabilities, we need to amass a large enough data set so we understand, when new data comes in, how is it different from the data that we already collected," he added. "That's not a PED environment that we have." Service-specific systems like DGCS are "bottlenecks that I think are limiting the value of all the data that comes off platforms. And as a result is actually limiting the value of the platforms."
The ability of autonomous weapons to maneuver in complex battle zones is at the core of the third offset strategy. The thinking is that these systems would have to penetrate heavily defended airspace or waters where adversaries like China or Russia would seek to challenge the United States. Unmanned systems would be preferable to risking human pilots or ship crews, and such scenarios would require far more sophisticated autonomous platforms than are currently available.
Edward Lane, who oversees information systems at the office of the undersecretary of defense for intelligence, said of the third offset: "The hardest part is the data."
"Autonomous systems make decisions based on information," he said during a recent presentation to members of the Association for Enterprise Integration. Lane's office is in charge of "establishing a "vision for the C4I grid" that will be needed as part of the third offset strategy. C4I is shorthand for command, control, communications, computers and intelligence.
"Part of that vision is a data strategy," Lane said.
Among the hurdles are security barriers that keep government data segregated from app developers or tech-savvy troops who could be helping commanders and analysts capture valuable intelligence in real time. "Creativity and innovation happens after the data is available," said Lane. "As we go forward, we want to make it a data centric approach so innovation can happen at a quicker pace."
Companies in the robotics industry are watching the Defense Department's moves as they contemplate how best to play in the market. Retired Navy Vice Adm. David Dunaway recently was hired as an adviser to Sarcos Robotics, based in Bellevue, Washington. The company has "very smart problem solving engineers" but it struggles with the military's arcane procurement methods, Dunaway said in an interview.
"We need to insert technology rapidly," he said. "We need a more rapid approach, an open and modular architecture. Many of the problems we have today can be solved with integration."
There has been much speculation in the defense industry about what the incoming Trump administration will do with innovation efforts like the third offset. Regardless, the Govini report noted, "There is plenty of opportunity for technology companies, and in particular providers of autonomous capabilities and the data science software that enhances autonomy's value."
Topics: Robotics and Autonomous Systems, Robotics, Research and Development, Intelligence and Surveillance