Trump Dominates Conversation at Halifax International Security Forum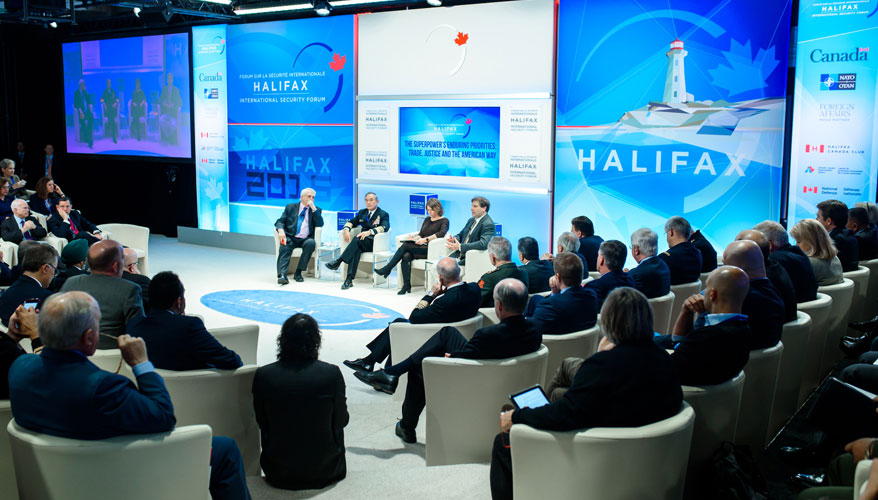 Photo: Halifax International Security Forum
HALIFAX, Canada —
At a security conference that ordinarily focuses on international issues, the election of Donald Trump — and the uncertainty about how his administration will deal with global affairs — dominated the conversation.
The Halifax International Security Forum, now in its eighth year, hosted 300 participants from dozens of countries. Throughout its plenary discussions, Trump was a common topic.
One particularly heated discussion was on Trump's views on torture, waterboarding and other harsh interrogation techniques. On the campaign trail, the president-elect said, "torture works." Sen. John McCain, R-Ariz., chairman of the Senate Armed Services Committee, sharply rebuked him during the conference.
"I don't give a damn what the president of the United States wants to do, or anybody else wants to do. We will not waterboard," he told the group of security leaders, who applauded him.
"It doesn't work," he said. "If you inflict enough pain on somebody long enough they are going to tell you whatever they think you want to hear."
In addition to waterboarding being prohibited under the Geneva Conventions, McCain noted the United States banned the practice last year.
If the CIA "started waterboarding , I swear to you there are a whole bunch of us who would have them in court in a New York minute and there is no judge in America that wouldn't say that they were in violation of the law," he said.
Rosa Brooks, a professor of law and associate dean for graduate programs at Georgetown University Law Center, said that while she was doubtful that military officers would commit a war crime, it is possible that a new administration could try to alter the rules surrounding torture.
"A president or anyone who wants to change the norms and behavior does not say, 'I order you to commit a war crime,'" she said. "Instead you find some lawyers in the Justice Department or you find a few lawyers at CIA and you have a little group that you take outside of the normal process, and you say, 'Waterboarding is not really torture is it?'"
From there, those lawyers can write a memo that could claim waterboarding is not torture, she said. "When you get enough lawyers in a room, you can find somebody who will write the memo anyway you want it," she added.
What the Trump administration plans to do in the future regarding national security and defense is so far an enigma, Brooks said.
"This is the fist time in my political life that I look around and I think, 'I have no idea what the new U.S. administration will do,'" she said. "I think none of us have any idea, quite frankly. I'm not entirely sure the president-elect knows for sure what he is going to do at this point. I think he didn't expect to win."
Brooks urged allied nations and leaders within those countries to hold the United States' "feet to the fire" should it deviate from its values or rules of law.
"Your job as our allies is not to sit there and act polite because you're supposed to shake hands nicely with the guy in the White House," she said. "Your job is to say, 'That's not acceptable. It's no more acceptable if the United States does it than it is if Russia does it or if Turkey does it or if any other country does it.' And your job is to put your money and your cooperation where your mouths are, too."
If the country were to resume waterboarding , allied nations could stop cooperating with the Untied States, she said.
"We do need friends and we know it. We need military cooperation. We need intelligence cooperation. We need economic cooperation," she said. "When our allies are upset enough at us that they not only tell us that firmly and explicitly, but they say, 'If you want our intelligence cooperation, if you want our military cooperation, know you cannot torture people.' … We pay attention."
Trump also stirred controversy after comments he made about NATO. He has repeatedly said that alliance nations need to pull their weight and rely less on the United States. NATO members have committed to spend 2 percent of their GDP on defense, but only a handful have fulfilled that pledge.
Paula Dobriansky, a senior fellow at The Future of Diplomacy Project at Harvard University's Belfer Center for Science and International Affairs and the former under secretary of state for democracy and global affairs, said that Trump's comments could create disunity that could embolden Russian President Vladimir Putin to continue aggression in Europe.
"If I were in Moscow and I was watching this I'd say,'There's a complicity, there's a lack of importance attached to not only the values but the alliances and also the institutions that preserved peace, stability and security post-World War II, no less the Cold War," she said. "It's an opportunity for Moscow."
Dobriansky noted that during discussions with Nordic defense ministries, many of them expressed concern about what type of aggression Russia may undertake again.
However, NATO's Deputy Secretary General Rose Gottemoeller said she was confident that Trump supports the alliance. She noted that Trump and NATO Secretary General Jens Stoltenberg spoke on Nov. 18.
"There were two clear messages that came out of it [the phone call]. The two men agreed, and I want to stress, the two men agreed about the enduring importance of the NATO alliance and the enduring importance of increased defense spending," she said.
Trump's comments about NATO members have actually made the alliance stronger, she said.
"What I see is that it is driving the alliance closer together and really making countries focus on this necessity of further expenditure on defense," she said. "I can't say we've completely reversed the trend, but this year for the first time in a long time we're going to have a 3 percent increase in defense spending across all countries in the alliance."
Members "got the message" after Trump called them out, she said. "People have to pull up their socks in many capitals."
There has been an evolution in Trump's discussions of NATO, even during the campaign, she said. For example, "he took NATO to task for not paying enough attention to the necessity of a strong intelligence organization within the alliance, not being able to support the counterterrorism in a timely way."
NATO recently appointed an assistant secretary general for intelligence, which had been in the works for some time, she said.
"Trump said he thought this was a good step, that NATO was taking the counterterrorism fight seriously," she said.
Michael Fallon, the United Kingdom's secretary of state for defence, said Trump was right to call out alliance members.
"NATO is the most successful military alliance in history and I am confident that the new administration will appreciate its international importance. Yet, the president-elect is right, surely right, in expecting Europe to take greater responsibility for our own defense," he said. "NATO members must pay their way. U.S. tax dollars cannot indefinitely prop up transatlantic security."
Between the Whales and Warsaw Summits, Fallon said he believed NATO was making progress to reverse a historic decline in defense spending, with 16 of the 28 nations pledging to raise their spending, he said.
Fallon also added that his country was looking forward to working with the president-elect and his administration.
President of Croatia Kolinda Grabar-Kitarović said she expected Trump's views to continue to evolve as he is briefed on world events and the international commitments the United States has made to NATO.
"Ultimately I believe Mr. Trump wants to do good, that he wants to leave a positive legacy," she said.
Grabar-Kitarović agreed that NATO nations needed to work to meet their obligations, and that includes her own country of Croatia.
"I was at the last summit in Warsaw and unfortunately, Croatia was one of the few countries that had not increased the defense spending budget. And for me defense spending is not spending, it's an investment, and it's about keeping our international commitments," she said.
While countries shouldn't be pushed by arguments such as Trump's in order to spend more, they should decide to do so based on their own credibility and principles, she added.
Harjit Singh Sajjan, Canada's minister of national defence noted that he planned to work closely with the Trump administration.
"I look forward to having the same relationship that I had with Secretary of Defense Ash Carter when the new secretary of defense is named," he said.
Topics: Global Defense Market, Defense Department