Lockheed Prepares to Launch Global F35 Training Facilities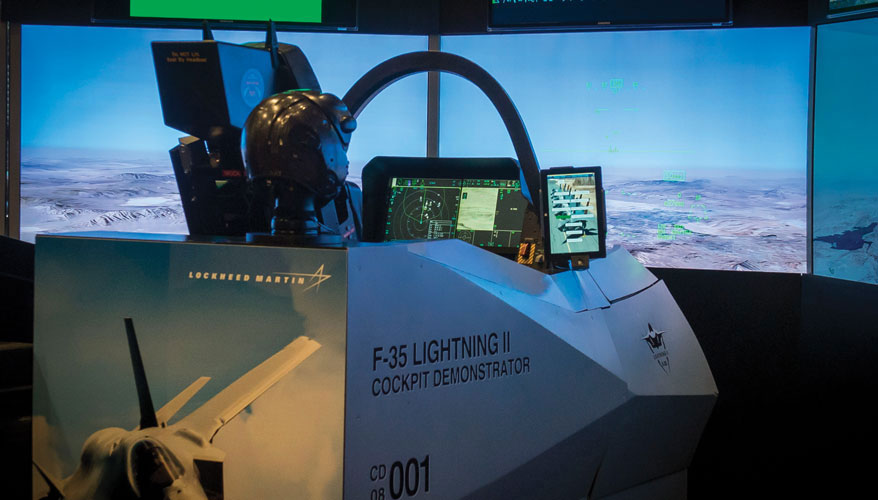 The F-35 joint strike fighter has been pegged as one of the most advanced aircraft to ever fly. To train pilots and maintainers, students go through rigorous coursework and then use advanced simulators. Manufacturer Lockheed Martin is now preparing to expand the aircraft's training centers abroad.
Over the next two years, Lockheed will stand up nine international training sites and centers, said Mike Luntz, F-35 training director at the company.
That will "extend and expand the reach of the training" the company can provide, he told National Defense in an interview.
The sites will include: Marine Corps Air Station Iwakuni, Japan; Amendola Air Base, Italy; Royal Australian Air Force Base Williamtown, Australia; Cheongju Air Base, South Korea; Misawa Air Base, Japan; Ørland Air Base, Norway; Marham, United Kingdom; Grottaglie Air Base, Italy; and Nevatim, Israel.
It aims to stand up all of the facilities by the end of 2018, he said.
Not only will the sites provide each respective country with on-demand training, but eventually the simulators could connect with those in the United States for coalition exercises, Luntz said.
"We are in the process of developing the capability to link the simulators over the wide area network," he said. Lockheed will first start with the Air Force, then the Navy, Marine Corps and the United Kingdom, in that order, he said.
The ability for other countries to access this network would be subject to approval from the United States, he said.
In the case of the Air Force, the network is called the distributed mission operations network, or DMON. Each service and the United Kingdom will have their own network with their own protocols. They will be released in a phased timeline, he said.
Creating such a network for other countries should be relatively easy depending on how much their requirements differ from that of the U.S. services' networks, Luntz said.
"If they come up with a different network protocol than, for example, the protocol with the United States …. then that would require us to modify the software based on their requirements," he said. "So from that perspective, we have not received all the requirements from all the different countries."
A recent study conducted by the F-35 joint program office found that many of the countries did not have numerous unique requirements, Luntz said.
"We're anticipating that they're going to be similar to one of the U.S. services, but that's really a requirement that hasn't been" fleshed out yet, he said.
Before the foreign nations can connect to this network, Lockheed must first connect all of the U.S. training sites, he said.
In March, Lockheed signed a contract with the Air Force to develop its distributed mission operations network, which would allow it to seamlessly connect its F-35 simulators with others around the nation, he said.
"It will also allow us to connect into other simulators, other platforms that are on that network as well," he said. "In a typical training scenario, you would have F-35s and other platforms training together."
That could include a refueling tanker or a Boeing E-3 Sentry airborne early warning and control aircraft, he said. "They would all … be able to play in that game space."
Lockheed currently has simulators at seven different locations in the United States: Eglin Air Force Base, Florida; Luke Air Force Base, Arizona; Hill Air Force Base, Utah; Nellis Air Force Base, Nevada; Edwards Air Force Base, California; Marine Corps Air Station Yuma, Arizona; and Marine Corps Air Station Beaufort, South Carolina. It plans to stand up another training facility at Naval Air Station Lemoore, California, for Navy training, he said.
Simulators located at the same training facility can network together, he added.
Photo: Defense Dept.
Lockheed is in talks with the joint program office to lock down a specific timeline, but fielding is targeted for 2018, he said. The first location to receive the networking upgrade will be Nellis, he said.
The upgrade will require a hardware component modification, he said.
"That would be something that would have to be rolled out," he said. "It would be a relatively easy integration."
That connectivity will be critical for not only training among the U.S. services, but with coalition partners, said Lt. Col. Rhett Hierlmeier, 56th training squadron director of operations for the F-35 at Luke.
"You're able to share information, cross talk, practice basically with pilots that aren't necessarily at your base. That's a huge advantage of distributed mission training," he said.
Besides better training, it also saves the services money, he added.
There are savings to be had by "not having to fly the sorties, mainly because you've got geographically separated units," he said. "There's just a lot of travel time that would be involved in moving airplanes from one base to another just to participate in training."
And when it comes to training with coalition partners, connecting via a network is key, he said.
"We have a motto, train like you fight. And we don't go fight on our own, we do it as a team," Hierlmeier said. "The more we have the ability to practice and train together, both in the actual … airplanes via exercises like Red Flag and then in the sim, that's a great benefit."
That type of cohesive training is part of the reason why the military wanted the F-35, he said. "We bought this airplane so that we could fight together in future wars, and a key portion of that is not just to have the same equipment, but to actually practice together, to train together."
"We do that regularly at exercises like Red Flag and others, but to have the ability to really on demand be able to synch up the training virtually, I think that's a significant capability," Hierlmeier said.
Luke Air Force Base currently has four simulators on site, he said. They are able to connect together, and F-35s can fly in a four-ship configuration. Getting beyond that by connecting to other systems around the country or the globe would allow for more complex mission rehearsal training, he said.
The base will receive two additional simulators this fall. By the summer of 2017 it will have 12 simulators installed, which is the full complement needed, Hierlmeier said.
Luke serves as an international training hub for the F-35. Currently Australia, Italy and Norway train their pilots at the facility. Israel also has pilots training there, but the country isn't an F-35 partner nation and is instead a foreign military sales customer.
Turkey will bring pilots to the base starting in 2018, he said.
The simulator offers pilots the ability to practice maneuvers that they cannot do in live training.
"For example, we don't regularly shoot missiles against other airplanes. We don't see the effects of those missiles hitting other airplanes," he said. "There are complex environments … [that are] very difficult to recreate on a training range but we can easily create those virtually. So we're able to get much … higher fidelity training, I would say, in the simulator at times from a threat standpoint."
As countries stand up their own native F-35 training facilities, some may no longer train at Luke, Hierlmeier said.
It "varies by each country," he said. "Some have plans to remain at Luke and continue training and others will train up an initial cadre and then take their airplanes with them … to do their training organically."
However, there are benefits to being at Luke, he added.
"There's good cross talk and sharing of information and tactics and procedures as we learn how to operate and employ this airplane, and that really comes from training together and being in one place," he said.
Fifty-seven pilots in fiscal year 2016 trained at the base, Hierlmeier said. For pilots who have previous experience flying a fighter jet, they use the trainer for 30 missions, which comes out to about 45 hours, he said. For an inexperienced pilot, they would perform 45 missions over 70 hours.
Luke will receive its first pilot right out of flight school this December, he said. It "is a pretty big milestone" and shows that "the training system is mature enough and we're competent in the simulator to take a pilot that hasn't flown a fighter before and put him in a single-seat airplane."
Overall, Lockheed has trained 345 pilots and 3,368 maintainers at its training centers at Eglin, Beaufort and Luke, Luntz said.
Lockheed plans to install two simulators at Iwakuni in December, he said. It will be equipped with an advanced version of the airplane's software known as 3i. It "is kind of our latest and greatest pilot training device software load," he said.
The company will soon begin rolling out the 3i software to other simulators, he said. The entire upgrade process will take less than a year, he added.
This December will mark the delivery of Lockheed's 50th simulator, he noted. The event is a milestone for the company and shows that "the F-35 training system is really kind of expanding its reach and expanding the capability that we're delivering," he said.
The system would be a full-mission simulator for pilots, he said. The company also offers a maintenance simulator and a weapons load trainer.
Topics: Air Power, Training and Simulation