Navy Puts Procurement of Carrier Drone on Fast Track (UPDATED)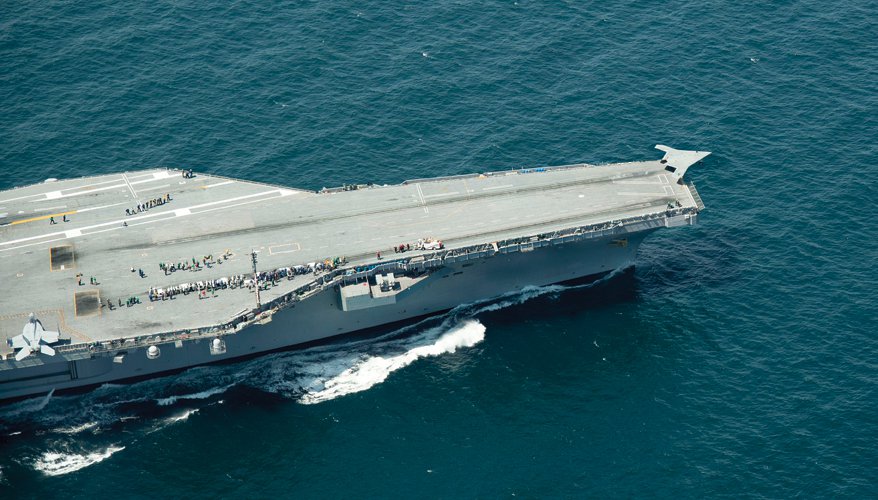 A drone demonstrator launches from the aircraft carrier USS George H.W. Bush.
Photo: Navy
The Navy is expediting its effort to acquire a carrier-launched unmanned tanker, as service officials seek to usher in a new era of naval aviation.

The MQ-25 Stingray would enable carrier-based strike aircraft such as the F/A-18 Super Hornet to have greater range.

"We need to get [the MQ-25] to the fleet as quick as we can so we can start learning about that manned-unmanned teaming and integrate that into the air wing," Commander of Naval Air Forces Vice Adm. Mike Shoemaker said at a recent conference.

The plane is also to be equipped with intelligence, surveillance and reconnaissance capabilities.

Four companies — Lockheed Martin, Boeing, Northrop Grumman and General Atomics — were recently awarded contracts to conduct risk reduction activities in support of the program. The work includes refinement of concepts and development of trade space for requirements generation in advance of the engineering and manufacturing development phase.

Boeing, Lockheed and General Atomics were awarded $43 million each. Northrop Grumman received a $35 million contract. The work is expected to be completed by October 2017.

The concept refinement work will inform the request for proposals for engineering and manufacturing development. An RFP release is slated for the summer of 2017, and a contract award is expected in 2018, according to Navy officials.

"The tanking mission will govern the aircraft configuration design trades, which will prioritize better tanking capability over the secondary … ISR mission," Chief of Naval Operations Adm. John Richardson said in an Aug. 24 memo clarifying the aim of the program.

The main objective in the early phase is to identify key system technologies, attributes and approaches that balance cost, schedule and performance, he added.

"We'll go through the development of the alternatives looking at what capabilities different vendors might bring to address that operational need," Robert Kimble, the deputy program executive officer for unmanned aviation at Naval Air Systems Command, said at a recent industry conference.

There is a sense of urgency. The service has created a maritime accelerated capabilities office, or MACO, to provide "a speed lane" in the acquisition process. Richardson and Assistant Secretary of the Navy for Research, Development and Acquisition Sean Stackley function as "the board of directors" and will provide direct oversight of the office's activities.

The MQ-25 is one of two initial programs under the office's purview, along with the large displacement unmanned underwater vehicle program.

The projects "will be conducted on accelerated timelines, require unique industrial interactions and leverage related activities of other government agencies and organizations," said Vice Adm. David Johnson, Stackley's principal military deputy.

"We must continue to innovate and improve the speed at which we field these systems," he added.

The Navy hopes to have an operational MQ-25 by the early 2020s. The service is keen to use the Stingray to hone its manned-unmanned teaming operating concept, whereby drones would partner with manned platforms to conduct various mission sets.

Designing a drone that could perform both tanking and intelligence-gathering missions shouldn't be too difficult, said John Vinson, the manager of next-generation unmanned aircraft systems at Lockheed Martin.

"I don't see huge challenges in being able to do an ISR capability on an aircraft that has the payload capacity to do tanking," he said.

Lockheed's manned S-3 Viking carrier-launched aircraft was capable of conducting reconnaissance missions while on anti-submarine patrol. It could also deploy weapons and was used as a tanker, he noted.

"It was, if you will, a truck that we could hang a lot of capabilities on," Vinson said. Similarly, Lockheed could design an unmanned aerial vehicle "that has the capacity to hang a lot of systems that the Navy may want to use in the future."

The ability of an unmanned plane to land and take off from a carrier has already been demonstrated. In 2013, Northrop Grumman's X-47B prototype performed the feat. But integrating a UAV into the Navy's day-to-day carrier operations is likely to be a much more difficult task, Vinson said.

Unlike drones flown from long Air Force runways, carrier-based systems must land and takeoff from relatively short flight decks jammed with personnel and other aircraft.

"Operating an unmanned aircraft safely in that environment is a challenge," he said.

Industry must produce a drone that can fly without interfering with other carrier operations. Software development will be a critical component of the effort, he noted.

Lockheed has a long history of developing UAVs, including work on the now-defunct unmanned carrier-launched aerial surveillance and strike project, which was a precursor to the MQ-25.

"All of that technology is fair game when we go to do something new," Vinson said. "All of that knowledge of how an unmanned vehicle would be operated on the carrier, we're bringing forward into this program."

The Navy isn't being overly ambitious with its acquisition timelines, he said. "We're very comfortable with all the schedules the Navy has shown us."

As the U.S. military buys more drone technology, there are opportunities to break away from the design constraints that have been imposed on the Navy by manned systems, Johnson said.

"The number of traps on a carrier, the number of vertical accelerations that you can have … all these things — if you really trace them back and find the root, they go to having a man in the cockpit," he said. "If you're working in the unmanned air game, that stuff is negotiable."

Designing UAVs along the lines of traditional aircraft would be folly, especially at a time when the cost of manned platforms is growing, Johnson argued.

"We can be our own worst enemy," he said. "We can design our unmanned systems to essentially be a manned thing without a man, and that will be unaffordable."

Experts working on the next wave of equipments need to make sure that the Navy isn't being bound by unnecessary technical requirements, he said.

The service will rely on industry "to go back to these first principles and find out why the heck do I have to do that" with a drone, he said. "Does it make technical sense? Does it map back to something that an unmanned vehicle has to deal with, or is there a derived requirement [from manned platforms] hiding in there's that's driving up the cost, weight and lowering the utility of our systems?"

The MQ-25 program is an example of this approach, he added. The Navy is "having industry help us through concept requirement studies … and get at the actual need to develop some of the pieces that we call our specs or our iron bars."

In addition to being unmanned, the Navy wants the Stingray to have autonomy, including for landing and launching, that would eliminate the need for a human to directly pilot it, Kimble said.

"We want to be able to put the aircraft in a mode to be launched or set up for an arrestment, and then be hands off and allow it to take the input from the GPS systems or whatever you have on the aircraft, and bring it on board without an interaction from somebody sitting in a control room," he said.

Similar to the way commercial airliners operate, Navy personnel could preprogram flight paths and designate waypoints. The tanking process should also be largely autonomous, he added.

"When it's in a tanking scenario, you want it to hold a course and a speed and not have to have pilot input," he said. "You program that in and let it react to the environment that it's around … [while] retaining that altitude and airspeed."

Even the user interface would likely be much different than those for existing Air Force drones, Shoemaker told reporters. Rather than use a "joystick and throttle," Navy controllers would probably use computers with "point and click" features, he said.

The Stingray will be designed to operate in permissive environments with limited enemy counter-air capabilities, Richardson said.

But as potential adversaries develop more sophisticated fighter jets and anti-aircraft weapons, the survivability of the proposed tanker has been called into question. For now, stealth capability is not a key performance parameter. But the Navy is still interested in designs that would make the aircraft less observable to the enemy.

"If you look at where we've been with many of the industry partners, there are some shapes that they have designed already that help in that survivability piece … even though we've not said survivability is a key parameter this time around," Shoemaker said.

Nevertheless, Shoemaker is still concerned that the aircraft could get shot down in contested airspace. Other assets in the fleet would likely be needed to protect the drone, he said.

Later versions of the Stingray or a follow-on system might incorporate more low-observable technology, he said.

"During the UCLASS program we looked at those kind of capabilities in great detail, and if the Navy were to choose that sort of a platform [Lockheed] is well positioned to provide the kind of technologies that are required to do that," Vinson said.

In addition to worrying about enemy missiles, Navy officials are also looking at ways to counter cyber and electronic warfare threats.

"We will be thinking about that in this program from the very beginning all the way through," Vinson said, noting that it would be part of the systems development effort.

As threats and technologies evolve, so too must the MQ-25.

"The system must sustain its relevance over time with an architecture of open systems and modularity enabling flexibility, adaptability and modernization," Johnson said.

Vinson expects Lockheed to draw on the work the company has already done on open systems architectures to be able to interface future systems with the Stingray.

National Defense asked Rear Adm. Robert Girrier, the Navy's director for unmanned warfare systems, whether strike capabilities might be added to the aircraft down the road.

It's "anybody's guess," he said. For now the service is focused on optimizing it for the tanking mission. "Will there be possibilities once we have that ironed out to see what else we can do with that system? Absolutely, … but I won't surmise what those might be."

From a technology and operational perspective, Navy and industry officials view the MQ-25 program as having long-term implications larger than the fate of a single program.

"This will be the first of many unmanned platforms that the Navy fields in the future," Vinson said. "It's always good to be in on something new that sets the wave for the future, and that's part of the reason why we are interested … in participating in MQ-25."

He believes the Stingray will set the trend for future carrier-launched UAV products in the same way that the company's F-117 Nighthawk set the trend for stealth.

Boeing, Northrop Grumman and General Atomics declined to comment beyond providing short statements acknowledging their participation and interest in the program.

Deputy Assistant Secretary of the Navy for Acquisition and Procurement Elliott Branch views budget constraints as the greatest threat to the MQ-25 effort.

"Modernization requirements and sequestration are going to constrain our topline if we don't get relief," he said.

A new administration will also be in power next year and policies could change as a result, he noted.

"When you put all these things together … they all impact acquisition," he said. "The threat changes, the requirement changes, the budget changes and the technology changes.

"Our biggest challenge … is to make sure that we are dynamic enough to respond to all those potential challenges on a relatively new program."

Correction: a previous version of this story misstated Vice Adm. Shoemaker's title.
Topics: Navy News, Robotics and Autonomous Systems, Robotics, Air Power