Halifax International Security Forum Kicks Off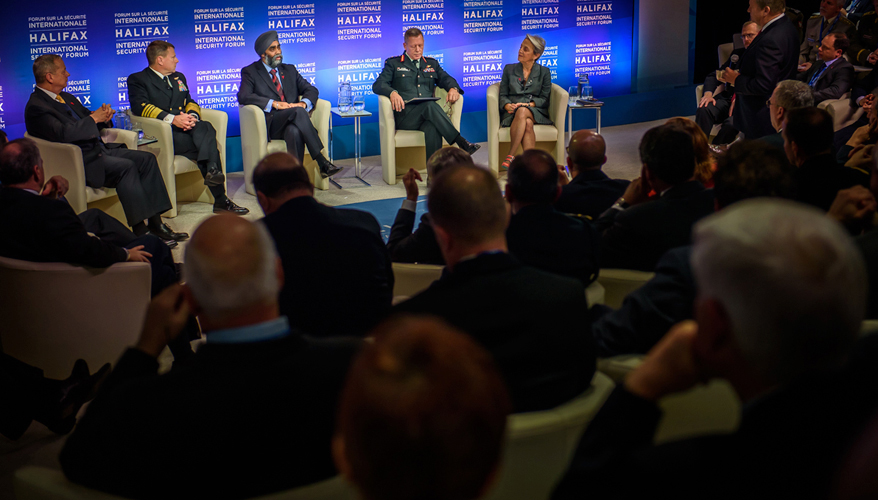 A panel from the 2015 Halifax International Security Forum
Photo: Halifax International Security Forum
National security leaders from the United States and around the globe will soon convene in Halifax, Nova Scotia, for the 8th annual Halifax International Security Forum.

The purpose of the forum is to strengthen strategic cooperation among democracies, said Peter Van Praagh, the forum's president.

"This is really a forum for decision makers from democracies to have some constructive conversations," he said. "There are of course people who are not in government from non-democracies, from Iran, from China, from Russia, who are also there who can add to the conversation as well."

At this year's forum, topics will focus on the recent election of Donald Trump as president of the United States, global terrorism, Brexit, Russia, China and more, he said.

Coming on the heels of the U.S. election "is a unique opportunity for everybody to take a deep breath and prepare for what is essentially … going to be a new era in global affairs with a new American president," he told National Defense in an interview.

Discussions at the forum usually focus on foreign issues, but there will be increased attention on the United States, he said.

One panel discussion will examine the rise of candidates such as Donald Trump and Sen. Bernie Sanders, D-Vt., and how that may show that there is dissatisfaction among the public, he said.

"[We want to explore] the idea of why is there discontent in established democracies and what can we do," he said. "If people are really dissatisfied with how things are happening in some of the strongest democracies in the world, how will those democracies then in turn be able to project power forward or will they be too preoccupied with what's going in their own countries to be concerned with what's going on in the rest of the world?"

There will also be discussions on climate change, information technology, the Middle East and the function of NATO, he said.

The event — which takes place in November and began in 2009 — will include 300 participants from more than 60 countries, he said.

"We are a mix of decision makers, policy makers, experts and then people whose lives are actually affected by the decisions made in Washington, in Ottawa, in London, in Paris," he said.

Participants will include Secretary General of NATO Jens Stoltenberg and 15 ministers of defense from around the globe, Van Praagh said. There will also be a large U.S. congressional delegation, he said.

Forum organizers cap the number of participants at 300 to allow for more access, he said.

"One of the secrets of our success is the size," he said. "There are a lot of events that have become too big and people get there and then they're not really able to interact with people they want to see. … We're committed to staying at the size that we are. I think it creates a special atmosphere."

National Defense will be reporting from the forum.
Topics: International, Global Defense Market