Army to Build Synthetic Training Environments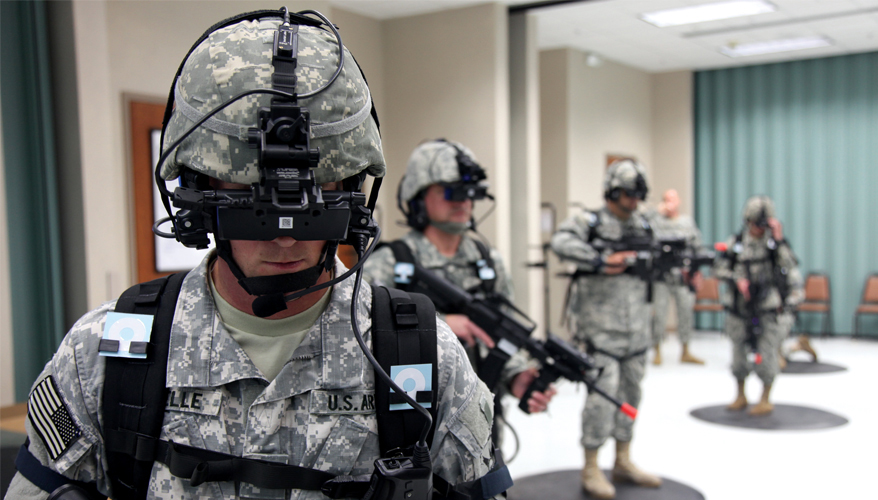 Photo: Army
To save money and boost readiness, the Army plans to develop a new training model to prepare soldiers for future fights.
The "synthetic training environment," or STE, would harness new gaming and augmented reality technologies to improve war simulations that take place in the live, virtual and constructive realm.
Live training is the traditional method where soldiers practice warfighting on a range or other physical training areas. Virtual training entails the use of simulators that personnel operate to improve their skills, while constructive training simulates enemy forces or other elements that a warfighter might encounter in combat.
While the Army already uses live, virtual, constructive, or LVC, training elements today, it falls short of what the service needs, officials said.
"We now have a program called the live, virtual, constructive integrating architecture that helps to bond all those simulations together into one program that we can use to train on," said Col. Jay Bullock, capability manager for the integrated training environment. "However, the LVCIA doesn't address all of our issues and we do still have quite a few problems."
Difficulty with interoperability and a limited ability to conduct repetitions creates major headaches, officials said during a briefing about plans for the STE at a recent industry conference.
"All of these stovepiped technologies we're trying to bring together so that they will function and provide a collective" training environment, said Brig. Gen. Maria Gervais, deputy commanding general of Army Combined Arms Center — Training.
"It's a technically complicated solution requiring its own contractor support team," she added. "It requires the integration of legacy systems speaking all kinds of different protocols, [and] it operates on a closed, restricted network limiting connection with our mission command information systems."
For the new synthetic training environment, the Army wants a common architecture that would facilitate multi-domain and multi-echelon training, and allow other services and foreign allies to participate.
Currently, the Army conducts a number of simulations that must operate together in "a federated manner" to provide large-scale training, Gervais noted.
In the future, Army officials hope to be able to combine these activities into just one or two simulations. They also want systems to use the same operating protocols to eliminate the need for a separate integrating architecture.
Many existing simulators have high overhead requirements and are not easily moved, which makes it difficult to use them in remote areas where soldiers might be deployed, service officials noted.
"For decades we have consolidated training at our mission training complexes and our other brick-and-mortar facilities," Gervais said. "This limits training throughput and also facility availability. Commanders may not be able to train when they need to, where they need to and with who they need to train."
The Army is looking for simulators that require less overhead. Today, they are often housed inside tractor-trailers. In the future, the service wants to be in a position where "a company commander can take this stuff, unbox it, set up a couple of chairs, put some guys in a [virtual] environment and do it deployed," Lt. Gen. Michael Lundy, the commanding general of the Combined Arms Center, told National Defense.
He envisions using Google Glass-like technology and advanced software to enable such soldier training.
"You can put a black curtain around them, put them in front of a couple of screens and give them haptic touch so they can actually see and it looks like a cockpit and they're touching the things" that would be in a real Army helicopter, he said.
"This is how we can save a lot of money. We can go from [needing] a tractor-trailer truck to a couple of hard and tough boxes," he added.
Many simulators in the Army's inventory are old and expensive, Lundy noted.
"Today we have imagery generators that are in some of our simulations … [where] the bulbs cost $1,000 because they're '80s technology, and we've got companies that still have to build these things," he said. "If somebody tried to go back and replicate Edison's first light bulb and you told a factory, 'Hey go build one of those,' they would charge you about 1,000 bucks to do that."
Scalability is also an issue that Army training leaders are grappling with. Buying and operating large numbers of simulators can be cost-prohibitive, Lundy noted.
The Army can only use about six aircraft simulators at a time at a division level, he said. "It needs to be cheaper so we can have more of them."
The Army hopes to overcome these numerous problems with the synthetic training environment.
"We really have an opportunity to impact how the Army is going to train for the next 10, 20, 30 and 40 years," said Bullock, adding that the STE could "revolutionize" the process.
The aim is to enable troops to have the most realistic training possible by equipping them with interoperable simulators or other training aids that can be easily linked with other devices and personnel located elsewhere.
"We envision a training environment where you can train anywhere in the world and train on the terrain that you are going to fight on," Gervais said.
Imagine soldiers maneuvering in a real Hawaiian jungle to attack a mock enemy position. They are supported by virtual helicopters flown by pilots in simulators at Fort Campbell, Kentucky, and virtual cannons operated by an artillery battery at Fort Sill, Oklahoma, who are participating in the battle on their laptops. All the while, a commander based at Fort Drum, New York, sees all of the action in real-time and directs the fight from his mission command systems.
That is just one potential STE-enabled training scenario envisioned by leaders at the Combined Arms Center.
Being able to replicate any type of terrain that soldiers might encounter is a key goal for the service.
"Imagine the power of a program that allows your entire unit to immerse itself in its future operational environment before it even leaves its home station," Bullock said.
Advanced game engines and cloud-based technologies are expected to be a critical enabler of this training construct.
"Think of the [game] engine as sort of like the operating system" on a computer, said Amy Kruse, the chief technology officer at Cubic Global Defense. The company adapts the systems for military purposes.
There are opportunities for the Army and industry to take advantage of commercial gaming technologies, she said. Building a game engine from scratch is "a very expensive proposition," she noted.
"It's just such an awesome time in terms of how that world has matured," she said. "When somebody builds a game engine and we're able to use it, we're leveraging hundreds of millions of dollars in investment … [by] putting the operational and military-specific pieces in place."
Acquiring such technology isn't the same as purchasing a PlayStation system and playing "Call of Duty" or similar military-themed video games, she noted.
"It's not like we're just buying it off the shelf at Best Buy. We're in [commercial companies'] developer programs and giving them input on how it would be best for our customers," she said.
Lundy is especially keen on improved virtual training technology. It makes it easier for soldiers to simulate cyber attacks, electronic warfare and nuclear, chemical and biological incidents, he noted.
"We would be shutting down airports and stuff if we did that here in the States," he said. "If you do it in the virtual world, you can do anything."
Synthetic training could potentially save the Army significant money in an era of constrained budgets.
"It's very expensive to conduct live training and bring everybody and everything to the battlefield and marshal those resources," Kruse said. She anticipates greater use of simulators and other high-tech training aids such as augmented reality.
But creating the kind of highly realistic gaming environment that the Army envisions is no easy task, Lundy noted. Ground warfare is generally more difficult to simulate than aerial or naval warfare in terms of the level of fidelity required, he said.
"If you're flying in a fixed-wing aircraft [in a simulator] you can have a two-dimensional look at the ground and be OK," he said. "You just need to see some semblance of recognition to go, 'Yeah, OK, there's a tank down there.' But when you actually get down on the ground you've got to see the tank, you've got to see the turret, you've got to see it move, you've got to see road."
Designing a system for urban warfare training adds extra challenges, Lundy noted. The Army expects to fight in megacities in the coming decades. Trying to simulate such an environment on a large scale with a gaming system could prove difficult.
"Now we're talking about doing 100 square kilometer cities," Lundy said. "It's really a challenge."
High fidelity is a double-edged sword, he noted. Some existing simulation systems provide outstanding visuals but they are relatively expensive.
"Because fidelity directly correlates to cost … we need to get the fidelity at the right level," he said.
Gervais said the Army would have to make "hard decisions" in this regard for both air and ground platform simulators.
Lundy envisions major savings from the new synthetic training environment relative to legacy systems, perhaps as much as hundreds of millions of dollars in lifecycle costs.
If the Army successfully develops and integrates the technology, it could have major implications for industry.
"I want to eliminate contractors" to save money, Lundy said. "Our soldiers today can go in and work in any gaming environment. There's no contractor standing over their shoulder going, 'Hey you need to do this, you need to do that.' But today our sims are so complex" to operate that they require a lot of contractor support.
The synthetic training environment could potentially make contractors less necessary, he said.
Cubic is keeping an eye on where the Army decides to go with the STE concept. The company's new training strategy is to bring together systems that cover multiple domains.
"We have an advantage … because we're able to integrate our ground assets with our own air assets," Kruse said.
To drive the Army's initiative forward, the service will conduct an evaluation of alternatives over the next 12 to 18 months, Gervais said.
"That will inform not just our requirements but also the technology that is available and also the approach that we should take to bring … the synthetic training environment to reality," she said. "Through that analysis that we do we will determine … what should we go after and how we bring all of this technology to bear."
The Army hopes to have the synthetic training environment in place in the 2020 to 2030 timeframe, while some capabilities may come sooner than expected, Gervais said.
Topics: Training and Simulation, Army News