New Set of Realities in Defense, Foreign Policy in Trump Presidency (UPDATED)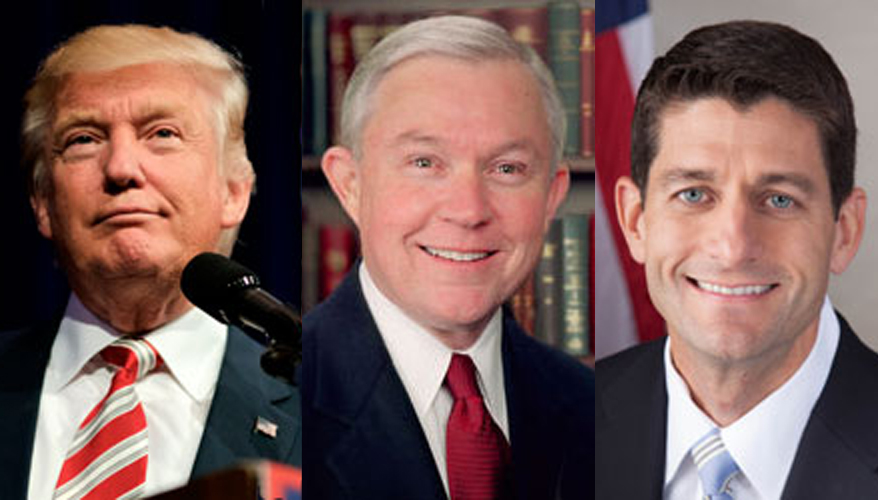 Photos: iStock, U.S. Congress
As the aftershocks of the 2016 election continue to reverberate across the political universe, defense pundits and watchers are starting to sketch a picture of what the national security world may look like under the Donald Trump administration.
For the defense sector, particularly, having Republicans in control of all branches of government creates singular circumstances it has not experienced since 2001. The GOP dominance, insiders caution, offers no guarantee that the Pentagon and the defense industry are about to see all their wishes come true.
"This is a structural change that we haven't seen in years," says Roger Zakheim, a partner at Covington's public policy and government affairs practice and a former general counsel and deputy staff director of the House Armed Services Committee.
Defense leaders should be feeling optimistic now for several reasons, Zakheim says. Both chambers of Congress and the incoming Trump administration "generally are aligned on national defense. They want to see a spending increase, a rebuild of the military," he says. "That is a major shift."
What challenges and opportunities this might create for the defense sector will become clearer as cabinet members are appointed and, more significantly, after the Pentagon rolls out its budget next year. Congressional Republicans don't agree on everything, obviously, Zakheim notes. But even anti-spending conservatives are likely to support more money for defense. Like any other administration, though, Trump is going to have to juggle funding priorities. "There will be a reflection of that in the budget," but it will be helpful for defense that "everybody is of the same mindset in a general way."
Defense contractors also could benefit from Trump's antiregulatory stance. He's railed against "job killing" regulations although he has not specifically addressed the federal contracting sector. Companies would welcome relief from many of Obama's executive orders, says Zakheim. "There's a lot of appetite for that."
End of Sequester?
Front-and-center on the agenda of industry groups and defense officials is a repeal of the Budget Control Act's limits on discretionary government spending.
"I think that all things are now possible with the budget," says Michael O'Hanlon, co-director of the Center for 21st Century Security and Intelligence at the Brookings Institution. "I think it's going to be in many ways a much easier row to hoe with the unified government," he says. "Of course the caveat being that the Democrats obviously can filibuster in the Senate and get into all this procedural stuff about which types of bills can be put on more of a fast-track. But my understanding is that with budget bills you can always essentially force them through with a majority alone."
All eyes will be on House Speaker Rep. Paul Ryan, R-Wisc., a fiscal hawk, who has called for spending cuts in Social Security, Medicaid and some simplification of the tax code. "These kinds of things could allow you to at least bring in some additional revenue and slow the growth of entitlements. And that could then make it easier to relax some of the ceilings on discretionary spending especially defense," O'Hanlon adds. "Trump definitely wants to send a message that he's going to spend a bit more than Obama was." Talk is cheap, however, he says. "I don't think he's likely to spend a huge amount more on defense."
If Trump could work out a deal on entitlement reform, he could increase defense and infrastructure spending without busting the deficit wide open. "If he tries to do it just by cutting taxes, increasing spending and leaving entitlements alone, then he's going to be fiscally irresponsible and run the deficit way up," O'Hanlon adds. "So there's some big choices for him to make."
The Republicans could no longer blame paralysis in the political system for not taking action, he says. "So in that regard it's entirely possible that you could have an end to the Budget Control Act."
Nobody should expect a Reagan-level military buildup, though. "I'd be real surprised," O'Hanlon says. Defense spending is still over $600 billion. "We haven't really had a big downturn and therefore I don't know that there's any huge need for a radical buildup. And I'm quite confident we don't have the money to do that."
Any defense plus-ups will likely target Navy shipbuilding, as Trump wants to show he can be tougher on China. He may reverse the cuts in the Army but not by more than a few tens of thousands of troops.
"I just don't see a likely argument for a huge increase, and it's not really what he promised on the campaign trail except in the vaguest of terms," O'Hanlon says. "I heard him talk a lot more about economic populism than about a huge defense buildup. He certainly wanted to benefit from the veterans and military votes, and so he wanted to say enough muscular things that he could bring that classic Republican constituency to him." Nonetheless, he needs to do enough to at least not look inconsistent," he says. "But I don't think he needs to add more than a few tens of billions of dollars to the annual base budget."
O'Hanlon expects a relatively smooth transition for the Pentagon, and does not believe Trump will want to retain any senior leaders from the Obama era. "There are going to be plenty of Republicans who have been itching to get back into government who did not come out against Trump publicly, and so I think those will be the people who get these jobs."
Trump likely will clash with traditional Republicans, not so much on spending, but on whether to commit troops overseas. "The election was repudiation of elite opinions," says Kurt Couchman, a former congressional staffer and now vice president of public policy at Defense Priorities, a conservative think tank. "There is a big disconnect between Trump voters and foreign policy elites." Even if the military gets more money, "You could spend more on stuff but use that stuff in a more restrained manner."
There will have to be a serious effort to cut wasteful spending in the military, including closing bases, in order to free up resources for modernization and readiness, says Couchman. "At the end of the day we still have to set priorities. It's probably true that there will be more resources for defense. But that's in the context of a whole lot of other things that have to be sorted out as well."
Once Trump gets into the business of governing, says Couchman, "He might change the way he thinks about things. I think it's all a lot more fluid than people are saying right now."
Markets See Growth
Trump campaign national security advisor, Sen. Jeff Sessions, R-Ala., has called for "pretty much more of everything," noted industry analyst Robert Stallard, of Vertical Research Partners. Sessions would recommend 60,000 more troops for the Army, 42 more ships above the Navy's current plan of 308, more fighter aircraft, more missile defense. It's too early to predict when and how this plan would be executed. "Just given the budget timetable, the first DoD budget that the Trump administration can really change would be FY19, as FY17 is almost done, and the FY18 request is due out in February of next year."
Roman Schweizer, industry analyst at Cowen Washington Research Group, issued an unusually bullish advisory to investors. "We expect defense spending will go up significantly, at least double the projected 2.5 percent growth rate in the now-superfluous BCA." Between 2018 and 2021, he predicts, defense spending could net an additional $136 billion. The caveat is how Trump will work with fiscal conservatives who will demand debt reduction. "This will be the key watch issue in the coming months," writes Schweizer.
Defense hawks will be demanding more resources to fight terrorist groups and to deploy missile defense systems. The future of the U.S. missile defense program will be crucial to homeland and foreign military security, asserts Magnus Nordenman, deputy director of the Brent Scowcroft Center on International Security at the Atlantic Council.
Annual missile defense spending has fallen in recent years from a peak $9 billion in 2009. The Missile Defense Agency requested $7.5 billion in fiscal year 2017. "It will be important for the next administration to provide a comprehensive, layered missile defense system," says Michaela Dodge, senior policy analyst and missile defense expert at the Heritage Foundation.
Dodge estimates Trump will eventually undertake a new nuclear posture review and possibly a ballistic missile defense review. The focus will probably be nuclear weapons modernization, "just because we've kicked the can down the road so long, we just don't have the margin of error to delay any further," she says.
Dan Wasserbly, America's editor at IHS Jane's Defence Weekly, speculates on whether Trump will deliver on promises to deploy a "state of the art" missile defense system. Specifically, he proposed using Navy cruisers as the foundation of missile defense capabilities in Europe, Asia, and the Middle East. Modernizing cruisers could cost around $220 million each. Wasserbly says the Navy has quietly opposed such recommendations.
Global Alliances
Trump's criticism of international alliances like NATO rattled the foreign policy establishment. The possibility that he would walk away from U.S. commitments not only has diplomatic and security implications, but also could affect U.S. defense industry sales overseas. In a statement, the Aerospace Industries Association called on the new administration to "enhance security cooperation with allied and partner nations and develop smart regulations that increase industry's ability to compete in the global marketplace."
Some analysts are pessimistic. "I think it's very hard to see anything positive for NATO coming out of the vote on election day," says Lisa Samp, senior fellow in the International Security Program at the Center for Strategic and International Studies.
The United States covers 73 percent of NATO's aggregate defense spending, however, not all of that is dedicated specifically to NATO or Europe. Many of the funds are spent on "things that we would have to do regardless of whether the United States is in NATO or not," Samp says. The United States would likely have to spend more on defense if it couldn't rely on NATO allies for basing, joint training and fighting and for enabling its global reach.
Samp warned that Trump should avoid weakening or dividing the alliance at a time when it's facing more security threats.
Similar concerns exist about future commitments to key Asian allies — including South Korea and Japan. "Any potential rift in Washington's alliance with Tokyo and Seoul would not only undermine the current U.S. administration's 'pivot to Asia,' but could also benefit countries such as China and even North Korea," according to Gabriel Dominguez, Asia editor at IHS Jane's Defence Weekly. Given the heightened regional tensions, any significant lack of U.S. military support to Japan and South Korea "may force these countries to re-think their respective defense strategies and boost national defense spending," Dominguez says. This could lead to a further escalation of regional tension in a key area for the global economy, "a scenario that cannot be in the interest of the United States."
Retired British Army Maj. Gen. Charles Gerard Courtenay Vyvyan, wonders what Trump's "aggressive attitudes to allies" might portend for global security. "The U.S. has, for the last hundred years, been seen as President Wilson's 'shining city on the hill', the country with values which attract others and which others wish to emulate," he writes in a blogpost published by Vertical Research Partners.
He predicts that the "less attractive elements" of Trump's campaign pledges will be modified after the Inauguration next year. "Together with his stated ambitions to beef up the DoD budget and to increase the size of the military, it is likely that his foreign policy will be based more on 'hard' power than on the 'soft' power which President Obama chose to prioritize. Trump will be looking to face down his opponents, not to understand their pain."
Editor's Note: This post was updated on the U.S. share of NATO spending

Topics: Defense Department, Budget