United Kingdom Creating Defense Innovation Cell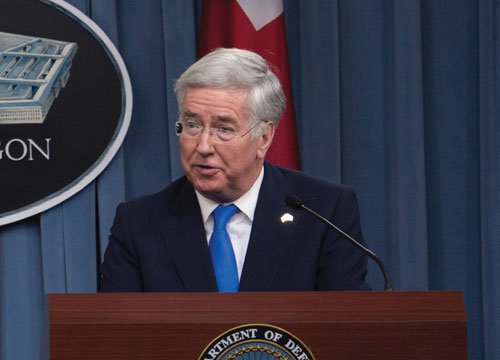 The United Kingdom is investing more than $1 billion to fund cutting edge defense technology, said the country's secretary of state for defense.
"At a time of growing threats — nuclear, conventional, state-based or terrorist — the United Kingdom is stepping up with bigger and stronger defense," said Michael Fallon. "We are increasing our defense budget. We are increasing the size and power of our armed forces so that we can do more to protect our security. And in so doing, we aim to become an even stronger partner of our most steadfast ally, the United States."
The United Kingdom will put $1.5 billion into an innovation fund that will help it secure an operational advantage in the future, he said during a December speech at the Atlantic Council, a Washington, D.C.-based think tank.
Taking a page out of the United States' book, the country wants to create its own version of the Defense Innovation Unit - Experimental, he said. U.S. Secretary of Defense Ash Carter established DIUx in 2015 to better tap into the work being done in Silicon Valley.
"We will be launching our Emerging Technology and Innovation Analysis Cell to help identify game changing technologies. We are setting up a new center to pool the intelligence of the best brains in British business, academia and the public sector," Fallon said.
The U.K. government — currently being led by the Conservative Party — has pledged to spend 2 percent of its GDP on defense. Over the next decade, it intends to allocate more than $265 billion to new equipment, he said.
The country wants to work more closely with the United States on defense innovation, he noted. The United Kingdom plans to tighten links between the two nations and work together on emerging technology demonstrators, participate in joint war games to test ideas and adapt new operating concepts, Fallon said.
"We want to learn from you and to collaborate more with you," he said. "I've been impressed by the way in which you've been able to tap into some of the fizz, if I can call it that, of the smaller high-tech companies and bring their applications to bear on defense solutions."
Traditionally, when the United Kingdom needs a new piece of equipment, be it an airplane or a frigate, it sends out a request for proposals to industry, Fallon said. "What we've not said to our high-tech center is, 'You come and tell us what solutions you've got for some of the challenges, some of the technologies that our adversaries are employing.'"
The nation also plans to make more investments in small businesses, he noted. It intends to spend 25 percent of its defense dollars on small- to medium-sized companies to "try and attract more of this brain power into defense," he said.
The United Kingdom plans to work with organizations such as Glasgow University, the University of Strathclyde, Amethyst Research and Helia Photonics, all of which are based in Scotland, a Ministry of Defence statement said.
The ministry said more details about the innovation center and other technology initiatives would be available later in 2016.
Photo: Defense Dept.
Topics: Business Trends, International, Science and Engineering Technology