BATTLEFIELD COMMUNICATIONS
New Generation of Commercial Satellites to Benefit Military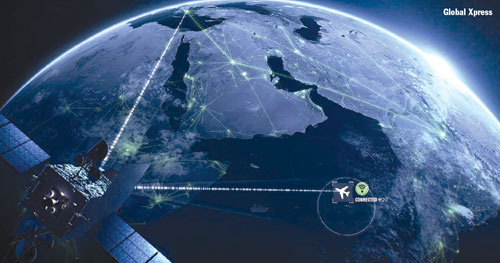 Commercial satellite communications providers are in the process of launching a new generation of high-capacity spacecraft that will be a boon for their military customers.
Government users will have a variety of services to choose from with throughput measured in gigabytes rather than megabytes and narrower, steerable spot beams that will help prevent enemy jamming, all with no development costs to taxpayers.
"Industry is certainly leading the way with tremendous capacity — terabytes in orbit — and if DoD isn't in line to access that, that is a problem," Joe Vanderporten, director of the Air Force Space and Missile Systems Center's Pathfinder office, said at a recent Washington Space Business Roundtable panel discussion on comsat providers and the military.
The big providers such as Eutelsat, Intelsat General, SES Government Solutions and Inmarsat for the past 15 years have been selling their services to the military on year-long contracts because demand has far outpaced military satellite communications capacity. Now, they are asking that their relationship to the Defense Department evolve into more of a partnership.
One of the new satellite constellations is the O3b Network, which is operated by SES Government Solutions. At a demonstration day in Bristow, Virginia, company representatives showed how they could set up a high-capacity satellite link within hours using equipment and dishes that fit into a few easily transportable boxes.
The system connects to eight satellites that are constantly moving in a medium orbit — about 4,100 miles above the Earth — as opposed to standard communications satellites, which operate in fixed geostationary orbits at about 22,000 miles, said P. Glenn Smith, vice president of business development for SES Government Solutions.
The closer proximity means a much lower latency compared to satellites that are in fixed orbits. Smith said speeds were comparable to undersea fiber-optic cables. The satellites have steerable spot beams that cover smaller swaths of about 430 miles wide. Previous beams might cover entire continents.
That gives the system some inherent protection against jamming, Smith said.
The military operates two types of communications satellites. One is the Advanced EHF, highly protected satellites designed to work in the event of a nuclear war. Commercial satellite providers, whose main customers are telecommunications companies and television broadcasters, have no need to build battle-hardened spacecraft.
The Air Force also operates the Wideband Global Satcom satellites, which are intended to provide broadband communications to U.S. forces, but do not have as much protection.
Smith said the smaller beams make it harder for enemies to jam communications. To do so, they have to attempt it within the beam's radius. In addition, they would have to have the ability to track O3b's constantly moving satellites, which is also a difficult proposition.
"The difference is you used to point a dish at a satellite and you were on that satellite for months, maybe years. With O3b, you're on all eight of the satellites about four times per day. They are constantly moving around."
The steerable beams are now being used to provide broadband connectivity to cruise ships as they sail. That could translate to providing the same service for a Navy battle group, he said.
Another company, Inmarsat, in December completed the launching of its Global Xpress constellation with its third spacecraft.
"The final one is for Asia-Pacific. It provides coverage in that very challenging area," said Rebecca M. Cowen-Hirsch, senior vice president of government strategy and policy at Inmarsat Inc.
The new high-throughput satellites have roughly 20 times more capacity than their Inmarsat predecessors and also feature steerable spot beams for commercial or military customers. The new system is also compatible with any terminal capable of connecting to the Air Force's WGS satellites or any DoD certified waveform, she said.
"We have put a high degree of focus on cyber security for Global Xpress ... We have type 1 [National Security Agency] command-and-control encryption to ensure that no one controls our satellites but us," she said.
The flexible beams also have some inherent jamming protection. The waveforms they use allow the spacecraft to quickly change beams if it detects manmade or natural interference, she added. An enemy attempting to jam a signal wouldn't have any idea that the user had switched to a different beam, she said.
Hughes Network Systems LLC has internally developed a new waveform to make equipment more compatible with WGS and the new wave of high-throughput satellites. During a joint U.S.-Australian military exercise, Talisman Sabre, Hughes Defense and Intelligence Systems' division successfully demonstrated higher satellite performance using its advanced TDMA waveform technology.
Dan Losada, senior director at the Hughes division, said the company has been in the high-throughput satellite business for more than a decade with its Spaceways system, which is now used for satellite TV services.
While most of its business is now providing ground systems and modems for satellite connectivity, its new Jupiter high-capacity satellites are expected to provide coverage over most of the Americas by the end of 2016. Jupiter I is in orbit and Jupiter II will be in place by the end of the year, he said.
The TDMA waveform it developed with its own funding is available in the DoD waveform information repository, which means it can be freely applied to any military system, he said.
"High-throughput systems are more of an ecosystem than a stovepiped system. The more people you have that already share your technology, share your vision and allow you to interoperate, the better the experience it is going to be," Losada said.
"My challenge is to bring that to bear for the defense departments of the world so that they can leverage this huge amount of capacity that is going to be available," he said. Australia, for example, paid for one of the Air Force's WGS satellites so it could participate in the global system. The TDMA waveform is helping it tap into that system.
Another high-throughput system in the works is Intelsat General's Epic series. The first spacecraft is slated to be launched at the end of January, said Kay Sears, the company's president.
It will feature wide and spot beam coverage in the same bands for increased flexibility. "It really is built for mobility applications and small terminals, all the things the government needs," she said.
Epic will have four to six times the bandwidth of a WGS satellite. "So already in the satellites we're launching in 2016, we have already seen a [leap] in technology in terms of throughput, power and flexibility. And that will continue," she said.
Sears is one of the leading industry voices asking that the Defense Department allow commercial satellite providers to have a seat at the table when it comes to planning for the future. The new wave of satellites should be considered a permanent part of the space-based communications architecture, she said.
If that were the case, industry could do a better job of building the kinds of features the military needs into their spacecraft.
WGS is based on 15-year-old technology, she said in an interview. Being a program of record, it is hard for the Air Force to insert the latest technology into each satellite it launches. Commercial providers do not have that problem. They are constantly sending new systems to orbit with the most up-to-date technology, she said.
"What we believe is that we will have 100 times the capability the WGS has in orbit or with their full constellation, not just megabytes, but real flexibility with steerable, reconfigurable beams," she said.
"We don't get a lot of help understanding the requirements and the future direction," she said. If the military wants more jamming protection for its satellites, for example, it can have it.
"Any kind of protection they can buy from a manufacturer, we can buy from a manufacturer," she said.
The Air Force is kicking off an analysis of alternatives for its next-generation communications satellites and has been conducting a series of Pathfinder studies to help it inform its decisions.
Meanwhile, the Air Force and the Defense Information Systems Agency continue to buy capacity on the spot market in one-year contracts using overseas contingency operations funding.
The post-WGS architecture must include the commercial provider industry, and clearly define its role and responsibilities for providing wideband communications, Sears said.
Cowen-Hirsch said the Defense Department should be looking for new and inventive ways to acquire capacity "rather than buying the same old things they bought in slightly different ways."
There is an opportunity for the Pathfinder studies to demonstrate this government-commercial integrated architecture and inform the new wideband alternatives going forward, she said. "We are hearing from the top down a real focus to drive towards that integrated architecture."
Government representatives at the panel discussion were somewhat optimistic that change was in the air.
"Some analysis suggests that some of the newer satellites are near WGS capacity," Vanderpoorten acknowledged.
"A purpose-built [government] satellite does more things," he said. How commercial and government-owned systems will line up "is a big conversation. I think it will be a mix. How big of a mix remains to be seen."
Winston Beauchamp, Air Force undersecretary for space, said: "I think there is a real convergence on the technology side. The key is to get convergence on the policy side so that we can operate more seamlessly."
Leonor Tomero, a staffer at the House Armed Services Committee, said: "The future looks bright for increasing use of commercial and I think certainly from affordability and flexibility, it has shifted, and we are seeing DoD lean more forward to take advantage of more commercial."
Meanwhile, all these new high-throughput commercial satellite systems coming online means that prices are coming down when the government buys capacity on the spot market, Sears said.
Peter Hoene, president and CEO of SES Government Solutions, said: "Government estimates were that commercial satellite services cost four times that of a WGS. Now, with high-throughput satellites, the cost is becoming more equal."
Sears agreed that prices are coming down because of the increased capacity but maintained that they could come down even more if her vision of a more cooperative relationship between the Defense Department and the comsat providers comes to fruition.
"It will bring the prices down considerably," she said.
Photo: Inmarsat
Topics: C4ISR, Tactical Communications, Space