Lockheed Expands Training and Simulation Enterprise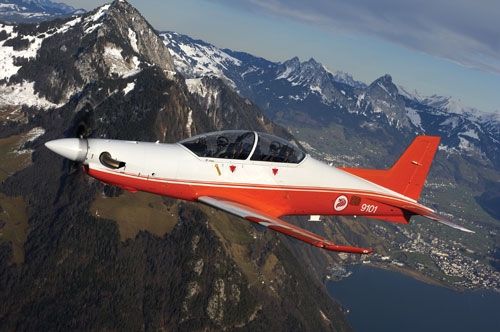 Singapore's Basic Wings Course program uses Pilatus' PC-21 trainer.
Lockheed Martin is increasing investments in training and simulation technologies with the expectation that international and domestic demand for such systems will remain strong, said executives for the defense contractor.
"In general, we're seeing continued demand out of the U.S. for training," said David Scott, vice president of business development and strategy for training and logistics solutions at Lockheed. "While there is a scaleback in the overall budgets or a flattening of budgets, there is a recognition that training is an essential component to have a force that is ready to fight."
Michael Blades, a senior analyst at the market research and consulting firm Frost & Sullivan, said the training and simulation market is attractive because while other programs in the defense budget are experiencing cuts, funding for training remains stable. Blades projected that the combined annual growth rate from fiscal year 2015 to fiscal year 2020 for total spending on training and simulation would increase about 1.7 percent per year. That number is close to the rate of inflation, which means training and simulation is a steady market, he said.
Another reason companies like Lockheed would be interested in investing in such systems is because militaries in general want to do more with less, he said. "They want to be able to do more training for readiness with the same amount of dollars."
One solution to that problem is using immersive virtual training as opposed to expensive live training, Blades said.
Scott said demand for training and simulation capabilities is even stronger overseas, especially in areas like the Middle East. "They are proceeding into operations there, and they recognize and now have a stronger need for training," he said. There is a "general recognition that it's not just owning an airplane or a ship or a tank, but you have to have the trained crew to operate it."
One of the main focuses of Lockheed's business strategy is what the company refers to as its "turn-key solutions." Such programs offer a performance-based approach where end-to-end training is delivered as a service.
One of the company's model programs is the Republic of Singapore Air Force Basic Wings Course. Through the course, Lockheed Martin-led "Team 21" — a partnership with Pilatus Aircraft and Hawker Pacific — has delivered 50,000 flying hours and trained more than 300 pilots since 2008.
The Basic Wings Course program falls under a 20-year service provision contract. Through the agreement, Lockheed and its teammates supply the aircraft, sustainment engineering, maintenance support and a ground-based training system, which includes several simulators, part task trainers and a complete desktop training environment, said Tom Quelly, director of business development at Lockheed Martin Mission Systems and Training.
The contractor also delivers the courseware, monitors and upgrades obsolescent parts, and supplies ground-based instructors for the simulators, he noted. The Singaporean government is responsible for providing the flight instructors in addition to logistics and training IT management systems, he said.
These types of partnerships offer benefits to both Lockheed and its customers, Quelly noted. By integrating all of the components of the training system and tailoring them to a specific country's needs, turn-key arrangements result in higher-quality graduates, shorter training terms and reduced costs, he said. Past programs have saved 15 to 20 percent over traditional acquisitions, he noted.
Another benefit for the customer is a steady cost for the duration of the contract, which is typically delivered over a long period of time — about 20 to 25 years — at a fixed price, Quelly added.
Through these fixed-price arrangements, the company assumes a lot of risk and is incentivized to offer the service in the most efficient manner, at the lowest cost. "If we manage that risk well, we meet our financial metrics," Quelly said. "If we don't, we're at risk."
For Lockheed, such contracts provide the company with long-term stability and growth. "They're very predictable as far as our business metrics," he said. "They give us a very good opportunity to build and grow a stable workforce of training experts."
Additionally, long, sustained partnerships enable the company to remain close to its foreign customers to better identify their needs and where to target internal research and development, Quelly said. "On the training programs we've had — the Singapore program or the U.K. MFTS [Military Flying Training System program] — they've allowed us to become aware of requirements and needs that we've in turn put investments against." MFTS is a turn-key program that Ascent — a 50/50 joint venture between Lockheed Martin and Babcock International — secured in 2008. That contract spans 25 years.
In December, Lockheed-led Team 21 was awarded a contract for approximately $850 million for an initial seven-year program to train the next generation of Australian military pilots. "Performance-based options for up to 25 years will provide the opportunity to extend the length and increase the value of the total contract," a company press release said.
Through the AIR 5428 Pilot Training System project, Lockheed will be responsible for delivering an integrated training solution for all future pilots in the Australian air force, navy and army, the release said.
The company is also in ongoing discussions with Qatar to potentially implement such a program there, Quelly noted.
Another key component of Lockheed's training and simulation portfolio is the F-35 joint strike fighter.
By early January, 251 pilots from six nations — the United States, Italy, the United Kingdom, the Netherlands, Norway and Australia — had been taught on Lockheed's F-35 training system. The centerpiece of the system is the company's full mission simulator, a high-fidelity 360-degree visual dome.
"The code that flies in the F-35 is the code that flies in the trainer," said John Leonhardt, F-35 technical operations director at Lockheed. "That gives you the fidelity and the seamless training back and forth. About 50 percent of missions could actually be trained in the simulator."
For previous aircraft, only 40 percent of missions could be trained on such devices, he said. "Taking 10 percent of that training and moving it into the … simulator is a huge sustainment cost [saver] in terms of fuel, air time, and wear and tear on the physical aircraft."
Using simulators for training is important because they can replicate difficult environments that are impossible to test against in a live aircraft, Leonhardt said. "Simulation allows you to do that using real-world physics-based models and weapons-based models, and bringing them together in a classified way to test the limits of the aircraft." Such an environment is safer for both the platform and the pilot, he added.
Tactically the F-35 will fight in a formation of four aircraft. To enable pilots to rehearse missions in a more realistic setting, four full-mission simulators can be linked together allowing airmen to train side by side in real time. This gives them the ability to hone their tactical skills for employing the joint strike fighter against ground and airborne threats, a company press release said. The U.S. Air Force began training on these simulators in December at Hill Air Force Base, Utah. The first Air Force squadron will reach combat readiness in August.
Lockheed also provides the maintenance training for the joint strike fighter. By early January the company had trained 2,445 personnel from the aforementioned countries on its aircraft systems maintenance trainer.
The defense prime is currently delivering on the system development and demonstration contract for the F-35 program. This includes aircraft testing, low-rate initial production, initial pilot and maintainer training, and sustainment, a company spokesperson said in an email. That phase will conclude in 2017 with the delivery of Block 3 capabilities.
Lockheed is in the process of negotiating the next steps in the F-35 program with the joint program office and the military services as it prepares for full-rate production, Block 4 capabilities and global training and sustainment, the spokesperson said.
After 2017, "we are competing for each of those next increments," Leonhardt said. "Each LRIP [low-rate initial production] we will compete and put our formal bid in, and we'll leave it up to the JPO to select the best bidder."
Blades said it could be difficult for Lockheed to maintain its role providing the training and the sustainment on the F-35 in years to come. They have the advantage up front because they are the original equipment manufacturer, he said. However, as training becomes more virtual and open sourced "it's going to be more and more competitive. It's going to be harder to keep that contract" past the initial agreement.
This will be especially true in the foreign market, he noted. "They're going to want to be able to do their own training … and not count on Lockheed Martin to do it."
Another area of interest for the defense prime is developing training and simulation devices that are mobile, lightweight and reconfigurable, executives told National Defense.
Service officials have stated they need gear that can be easily deployed with troops for training "on the go." They have also asked for systems that can be altered to enable service members to train on multiple platforms at once.
To meet this demand Lockheed has been evolving its multi-function training aid (MFTA). The system is used to help servicemembers familiarize themselves with the displays and controls inside of a cockpit and better understand procedural training concepts, said Atul Patel, director of advanced technology at Lockheed.
In order to increase efficiency and affordability for the military customer, the aid is reconfigurable. "One day you can have this trainer set up to be a C-130. The next you could have it set up to be an H-60 helicopter," Patel said.
MFTA is currently being used by the Air Force to train its special operations and C-130 aircrews, he noted.
The company is working on expanding to other platforms and customers to include aircraft like the V-22 Osprey and the H-60 Black Hawk, as well as ground vehicles, Patel said.
To reconfigure the system, it typically takes less than two hours, he noted. "The biggest time constraint is the actual controls," he said. When "going from a C-130 to an Osprey obviously you've got to get the different yokes and sticks integrated in there."
The company has also been developing wearable gear in order to meet the demand for more mobile training devices. In January 2015, Lockheed partnered with a Silicon Valley startup called Wearality. The duo is working to develop more refined immersive virtual reality glasses, Patel said.
A user can attach a smartphone or tablet to the headgear and view the screen using the device's 3D lenses. Lockheed gave Wearality access to its patented lens technology, and the small startup has taken it to the commercial market, he said. The company hopes to take lessons learned and progress made in the commercial sphere and transfer that knowledge to its defense products.
One of the main advantages of the glasses is the wide field of view, Patel said. "Having a wider field of view gives you the opportunity for the peripheral vision to come into play and it helps to mitigate motion sickness, which you would otherwise get with a very tight field of view."
Photo: Lockheed Martin