Emergency Military Network to Go Under Sea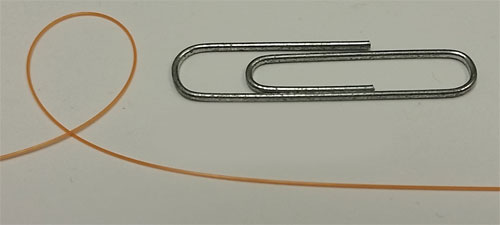 Linden Photonics' strong torpedo fiber optic cable
Military scientists are developing a rapidly deployable undersea network, which could restore tactical military communications that are compromised by adversaries.
In September, the Defense Advanced Research Projects Agency awarded a $1.9 million contract to LGS Innovations, a networking and communications solutions company, for phase one of the tactical undersea network architectures (TUNA) program.
The company has two partners for the project: Linden Photonics, which specializes in high-strength fiber optic cables, and Tethers Unlimited, a private aerospace company. The team aims to "develop the world's strongest neutrally buoyant undersea cable" for the network, an LGS press release said.
"Such technologies will allow the DoD to maintain an information advantage, even in contested areas," said Bob Beyers, technical director of applied research and technology at LGS Innovations.
The initial phase of the TUNA program is focused on concept and technology development in three areas: system design, small fiber optic cable systems and buoy nodes, the press release said. The buoys would function as signal relay points for the network.
One of the main challenges "is the development of an undersea microcable that simultaneously possesses small size, high strength, low optical loss and neutral-buoyancy, and is producible in long cable lengths," Beyers said in an email. DARPA requires that TUNA technologies be capable of surviving deployment and operation in the ocean for at least 30 days. To date, most undersea cables are big, heavy and expensive, he noted.
The cable LGS has proposed is based on a commercial offering by Linden Photonics called "strong torpedo fiber optic cable," Beyers said. LGS proposed changes in design and fabrication that would enable the product to better meet the military's needs, he said. The cable uses a highly resistant liquid crystal polymer to improve strength.
Phase one of the program will last 15 months. LGS will provide model simulations, design and analysis as well as scaled development and demonstration for the technology over that period. DARPA has plans for a second phase focused on the implementation of an integrated end-to-end network prototype.
Photo: Linden Photonics
Topics: C4ISR, Tactical Communications, Science and Engineering Technology, DARPA