DARPA Investing in Vanishing Air Vehicles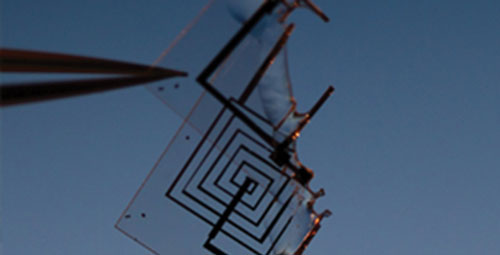 Air vehicles delivering critical supplies to ground troops could soon simply disappear into thin air after dropping their payload, reducing troops' environmental footprint.
The project, which is being spearheaded by the Defense Advanced Research Projects Agency, is known as the "inbound, controlled, air-releasable, unrecoverable systems" (ICARUS) program.
"The main goal is to be able to deliver supplies whether they … [are] things like batteries, water, medical supplies to teams of either military or humanitarian personnel," Troy Olsson, ICARUS' program manager, told National Defense.
The vehicle, after dropping off its payload, would then disappear after being triggered by an operator or environmental factors, such as sunlight or temperature.
While the idea may seem too futuristic to be true, ICARUS builds off a previous DARPA project known as the "vanishing programmable resources" (VAPR) program, Olsson said.
"The goal of the VAPR program is to build transient or vanishing microsystems, so think of small-scale wireless sensor devices that can vanish on command," he said. "Part of that program was to make things like circuit boards [and] packaging."
One approach to that was a vanishing polymer, he said.
DARPA worked with the University of Illinois, Cornell and Georgia Tech on VAPR. Recently, there have been major advancements in the program that led agency officials to believe creating a disappearing delivery vehicle was feasible, he said.
The University of Illinois several years ago developed circuit boards that could sublimate from a solid into a gas when exposed to ultraviolet light. Georgia Tech recently piggybacked off that development and demonstrated it could generate the same result with visible light, he said.
"They basically have figured out a way to tailor the wavelength at which that vanishing of the polymer occurs all the way up to 600 nanometers," he said. "In the context of ICARUS, you might think this might be something like sunlight, for example."
Additionally, Cornell University recently demonstrated that it could increase the stiffness of the polymers from something on the order or a rubber band to a piece of Tupperware, he said.
While Olsson is optimistic that DARPA will develop a variety of air vehicles for ICARUS, he said it is unlikely that the technology is mature enough to produce a drone.
"There's nothing precluding a powered aircraft from the ICARUS program," he said. "I can't envision one, but that doesn't mean somebody else can't."
ICARUS is a two-phase program that will last 26 months with total funding of about $8 million. DARPA published a broad agency announcement in October and bids were due in late November.
Photo: DARPA
Topics: Aviation, Science and Engineering Technology, DARPA