Air Force Facing Budgetary Train Wreck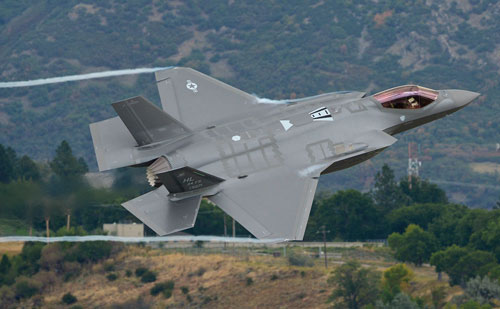 Absent a major increase in topline funding, the Air Force acquisition budget will experience a crunch in the 2020s, analysts said.
The service is projected to spend more than $67 billion in fiscal years 2016 through 2020 on its top three priorities — the F-35 joint strike fighter, KC-46 tanker and long-range strike bomber — as well as C-130 cargo aircraft and unmanned aerial vehicles, according to the Congressional Research Service.
Budget plans for this period also include initial funding for: joint surveillance target attack radar system recapitalization; a new combat rescue helicopter; a presidential aircraft replacement; and a new advanced T-X trainer aircraft.
These programs, if carried to fruition, are all likely to be in the procurement stage in the 2020s. The Air Force is therefore facing a modernization "bow wave" unless plans are modified, budget experts said.
"Procurement spending on established programs will continue to be substantial," Jeremiah Gertler, a military aviation specialist with the Congressional Research Service, said in a December report, "The Air Force Aviation Investment Challenge."
"How will the future Air Force procurement budget accommodate the new programs as well?"
Todd Harrison, a defense budget expert at the Center for Strategic and International Studies, said procuring just "the big three" — F-35, KC-46 and long-range strike bomber — would be a major modernization burden. "All of those programs will be at or ramping up to full-rate production in the next decade," he noted at a recent CSIS conference. "But … you've got several other major programs that are supposed to be ramping up at the same time."
The Air Force may need to defer or delay programs or find other sources of funding, Gertler said in the report. Steps the service could potentially take include: reducing annual quantities of the F-35; retarding the growth of research-and-development programs; deferring the KC-Y follow-on tanker; or securing funding for the new bomber through a non-Air Force budget account.
The Air Force is not preparing for the bow wave, Harrison said. "We're not even really dealing with it yet. We're not even seeing it yet" in budget documents.
Gertler said projecting program budget requirements 10 years out instead of five in the Defense Department's future years defense plans "could more tangibly illustrate the resource decisions required today to avoid budgetary 'train wrecks' in the future."
Photo: Air Force
Topics: Aviation, Defense Department, DOD Budget