3D Database to Improve Simulated Flight Training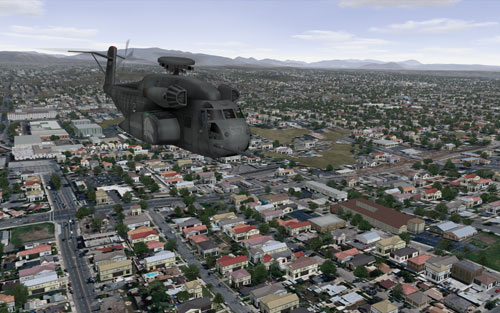 Rockwell Collins has unveiled a synthetic database to model environments across the globe that will reduce simulated training costs while improving military readiness, according to a company executive.
The synthetic environment is the newest version of the company's WholeEarth product line, which was first introduced over 15 years ago. The enhanced environment combines geo-specific imagery data, 3D models and "geo-typical" imagery — swatches that are generic but still representative of a particular region's topography. The product creates more realistic training scenarios for service members who will eventually fly in a variety of locations, said Lance Moss, principal product manager for simulation and training solutions at Rockwell Collins.
The product is unique because it can deliver global representations at any altitude, during any point in the day, in both the summer and winter seasons, and at all wavelengths with 0.5m resolution, he said.
The product is currently in an "alpha state" with the official release happening in May. "From now until then we will be finalizing initial content — mostly the continental United States," Moss said.
"Then, over the next two years we will be tailoring the entire rest of the Earth with different content in those regions so it looks like Asia and Africa and Europe and Australia and so on."
The company plans to have follow-on releases twice a year — in November and May — over that two-year period. After that time, it hopes to have the entire globe represented, he said.
The WholeEarth product already has two international customers in the Asia region, according to Moss. They've "placed preorders and are waiting for that May release," he said. Though the initial product launch will focus on U.S. content, the company is also going to provide tailored data for those two customers, he said.
Updated regions moving forward will depend on need and demand. "Right now, the needs are Western and Eastern Europe, the Middle East … and some Asian" regions, he said.
The product is being touted as a "ready made," low-cost option because it uses nonspecific geographic representations, while also giving customers the flexibility to add high-resolution, photo-exact insets if there is an area where they want more precise imagery. The inset can be placed on top of the Rockwell Collins' dataset and "it will be integrated seamlessly on a real-time rendering" without additional costs for blending and integration, Moss said.
The WholeEarth synthetic environment has "a relatively small cost compared to building your own data," he said.
The Rockwell Collins database would cost less than $10,000 for annual maintenance and updates, and the standard option for the WholeEarth solution would be in the "tens of thousands at most," Moss said.
Photo: Rockwell Collins
Topics: Science and Engineering Technology, Simulation Modeling Wargaming and Training