Cybersecurity, Information Technology Industry Headed for Massive Shakeout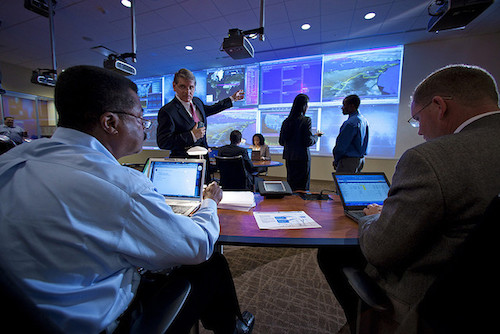 A blockbuster multibillion-dollar deal just announced by Lockheed Martin — to combine its government information systems business with Leidos, a federal services contractor — is the latest sign of upheaval in an industry that is scrambling to keep up with a fast-moving market.
The coming year could see more such activity, analysts predict, and there is likely to be an extraordinary volume of horse trading and deals in the cybersecurity sector as companies gain a better grasp of government spending trends.
"I predict the next two years will be huge for cyber consolidation," says Eric Gillespie,, CEO of Govini, a big data analytics firm that works with major federal contractors.
Gillespie says he can confidently make this prediction because the data don't lie. "We looked across tens of millions of documents from the federal government." Analysts used algorithms — based on where the money is flowing — to break down the cybersecurity market into 11 major categories. The numbers showed that many contractors are not well positioned to compete in some of the categories — a situation that could spark a realignment, he says. Companies will seek to sell off businesses and acquire others that could boost their chances to win government contracts.
Dissecting the market into 11 groupings — in addition to 43 subgroups — has helped companies better understand the cybersecurity market, Gillespie says. "We heard consistently from clients that they didn't know how to define cybersecurity. Everyone claimed they owned a piece of the market but few companies understood it."
The buckets where the government puts cybersecurity dollars include offensive cyber, physical security, boundary defense, secure systems engineering, security monitoring, program management, incident response and forensics, endpoint defense, security compliance, business continuity, and training and awareness.
"These are categories the government defined," says Gillespie. "Every contract somehow clusters into these 11 categories." Before they saw this lineup, he adds, "companies had no idea how the market broke out, nor did they know how to play in this market, they didn't know how to leverage the assets they have today."
Lockheed Martin, for instance, is the top federal contractor for security monitoring, but is not as strong in other areas. "It was the first time for most of our clients that they had thought about the market in that way."
With this data, vendors should be able to decide what contracts to compete for, or whether to sell off businesses. The climate is so cutthroat today that vendors don't want to compete as middle-of-the-pack players, he says. "This gives them an objective way to think about their markets."
Increases in government cybersecurity spending will be fueled by agency requirements and macro events like the Office of Personnel Management breach. "That's going to continue," says Gillespie. "There's no chance we've seen the end of major breaches."
Meanwhile, government contractors vying for a piece of the $37 billion a year Defense Department cybersecurity budget are feeling the squeeze from commercial companies that have competitive products, he says. "They are going to have to figure out what to buy to play in that space. I think it's going to be the hottest area of growth for defense contractors for the next few years. If I were a betting man, this is where I'd place my bet."
In the highly competitive information technology and cybersecurity sectors, more companies are relying on big data analysis to chart a path to the future. "Government agencies are spraying around data at a volume and velocity that most businesses can't keep up with these days," says Gillespie. "Even the large defense contractors and IT services firms struggle to catch that spray of data and keep track of it."
In the IT business, trying to make sense of government contracting data can be especially difficult because each agency uses different methods for amassing and recording information. "The problem is not necessarily that the data are bad. It's that they are highly fragmented and not normalized," says Gillespie. "Almost by definition the federal government will always operate that way, with independent reporting structures. I don't think we'll ever fundamentally solve how to get a view through a single lens of the wide federal marketplace."
Photo: Lockheed Martin
Topics: C4ISR, Cybersecurity, Defense Contracting