Former Special Operator to Lead State Department's Counter-ISIS Messaging Center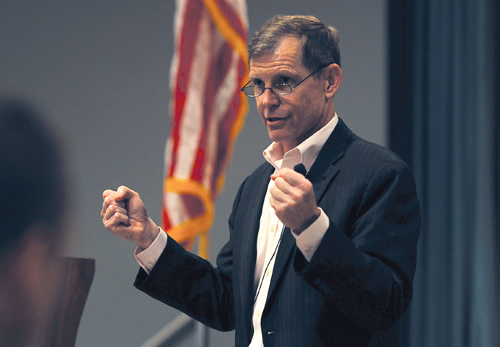 Michael Lumpkin
A former Navy SEAL and current Defense Department official is being called on to revamp the federal government's effort to counter ISIS and other groups' recruitment propaganda.
"The defining characteristics of [special operations forces] -- agility, precision and the effective use of intelligence -- are exactly what is needed to address this challenge," said Michael Lumpkin, in his final speech as assistant secretary of defense for special operations/low intensity conflict. President Obama has tapped him to lead the new Global Engagement Center at the Department of State.
His task is to rethink the government's effort to counter violent extremist propaganda.
"It is a critical part of our overall approach to counter violent extremism and one that quite frankly needs better direction and more resources," he said at the National Defense Industrial Association's Special Operations/Low Intensity Conflict conference in Washington, D.C.
"The center will focus on empowering and enabling partners, both governmental and nongovernmental, to speak out agains these groups to provide an alternative to Daesh's nihilistic vision," he said, referring to another name for ISIS. "The reality is that the U.S government is not always the most effective messenger to contest this propaganda." The most credible messengers come from within the region, he added.
The center's goal is to dismantle the groups' efforts worldwide by targeting recruitment, he added.
Industry can help with tools to counter the extremists online, he said. Attacks in Paris, San Bernardino,California, Istanbul and Jakarta show that this is a global fight, he said. "Working with the defense industry and the tech industry in Silicon Valley, we can use new tools to I detect and measure radicalization," he said. Such technology can also be used to measure how the center's and the violent groups' messaging is resonating, he added.
"With better information we can more effectively counter the narrative espoused by these violent extremist organizations," he said.
He added that there is a serious shortage of credible content that can be used to counter radical messaging. Working with defense and tech industries along with international partners, "we can do better," he said.
Lumpkin is a self-professed "knuckle dragger" who is "not a social media guy."
The center will take a "whole of government approach." He plans to use special operations forces military information support teams, formerly known as psychological operations, in his new job.
Photo: Defense Dept.