Mabus: Navy to Meet Shipbuilding Goals Regardless if LCS Buy is Reduced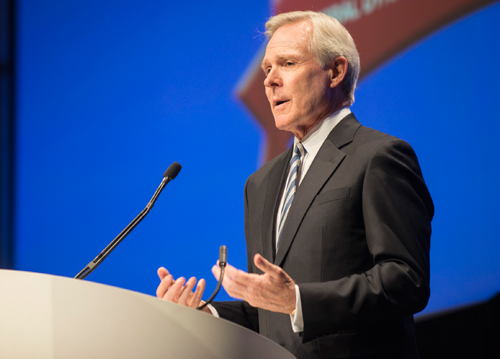 Secretary of the Navy Ray Mabus said the service is still on schedule to reach its shipbuilding goals despite a Defense Department directive calling for a reduction in littoral combat ship buys.
Secretary of Defense Ash Carter in a December memo asked the Navy to reduce its procurement of littoral combat ships from 52 to 40 in the fiscal year 2017 budget.

Mabus was unwilling to comment directly on the LCS numbers. "The 2017 budget … hasn't gone in yet. It is pre-decisional," he said Jan. 14 during his keynote address at the 2016 Surface Navy Association Symposium.
Regardless of the fiscal year 2017 budget, "The decisions that we have made over the past seven years [through fiscal year 2016] will ensure that our fleet gets up to more than 300 ships," Mabus said.

Shipbuilding is not the work of one person or one administration, he noted. It has to be maintained and continued over the course of many years. "If you don't, the effects aren't immediately apparent, but they are in a decade or so," he warned.

During his tenure as secretary, the fleet has grown faster than any other time in modern history, Mabus said. In the seven years from 9/11 to 2009 the Navy only put 41 ships under contract. The fleet declined from 316 to 278 ships. That was "not enough to keep our fleet from declining or keep our shipyards open and healthy," he said.
"In the seven years following 2009, we will have contracted 84 ships, more than the last three Navy secretaries combined. And we will have done so while increasing aircraft purchases by 40 percent, and with a 20 percent smaller top line," he said.

He highlighted the achievements of the LCS program as an example of the Navy's success, while emphasizing the increased capability of future ships in the class.

Last month, LCS 6, the USS Jackson was commissioned. Its predecessors, LCS 1 through 4, were under contract before 2009 at an average ship construction cost of $548 million, he said. In comparison the USS Jackson was $432 million, and there are now 19 of those ships authorized and appropriated at an average ship construction cost of $337 million, Mabus said.

Though there have been criticisms of LCS, including issues such as survivability, he said the newer frigates will have more fire power, can deploy with a carrier strike group, and have robust anti-mine and anti-submarine capabilities. "They are longer, faster, heavier, more maneuverable than many destroyers in the world today."

He agreed with Rear Adm. Peter Fanta, director of the surface warfare division, who earlier in the week said: "a group of small surface ships like LCS … [is still capable of putting] the enemy fleet on the bottom of the ocean."

Mabus also addressed the hot-button issue of presence versus posture. In the December memo, Carter criticized the Navy for "overemphasizing resources used to incrementally increase total ship numbers at the expense of critically needed investments in areas where our adversaries are not standing still, such as strike, ship survivability, electronic warfare and other capabilities."
The service has been prioritizing quantity over lethality, and its latest program submission is unbalanced, creating risk and exceeding the numerical requirement of 308 ships, Carter said. "The Navy's strategic future requires focusing more on posture, not only presence," he said.

Mabus argued that the Navy's presence is its posture. "I think that those two concepts may be broken apart for other services, but for the Navy and the Marines there is a whole lot of overlap. It's almost exactly the same thing."
Photo: Navy
Topics: Defense Department, DOD Budget, Shipbuilding, Surface Ships