Coast Guard Releases Solicitation for New Polar Icebreaker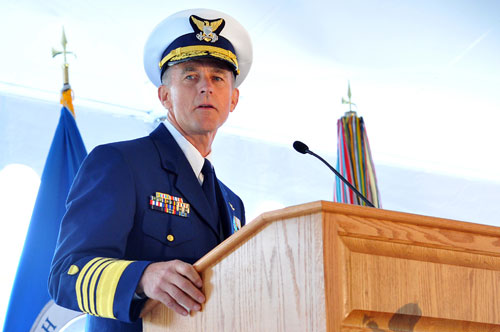 Coast Guard Commandant Adm. Paul Zukunft
The Coast Guard is kicking off an effort to procure a new polar icebreaker, the service's commandant announced Jan. 13.
The Coast Guard released a notice to industry on FedBizOpps that included an acquisition timeline and requirements to procure a new polar icebreaker, said Adm. Paul Zukunft during a speech at the Surface Navy Association's annual conference in Arlington, Virginia.
"I have also signed up an operation requirement document that has been pushed across from DoD, Department of Interior, Department of Commerce, National Science Foundation [and the] Arctic Research Council. We have a lot of people interested in the Arctic," he said. "By sending out these requirements, I'm not going to ask … [them] to share in the cost of building an icebreaker, but I want to lock down requirements now so I can turn to industry and say, 'This is what the United States needs.'"
The Coast Guard will host an industry day in March followed by one-on-one meetings with companies in the following weeks, the announcement said.
Coast Guard leaders have said in the past that they sorely need a new polar icebreaker. Currently, the service — which has a statutory responsibility to maintain the nation's fleet of polar icebreakers — only has two in operation. The Polar Star, a heavy-duty vessel built in the 1970s, recently came out of a major refurbishment that will give it an estimated additional seven to 10 years of service life. The Healy, a medium-duty ship, is used primarily for scientific research.
A third vessel, the Polar Sea, is currently in dry dock following a massive engine failure in 2010. The Coast Guard is currently studying whether it could refurbish the ship as well, though experts have said in the past that the vessel is in poor shape.
Compared to other nation's fleets of icebreakers, the United States is significantly behind, Zukunft said. Russia, for example, is building 14 icebreakers. "Our GDP today is over eight times that of Russia. Russia's GDP is where ours was in 1950, pre-Sputnik, yet Russia is building 14."
The price of a new icebreaker has been estimated to cost $1 billion. Coast Guard leadership has said that cost couldn't come from its topline. During his speech, however, Zukunft said he was optimistic the fiscal year 2017 budget would provide enough funds.
"I have been in very active dialogue" with Capitol Hill, he said. "I would not be investing in [this] acquisition step — I would not take the time to push out an operation requirement document, the work that that takes — if I didn't have any faith that in the future we will see an appropriation to address icebreakers."
He added: "I can't talk about what's going to be in the '17 budget, but trust me, I'm working on it."
The commandant also seemed to back track from remarks made in the past where Coast Guard officials suggested other government entities like the Navy or the National Science Foundation contribute funding toward the icebreaker.
Zukunft said: "I do not recommend that ... the Navy invests in icebreakers."
Congress allocated the Coast Guard $6 million in funding for a new polar icebreaker in fiscal year 2016. Zukunft said he has already used that money to hire a team of acquisition professionals.
While the solicitation is only accessible to industry, he said the vessel would be required to do scientific research, rescue operations and law enforcement missions.
Photo: Defense Dept.
Topics: Defense Department, DOD Budget, Homeland Security, Shipbuilding