CNO Richardson Addresses Criticism that Navy Is 'Unbalanced'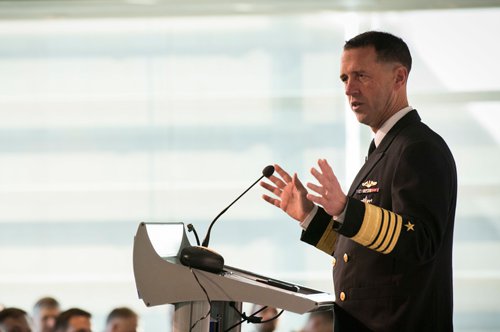 Chief of Naval Operations Adm. John Richardson
The Navy should not have to choose between more presence and more lethality, Chief of Naval Operations Adm. John Richardson told reporters Jan. 12.
In order for the service to fight to the best of its ability there should be an equal balance between presence, posture, capability and capacity, he said. The service shouldn't have to choose, he added.
"It is my responsibility to deliver the Navy that is most in balance. … I'm kind of deflecting anyone who wants to take me down a rabbit hole where it's an either/or type of decision. It's both/and" when it comes to those four aspects, he said following his keynote address at the 2016 Surface Navy Association Symposium.
"Does the needle move from budget cycle to budget cycle?" he asked. "Certainly, but on the whole we want to keep that needle balanced."
Richardson's comments came a few weeks after a December memorandum where Secretary of Defense Ash Carter chastised the service for what he called an "unbalanced" program submission.
"For the last several years, the Department of the Navy has overemphasized resources used to incrementally increase total ship numbers at the expense of critically needed investments in areas where our adversaries are not standing still, such as strike, ship survivability, electronic warfare and other capabilities." This has resulted in an unacceptable reduction to weapons and aircraft needed to defeat and deter adversaries, the memo said.
"Earlier this year the Department of Defense gave guidance to correct and reverse this trend of prioritizing quantity over lethality; however, counter to that guidance, the Department of the Navy's latest program submission fails to do so," the memo noted. "It is accordingly unbalanced, creates too much warfighting and technical risk, and would exceed the numerical requirement of 308 ships."
The memo directed the Navy to reduce its total procurement of littoral combat ships from 52 to 40, acquire 10 Flight III destroyers within the future years defense program, maintain or increase production of key munitions, maximize the U.S. undersea advantage by upgrading the submarine force, and procure 31 additional F-35Cs as well as more Super Hornets. Additionally, it directed the Navy to continue to invest in upgrades for 4th generation fighters.
Throughout the first day of the SNA symposium most service leaders opted for descriptors that emphasized the fleet's lethality and offensive capabilities.
Vice Adm. Thomas Rowden, commander of naval surface forces and the naval surface force for the U.S. Pacific fleet, said the Navy is focusing on "distributed lethality."
"What is distributed lethality?" he asked attendees. "It's increasing offensive power. It's defensive hardening of our individual ships. It's employing them in a more distributed manner. It's holding more adversaries at risk across a wider geography."
A successful implementation of this strategy would take a cultural shift where service leaders start thinking differently about how they want ships to be used and what weapon systems those ships should employ. Distributed lethality "will increase our ability to deter aggression. It will contribute to achieving success in any domain. It will increase our ability to gain and maintain sea control. And it will project power," Rowden said.
By making the Navy's submarines, aircraft and partners more lethal, the United States will force "a change in the calculus of our adversaries," he said.
The discussion of the service's strategy moving forward is increasingly important as the United States faces a return to "great power competition," according to Richardson.
"We're in a contest for maritime superiority," he said. "For the first time in 25 years, we are really in an era of great power competition."
In his recently released report, "A Design for Maintaining Maritime Superiority," Richardson said adversaries such as Russia and China "continue to develop and field information-enabled weapons, both kinetic and non-kinetic, with increasing range, precision and destructive capacity." Russia is operating with a frequency and in areas not seen for almost two decades, and the Chinese People's Liberation Army Navy is extending its reach around the world, the report said.
The U.S. military is also facing continued threats from nations such as Iran and North Korea, as well as transnational terrorists like the Islamic State. These threats come at a time when globalization and the use of maritime pathways is increasing, information is growing exponentially at a low cost of entry, and technology is rapidly advancing, Richardson said.
Adversaries are taking advantage of these "forces" and the United States needs to do the same if it hopes to maintain its superiority, he said. That would mean modernizing the fleet, getting new technologies to warfighters quicker, accelerating learning, and strengthening partnerships with both foreign allies and the U.S. Marine Corps, Richardson said.
"The margin of victory is razor thin out there," he added. "It is a game of inches, and they [service members] are fighting and clawing for every inch of advantage."
Photo: Navy
Topics: Defense Department, DOD Budget, Shipbuilding