Special Operations Equipment Plugs Into the Digital Revolution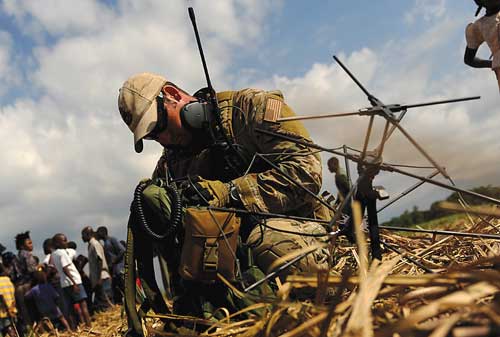 A U.S. Air Force combat controller
U.S. Air Force elite forces known as "special tactics airmen" will be going to war with a modern suite of portable electronics, including a newly developed system that guides fighter jets to enemy targets.
Devices and mobile apps that have been years in the making are being tested and could be ready for field use in the coming months, said officials from the U.S. Air Force Special Operations Command, based at Hurlburt Field, Florida.
AFSOC expects to deploy four new pieces of equipment as part of the "battlefield air operations" kit program — a smaller and more advanced tactical computer, a miniaturized weather sensor, a digital close-air support system and a wearable antenna for covert communications.
The systems are part of what AFSOC calls the "battlefield airman kit."
The United States has a force of about 1,000 battlefield airmen. They are a mix of special operators but also conventional Air Force tactical air controllers — who deploy with ground forces to help identify targets — and personnel recovery "pararescue" troops. AFSOC's ground-warfare airmen are called "special tactics airmen."
The upcoming additions to the airman kit are part of a broader effort that started in 2005. A fratricide incident in 2001 compelled then-Secretary of the Air Force James Roche to set up a dedicated program office to develop digital close-air support technology for combat controllers and tactical air control party airmen who serve as the pilot's eyes and ears.
The military describes this technology as "machine-to-machine" data exchange between joint tactical controllers on the ground and strike aircraft flying over target areas.
The new systems are smaller, lighter and more commercial-like than the existing gear, officials said.
A wearable computer called the Android tactical assault kit that already has been fielded to AFSOC units displays moving maps, and overlays the positions of friendly forces.
A more complex system that is derived from commercial technology but customized for military use is the modernized "digitally aided strike suite." The tablet computer has cutting edge software to translate different radio message formats used by ground and air crews. Officials tout this system as a potential breakthrough that could help prevent friendly fire. Instead of the operator having to make radio calls and transmit coordinates, the wearable device does it digitally.
"This was developed by our special products office," Capt. Gabriel Brown, chief of battlefield airmen requirements, told National Defense in a recent interview.
The technology in this market has moved fast, he said. "Instead of having lengthy communications with aircraft, we can get the target information blasted off so it can be digested, and as soon as aircraft gets overhead they can begin striking."
In the past, operators on the ground used radios to pass "nine line" briefs with target coordinates by voice to the cockpit. The digital system eliminates errors from manual keyboarding. This is "first of its kind, leading edge technology," Brown said. "The guy on the ground has a small wearable device to transmit information to aircraft," he said. Prototypes delivered in recent months were used in exercises with NATO allies and cleared initial tests, he said. "It was able to pass a series of message formats near flawlessly to other nations' aircraft and our own U.S. platforms."
The system can be set up in various modes depending on the rules of engagement, "so the right people can help make the decision to strike," Brown noted. The data can be programmed so it's screened by a command center if the rules of engagement require validation of the target by higher authorities.
Digital close-air support systems have been around for years, but the latest generation is technologically leaps ahead in terms of size, computing power and operator usability, Brown said. "In the past, systems were larger, heavier, bulkier, with too many buttons to push and too many cables. They were vehicle mounted, whereas now they are backpack size." With small but powerful tablet computers and targeting optics, "We can wrap this together and get very accurate coordinates. We're somewhere we haven't been before."
The upgraded targeting technology is being introduced at a time of growing concerns in the Air Force at large about conducting air strikes over confusing battlefields. The ongoing air campaign against the Islamic State in Iraq and Syria has tested the capabilities of ground controllers, said Air Force Gen. Herbert J. "Hawk" Carlisle, commander of Air Combat Command. "Our battlefield airmen and their ability to get better at targeting" are essential to the success of the war against ISIL, Carlisle said last month during a meeting with reporters in Washington, D.C.
"We are looking to get much better at targeting to minimize collateral damage," Carlisle said. "Our ability to get the intelligence, get the appropriate targets" has improved, he added. The trend is moving toward "machine-to-machine" systems to take advantage of "all the information we get from all the platforms," he said.
Along with the new digital close-air support tablets, battlefield airmen will have handheld Link 16 radios which are smaller versions of the digital radios that are widely used to transfer targeting information into a readily available aircraft architecture. "That's a key point of where we are in the cutting edge of technology," said Brown. Kits that used to weigh 150 to 200 pounds and drew heavy power have shrunk considerably and will ease the logistics burden. "We do a lot of dismounted operations," he said. "We need reduced size, weight and power on all our equipment."
Battlefield airmen are trained to carry from 65 pounds to 100 pounds on their backs during deployments. With the new gear, their packs would be slimmed down to 50 pounds. These units typically deploy in small teams, along with other special operations units such as Army Green Berets and Navy SEALs.
AFSOC operators are especially enthusiastic about the soon-to-be-fielded micro-weather sensor that weighs just 3.5 pounds, compared to current gear that approaches 100 pounds. The device could be especially handy for pilots who fly in mountainous areas like Afghanistan where there are no weather stations.
The solar-powered sensors are made by Physical Optics Corp., in Torrance, California.
"The company is leaning forward and spending their own dollars to set up the manufacturing, banking on the prospect of a successful user operational assessment," said Brown. Users are impressed by how small this system is compared to the current one. "It does everything that the larger weather system does."
U.S. special operations forces are known for acquiring systems faster and more efficiently than the larger military services. The battlefield airman program, though, has to follow the procurement rules just like any other, Brown said. "Some pieces move slower than others."
Now that wearable computers are becoming more mainstream in the force, AFSOC wants to continue to develop new apps, said Ray Heath, battlefield airmen senior program analyst. An Android tactical survey kit, for instance, is being tested as a tool to help assess a drop-zone or landing area. "We are also looking at apps for jumpmasters to determine the best location to land," Heath said. Weather crews have requested an "avalanche calculation" app.
AFSOC soon will start deliveries of a wearable antenna that will be embedded into the backpack fabric. This would eliminate protruding radio antennas that make easy targets for enemy snipers. Another version of the antenna was integrated in the waistband of the body armor. An upcoming military utility assessment will test them head to head against regular antennas. If they work as promised, they may be adopted more widely across U.S. Special Operations Command, officials said. The goal is not to replace conventional antennas but to supplement them.
Wearable antennas in the past have been rejected by users for being cumbersome and prone to cable snagging. The latest models are stealthier, Heath said. "Users think it's a good idea to have low visibility. They had concerns about where the antenna is placed and how it will affect the human performance."
Photo Credit: Air Force