ROBOTICS AND AUTONOMOUS SYSTEMS
Navy's Long-Endurance Underwater Drone to Begin Deep-Ocean Navigation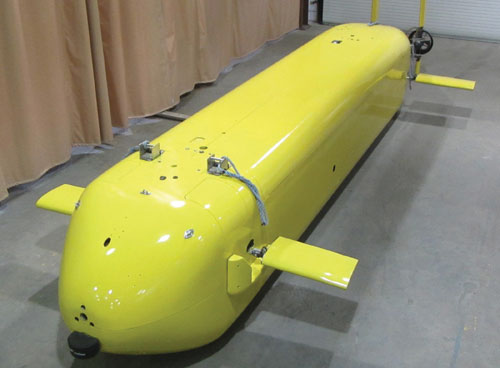 The large-displacement unmanned underwater vehicle
The Office of Naval Research's long-endurance unmanned underwater vehicle will soon begin deep-ocean navigation testing, according to the head of the office.
The large-displacement unmanned undersea vehicle, also known as the LDUUV, will embark on deep-ocean navigation testing — which is measured as traversing 900 to 1,100 nautical miles autonomously — as early as this spring, said Rear Adm. Mathias Winter, chief of ONR.
"We're really excited about LDUUV," he said at a recent conference hosted by the Association for Unmanned Vehicle Systems International.
The system has been in the works for years. It is being designed as an underwater vehicle that can travel across oceans for long periods of time without refueling.
Unmanned underwater vehicle development is a budding area of research, Secretary of the Navy Ray Mabus recently said. Finding ways to increase the endurance of such systems is of particular concern, he noted.
"Our UUVs need to be able to stay out for months at a time allowing them to observe large areas for a long period [of time] without interruption and without degradation," he said.
Mabus pointed to ONR's large-displacement unmanned undersea vehicle as one example of work the service is doing in endurance.
Winter said: LDUUV has "been a phenomenal exploration and experimentation bed that has allowed us to focus on advances of power and energy, of reliability and of autonomy and autonomous maneuvering."
ONR wants the system to be able to operate underwater for decades, he said. "Persistence is absolutely key and that persistence is about being able to stay where you need to be when you need to be there," he said.
Besides deep-ocean testing, LDUUV's next milestone is the integration of new sensors and payloads.
The Navy plans to deploy LDUUVs from a dedicated unmanned undersea vehicle squadron on an independent mission no later than 2020, Mabus said.
Simply put, UUVs can be thought of as USB sticks, Winter said. They are merely platforms that can have payloads attached to them.
"We put a very large majority of our focus … [on] that USB stick maneuverability — the autonomy of it, the reliability of it, and the power and energy to ensure that the persistence of our UUVs are being tamed," he said.
Besides LDUUV, the Office of Naval Research is working on other systems such as the Ghost Swimmer, a stealthy autonomous underwater vehicle that resembles a fish that can be used for intelligence, surveillance and reconnaissance missions, clandestine sensor positioning and as a communication relay in denied areas.
"Our Naval Research laboratory scientists studied the maneuvering and the lifestyles and the capabilities of fish," he said. "We were able to transition that … [into a] USB stick that … maneuvers, operates and sounds like nature."
While scientists have tried to create systems that emulate fish before, ONR's Ghost Swimmer is a "breakthrough" because of the work its engineers did in basic, applied and advanced material research, and new molecules and structures that were used to withstand pressures on the system's hull, Winter said.
The vehicle — which has affectionately been called "Silent Nemo" — can operate at 2 knots for 25 nautical miles while carrying 40 pounds of payload and still sound natural, he said. It is currently in the fleet undergoing tests with sailors. "We're learning from them as we always do," he said.
Mabus said the Navy also wants systems that can be used in multiple domains. During his remarks at the AUVSI conference, the secretary showed off a quadcopter known as the Kraken, a reference to the mythical sea monster that terrified sailors centuries ago. The system, which is low-cost and 3D-printed, can lurk underwater for long periods of time and then "pop up" when instructed to do so, he said. "It's pretty cool," he added.
Bryan Clark, a senior fellow at the Center for Strategic and Budgetary Assessments, a Washington, D.C.-based think tank, said unmanned undersea vehicles will be "really important to the future of undersea warfare."
"You're going to see an enormous upsurge in interest on the part of militaries and industrial users, commercial users that are looking for resources underwater or protecting infrastructure they've developed underwater," he said.
Industry is at the cusp of a new generation of systems that will have increased power and propulsion technology, he added.
Some systems "are just now making it through the science and technology [phase] that I think are going to offer the ability to have very small drones with very long endurance, and they're relatively cheap," he said. There are a few companies that are developing small systems that have the ability to traverse hundreds of miles of ocean and cost less than $10,000, he said.
If industry can continue to develop less expensive and more advanced systems, that will bode well for their increased utility in the military and commercial sectors, he said. Commercial companies will be keen to use the systems to monitor their coastal or deep-sea infrastructure, he said.
On the military side, the systems will be used for increased surveillance purposes, he noted.
"Now you're seeing the UUVs being introduced into more mainstream Navy operations undersea, so submarines are deploying UUVs and now recovering UUVs to go act as an augmentation to their sensors," he said.
Unmanned underwater vehicles have, as of late, largely been used for surveying the underwater environment, Clark said. But soon they will take on a larger role and be able to track and hunt enemy submarines, he said.
"They can't attack them, but they can track and monitor submarine operations and then even send communications back to a home office when they find something," he said. "You can use that as a trip wire if you will."
The next step will be arming UUVs, he said. They could be placed at "chokepoints" on the ocean floor, scan for enemy subs and shoot them. These types of systems are a few years away, he said.
In "maybe five years, you're going to have some of these systems at least be available in a prototype form," he said. "You're going to have the ability to have payloads that you can put on the bottom [of the sea] that could have a missile on them if you wanted to … or have the ability for them to engage military targets like ships and submarines either autonomously or with some kind of person in the loop."
The underwater drone would be able to report back to a user for authorization before launching a strike, he said. This would be aided by the improvement of underwater communications, Clark said.
UUVs can send data via acoustic signals for long distance communications or light for shorter distances, he said. "You can create a network of communications where your long-haul communications are acoustic, your short-haul communications are light-based and then you have got getaways to RF [radio frequency] buoys or via a ship," he said.
Because radio frequency signals cannot be used undersea, communication systems below the surface of the ocean will never be as fast as those in the air, he said.
"It's slower than air warfare, so it's not like in air combat where you've got seconds literally to make a decision as whether to shoot or not. Here would be, you've got minutes to make that decision, maybe tens of minutes," he said.
Peter W. Singer, a strategist and senior fellow at the New America Foundation, a Washington, D.C. think tank, said UUVs will be a critical part of undersea warfare in the future, but there are still obstacles.
Acquisition will be one issue, he noted. "It's a classic story of how do you move projects from science experiments and prototypes and making them actual programs of records," he said. "We're not there yet."
"It's not just about what can the technology do, it's acceptance within that military organization, the culture that plays in it," he said. "So far, much like in the air, unmanned systems have been viewed as a supplement to manned systems — it's something the manned system can bring into battle potentially, not as a replacement — and when it starts to become a replacement that's when you start to get the controversy."
Despite some obstacles still in the way of development, scientists are pursuing a number of different technologies, he said. The size, shape and form of UUVs are diversifying. Some are employing new power technologies, which feed off tidal forces or energy differentials on the ocean floor, he said.
Military strategists are also thinking of new ways to use the systems, including employing them in swarms — a concept where many small, inexpensive systems can overpower one large, sophisticated target, he said.
Over the past year, the Navy has put a spotlight on the development of its unmanned systems. Mabus said in late October that such technology will play a large role in future service operations. "As we look to the future, unmanned systems will continue to be a viable and growing area of our military and our capabilities," he said.
In 2015 Mabus announced the creation of a deputy assistant secretary position for unmanned systems as well as a new directorate within the office of the chief of naval operations for such systems.
"The change to the organization is a reflection of the priority that we're placing on this emerging capability and how critical it is that we have cohesive leadership for unmanned programs," Mabus said.
Photo Credit: Navy
Topics: Robotics, Unmanned Underwater Vehicles