Marines Prepare to Fight at Sea, on the Ground, From the Air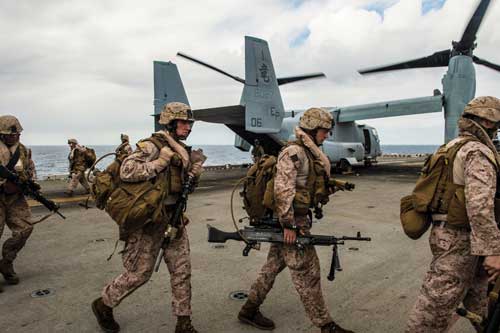 Marines disembark from an MV-22 Osprey on the flight deck of the USS Bonhomme Richard.
After more than a decade of slogging counterinsurgency warfare, the Marine Corps is preparing for the conflicts of the future. But the service is still trying to figure out how it will execute its operating concepts and counter emerging threats.
In the coming decades, Marines can expect to fight from the sea, among the littorals and in megacities, service officials said at a recent expeditionary warfare conference in Portsmouth, Virginia, hosted by the National Defense Industrial Association.
"We fought in Iraq and we fought in Afghanistan. … It was ugly and hard but I would argue that it's not going to be as tough as [what] we're going to face in the future," said Brig. Gen. J.D. Alford, commanding general of the Marine Corps Warfighting Laboratory's futures directorate.
A key threat that must be dealt with is growing anti-access/area denial capabilities being developed by potential adversaries, officials said. Those include anti-ship missiles, advanced fighter jets and air defense systems that could complicate U.S. maritime operations.
"Our Navy ships are being pushed farther and farther from the coast line," Alford noted. "We won't have the joint force there doing anything for us. The joint force will come [but] they expect us to create a hole for them. ... How do we do that?"
The Marine Corps is laboring to develop a long-term solution to that problem, said Col. Cliff Weinstein, director of the concepts and plans division at the warfighting laboratory.
"As soon as we come up with an interim answer, our adversaries … already have a solution to that or a counter to that, so we're really struggling," he said.
The Marine Corps must be capable of eliminating the anti-access threat, Alford said. "That's our mission as a Corps [is to do what's necessary to] … get the ships in closer to the coast so we can bring in real combat power."
The stealthy joint strike fighter could be called upon to lead the initial assault in such an environment.
"We've got the F-35, the invisible airplane that's going to punch a hole" by taking out enemy radar and other assets, Alford said while outlining a potential scenario. "Right behind it will be [other aircraft] … carrying a bunch of stuff to bomb heavy. Right behind that is a flight of MV-22s carrying a … company landing team. That's the kind of concept that we're trying to experiment with, that we're trying to develop."
Intelligence, surveillance and reconnaissance tools will be critical for finding and destroying enemy forces, he noted.
The Corps still needs to flesh out how it will employ the joint strike fighter, Pentagon officials said.
"We are doing well on the details of the technical integration of what it will take to launch, recover and communicate with the aircraft, but … I'm not sure we have it fully digested how the F-35 is going to change how we operate," said Marine Maj. Gen. Chris Owens, director of expeditionary warfare in the office of the chief of naval operations.
"It's going to bring command and control, ISR [and] electronic warfare capabilities to the amphibious fleet that never existed there before. But we're going to have to be able to exploit them and the information that that aircraft will provide," he added.
As potential adversaries develop their own anti-satellite, cyber and electronic warfare capabilities, U.S. forces must find ways to operate effectively in communications and computer systems-degraded environments, officials noted. That will be a key focus of exercises in 2016, Alford said.
"We're working on both the offense and defensive side" of electronic warfare, he said in an interview with National Defense. "We need to be able to do it to the enemy. So how do you reduce our [electronic] signature and highlight their signature … in particular in an urban environment where [electronic systems] are everywhere?
"I can't sit here and say we've got an answer to that problem, because we don't," he added.
The U.S. national security apparatus also needs to flesh out the different authorities needed for engaging in information warfare, he noted.
When operating ashore, Marines will need to be prepared to sustain themselves, Alford said.
"We've been spoiled in the last 14 years when we've fought from FOBs [forward operating bases]," he said. In the future "we're not going to have a FOB. … Our FOB is going to be 100 miles out to sea on a ship."
In the Pacific, Marines must be able to operate on small islands and remote places, he said. Troops might need to generate their own water and power, and forage for food or other supplies as a means of lessening logistical requirements.
"What does 21st century foraging look like?" he asked. "How do we reduce the footprint that we need to pull from that ship that's 100 miles away? We've got to think about those things."
As urbanization continues across the developing world, the Marine Corps could be faced with combat in megacities where more than 10 million people live. That would be very different than fighting in Baghdad, Alford said.
"We used to talk about the three-block and the four-block war," he said. "Now we're talking about the four-floor war, from the rooftops [of high rise buildings] to the middle to the bottom floor into the underground."
"You might be evacuating people off the roof; you might be doing some kind of security or detain ops in the middle of it on the 20th floor; down in the first and second floor you might be in full-up combat; and then you have to go down into the basement [or] underground into the sewer systems and into the subway systems to fight," he explained.
Even non-state actors are using sophisticated subterranean networks to move and hide weapons and protect themselves from airpower, noted Col. Jeff Holt, director of the Marine Corps Warfighting Laboratory's experiments division.
China, Russia and North Korea protect their assets in underground tunnels and facilities, as does the Islamic State terrorist group. "Eventually we're going to see this on the battlefield and face it," he said.
Another challenging aspect of operating in a large urban environment is the risk of civilian casualties. Such warfare might not be limited to the type of counterinsurgency fighting that the U.S. military encountered in Iraq and Afghanistan. "It could be full-up combat amongst the people," Alford said. "That's a wicked problem."
The Corps is not well prepared for megacity battles, he noted.
"Are we training for that? The answer is no," he said. "Are we developing the right equipment to fight in that environment? There's a question mark."
On the maritime side, the service is trying to determine which platforms could be used to carry out a variety of operations.
The Corps is "looking at alternative ships, alternative platforms for different ways to deploy and employ our Marines," said Jeff Tomczak, deputy director of the science and technology division at the warfighting laboratory. Many of the ships in the U.S. fleet weren't designed for the types of missions that the Corps will need to perform in the future, he said.
Some vessels don't have connectors that can move Marines from ship to shore, or appropriate landing areas for rotary wing aircraft, he noted. "In these experiments that we're doing … we exercise those different systems that are out there that the Navy brings to bear and try to find out the weaknesses."
In the future, the Marine Corps has the option of operating from afloat forward staging bases. The launch pads could support the deployment of troops or unmanned aerial vehicles, said Navy Capt. Bryon Johnson, head of the amphibious warfare branch in the office of the chief of naval operations.
The sea services are also looking at expanding the roles of auxiliary ships at the "lower end" of the spectrum of military operations. "Why not leverage that capability?" Johnson asked. "You don't need to take a $1 billion warship away from a combatant commander tasking to do a small, low-level mission" like a minor theater security cooperation engagement.
At a time when naval forces are stretched thin, the Marine Corps needs to take advantage of the expeditionary capabilities of international partners, defense officials said. One possible option would be to deploy the MV-22 on allies' ships, Johnson noted.
Wargaming with larger units will be a focus going forward, Alford said. Over the past 14 years, the warfighting laboratory has experimented with rifle company or infantry battalion-size units. In the future, those types of activities will involve all components of the Marine air-ground task force (MAGTF), he said.
The Corps envisions conducting distributed operations to overwhelm the enemy. Making squads more lethal and enabling them to carry out support functions at a lower level is a key task, Alford said.
"You bring more mass by distributing those squads and hitting multiple areas at the same time," he said. "How do they bring their own fires? How do they call [in] fires from the MAGTF? How do we make that squad leader a [joint tactical air controller] or at least a … joint fires officer? All of those issues we're wrestling with."
The service plans to conduct more exercises as it refines its operating ideas. The 31st Marine Expeditionary Unit has been selected as an experimental force for this purpose. "It's really now just starting to come together," Alford said. "The experimentation that we're going to do as we move forward is, I believe, still the most important part" of developing these concepts.
Photo Credit: Defense Dept.
Topics: Expeditionary Warfare