Marine Corps Develops Equipment Wish List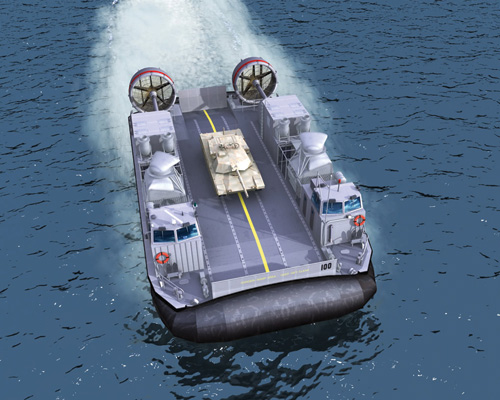 LCAC 100 concept
The Marine Corps is looking for new capabilities as it prepares to return to its amphibious roots and operate in more challenging environments.
Intelligence, surveillance and reconnaissance assets will be critical, including unmanned aerial vehicles of varying types and sizes, service officials said.
In addition to Group 1 UAVs that weigh less than 20 pounds, the Corps also needs larger, long-endurance drones to support its operations, said Brig. Gen. J.D. Alford, commanding general of the Marine Corps Warfighting Laboratory's futures directorate.
"[I want] something that stays up a long, long time, has lots of lookers/listeners, and can kill somebody when I need it to," he said at a recent National Defense Industrial Association conference. "We need help with that, and I know we've got some people working on systems that come from the sea or otherwise."
The Office of Naval Research — which develops cutting edge technologies for both the Navy and Marine Corps — has teamed up with the Defense Advanced Research Projects Agency on the tactically exploited reconnaissance node (TERN) program.
The goal of TERN is to develop a medium-altitude, long-endurance Group 4 unmanned aerial system — weighing more than 1,320 pounds — that can launch and recover from small ships or possibly even rooftops.
"It doesn't need a runway, it's vertical launch and recovery," said Jeff Tomczak, deputy director of the science and technology division at the warfighting laboratory. "When you have a Group 4 UAS that can launch from an amphib that has long-duration [and can] potentially carry weapons, ISR, stay on station a long time — that opens up the door to a lot of possibilities."
Lethal drones that are easily man-portable would also be useful for the warfighter, officials said. A Marine needs an ISR asset "in his pocket" that can kill something from the air after he launches it, Alford said.
Marine Capt. Benjamin Brewster, who recently completed an assignment as a field testing officer, said he would like an "Android-type device" with a government-owned mapping app "that steps into my UAS architecture that I have over me, whether … that's a Group 1 that I take out of my backpack and throw up in the air and it creates a local network within the area I'm operating in, or whether that ties into some sort of Group 5 UAS that's pulling off larger-band, full-motion video down to my device."
Equipping units with quadcopters that could potentially carry weapons would be useful in urban areas, officials said. But they noted that aerial systems aren't a silver bullet, which is why the Marine Corps is also interested in ground robots and other intelligence-gathering tools.
"If you have compartmentalized microenvironments within a city … you can't just fly a helicopter over [it] or a satellite or a singular reconnaissance method to get all the information you need," said Col. Cliff Weinstein, head of the concepts and plans division at the warfighting laboratory. "You have many different types of technologies that may have to be leveraged for inside buildings … [or] the subterranean environment."
Another high-tech capability that the Marine Corps is pursuing is autonomy and manned-unmanned teaming. Alford has visited robotics companies to examine their products.
"I saw a lot of cool stuff [but] most of it is not what we want or need," he said. "It's too heavy, it's too expensive, it takes too many batteries … and the average squad would just put a claymore on it and blow it up to get rid of it."
It would be ideal if "I could put a robot in my pocket and throw it on top of a building … [or] I could hook a very small piece of gear onto an ATV or a Humvee and it would follow me autonomously," he said. "That's what I need."
The Corps is looking to put "fifth domain" weapons like cyber and electromagnetic warfare devices in the hands of infantrymen, officials said.
"How do you get those offensive capabilities into the hands of those grunts? That's where we struggle," said Col. Jeff Holt, director of the experiments division at the warfighting laboratory. "I haven't seen anything that could be carried at a very small level … [or] integrated into our existing organic weapons."
The Corps is interested in potentially developing grenade launchers that can emit an electromagnetic pulse — a "non-kinetic option" for taking down adversaries' systems, he said.
Enemies are acquiring "unmanned kamikazes" that could be used to swarm Marines, and developing tools to counter them is imperative for the Corps, officials said.
"We do have a focused effort right now because [unmanned aerial systems] appear to be posing the greatest threat," Tomczak said. The service needs "the ability to detect, track, identify what it is that is out there, and then take the appropriate action, whether it be kinetic, whether it be jamming the signal or whether it be through different means to protect Marines."
The services are also developing counter-UAS capabilities and they have conducted joint exercises known as "Black Dart" to explore ways to deal with the emerging threat. Lasers, electromagnetic weapons or projectiles could be potential solutions to the enemy drone problem, officials said.
The sea services are also looking to add capabilities to existing platforms, including arming the MV-22 Osprey troop transport aircraft.
"It's a little bit frustrating," said Navy Capt. Mike McMillan, commander of amphibious squadron 8. "We put machine guns on biplanes in 1916, [but] we still haven't been able to put a viable weapon system on the V-22. I believe that we will move forward in that area" and enable the aircraft to "self escort" once they are armed.
Enhancing the capabilities of the littoral combat ship to enable it to perform more missions — including hauling troops — is under consideration. An "alternative platform payloads council" has been formed within the office of the chief of naval operations to examine that and other issues, said Navy Capt. Bryon Johnson, head of the office's amphibious warfare branch.
"Right now we're focusing on some of the technical enablers that we could put on board LCS that will enable it to do multiple mission support," he said. Officials are thinking about expanding the vessel's berthing capability so that it can carry more Marines, he added.
As the U.S. military rebalances to the Pacific region, the Department of the Navy is pushing to recapitalize its amphibious ship fleet. The primary mission of such vessels is to transport Marines and their equipment. The current inventory stands at 30. By fiscal year 2020, the sea services expect it to increase to 33, with deliveries of two additional San Antonio-class amphibious transport docks and an America-class amphibious assault ship.
The Navy also intends to move forward with the LX(R) amphibious transport dock. The vessel is likely to be a derivative of the San Antonio-class LPD, officials said. A capability development document has been submitted to the joint staff, and the Navy plans to award a competitive lead ship design/construction contract in fiscal year 2020. The delivery of the first LX(R)s is planned for fiscal year 2026, with 10 more expected to follow.
The Navy and Marine Corps would like to have 38 amphibious ships, but budget constraints make that a tall order, said Maj. Gen. Chris Owens, director of expeditionary warfare within the office of the chief of naval operations.
In addition to larger transports, the sea services need more connectors to bring Marines to the fight. The Navy is investing money in sustaining and extending the service life of the legacy landing craft air cushion fleet. It aims to accelerate plans to acquire new LCAC 100s in the 2020s as well as new landing craft utility ships. The LCU 1700, also known as the surface connector X replacement, is expected to be a "modified repeat" of the legacy design, officials said. In November, Naval Sea Systems Command sent out a request for information to industry regarding potential LCU 1700 capabilities.
"The connectors are and always will be our bottleneck for getting stuff ship to shore," Owens said. "We will never have enough."
"I would like to see [a ship] that will haul additional connectors to the fight," he added. Owens noted that the military has a seagoing ferry that can haul five LCACs, but he would like a vessel that can handle 15. "That would ease the bottleneck in getting a mobilized, mechanized force ashore and be able to continue on to the objective once it gets ashore and not wait on the beach for the refuelers to arrive and the sustainment to follow it."
To help Marines storm the beaches, the Corps is moving forward with its amphibious combat vehicle program. The service recently announced a downselect to two vendors — BAE Systems and SAIC. The two companies were awarded contracts to build 13 prototypes. The first delivery is expected by the fall of 2016, when testing and evaluation is slated to begin.
"We're going to focus on the swim capability," John Garner, program manager for advanced amphibious assault, told reporters when the downselect was announced. The ACV 1.1 is expected to be transportable by connectors and have the same swimming ability as the legacy amphibious assault vehicles, which can travel in water at speeds up to 10 nautical miles per hour.
The Corps will also test the ACV 1.1's ground mobility and carry capabilities, as well as its armor. The service is looking for the platform to provide protection from improvised explosive devices, similar to the mine-resistant ambush protected vehicles that earned fame during the Iraq War.
The final winner of the low-rate initial production contract will be decided in early 2018, with initial operating capability expected by the end of 2020, the Marine Corps said in a news release announcing the downselect. The service expects to field 204 ACV 1.1s by the summer of 2023.
The testing phase for the ACV 1.1 will inform requirements for the follow-on ACV 1.2, officials said. The Corps wants the latter to be capable of being launched and recovered from ships independently. Initial operating capability for ACV 1.2 is expected in late 2023, Garner said. The service plans to buy 490 of them, with a mix of personnel, command-and-control and recovery variants.
The Marine Corps ultimately seeks amphibious combat vehicles that can be launched from ships beyond the horizon, swim at high speed toward a landing area, and continue to fight on land with enough armor to protect troops from IEDs and other threats.
The sea services are focused on keeping program costs under control and ship deliveries on schedule, Owens said. "I'm confident that we have a good plan, a good program for replacing our amphibious ships and our connectors, but keeping it on track is going to be the challenge" due to budget constraints and other potential hurdles.
Photo: Textron Systems
Topics: Shipbuilding, Surface Ships, Robotics