ROBOTICS AND AUTONOMOUS SYSTEMS
Civilian Sector Could Lure Military Drone Pilots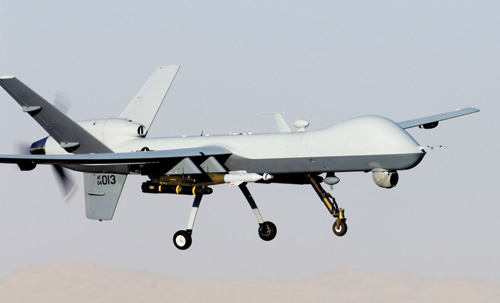 MQ-9 Reaper
The Air Force has been suffering a shortage of unmanned aerial vehicle pilots and is looking to contractors operating government-owned systems as a way to address that problem. However, a senior official said those more lucrative civilian jobs could potentially entice airmen to retire.
Contractor pilots "do great work," said Gen. Herbert "Hawk" Carlisle, the commander of Air Combat Command. Both the contracted company and the service "do a very good job of vetting the talent and quality of these folks," he noted, adding that the majority are former military.
However, there are drawbacks to expanding the use of private contractors that could poach military talent. "One of the concerns I have is I'm trying to build an enterprise in the United States Air Force and there are very lucrative civilian jobs for these young men and women," said Carlisle. But "I would like to keep them in my Air Force."
Over the last decade the service has been operating at surge capacity with its MQ-1 Predators and MQ-9 Reapers, according to officials. In order to meet combatant command requirements, the service increased combat air patrols for Predators and Reapers nine times in the last eight years, and has sustained those operations to date. These actions have resulted in the current strain on the service's pilots.
The objective of contracting some of the work out to private companies is to enhance Air Force capabilities where they are needed most, Carlisle said.
"We're using [contractor pilots] in an ISR role, and we are taking advantage of trying to provide more capability to combatant commanders," he said. This is especially important as the demand signal continues to grow with U.S. operations in Afghanistan, Yemen, Libya and Africa as well as the campaign to counter the Islamic State, he noted.
Another way the Air Force is looking to reduce strain on its remotely piloted aircraft pilots is by decreasing the number of combat air patrols, according to Lt. Gen. Robert Otto, Air Force deputy chief of staff for intelligence, surveillance and reconnaissance. At a conference in October he said many of the pilots are getting burnt out after working 12-hour shifts, six days a week. To address that problem the service reduced the number of combat air patrols from 65 to 60 within the Air Force. Over time the number will be built back up with the Army contributing 16 patrols and contractors flying government-owned aircraft adding 10 more. This will raise the total amount of daily combat air patrols to 86, providing significant capability, Otto said.
Photo: Air Force
Topics: Robotics