Budget Deal Won't End Defense Funding Debate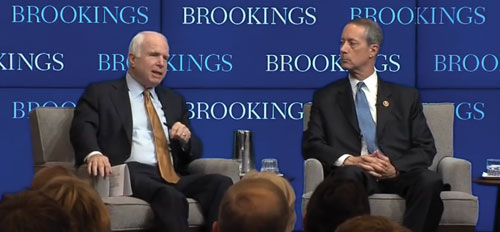 Powerful lawmakers will seek a higher topline for defense than what was agreed upon in the recent Bipartisan Budget Act of 2015, according to a senior congressional staffer.
The pact lifted sequestration caps and increased base funding levels for defense — including defense-related programs not administered by the Defense Department — to $551 billion in fiscal year 2017, with an additional $59 billion for overseas contingency operations.
"With respect to Congress … I think that where we will end up as we begin the budgeting for next year is probably fighting about moving that topline up," said Christian Brose, staff director for the Senate Armed Services Committee, during a recent panel discussion at the Center for Strategic and International Studies.
Observers can expect the chairmen of the Senate and House Armed Services Committees — Sen. John McCain, R-Ariz., and Rep. Mac Thornberry, R-Texas — to "absolutely be arguing for greater funding for defense" for fiscal year 2017, Brose said.
Election year politics and world events like the terrorist attacks in Paris could fuel arguments for more military spending, panelists said.
Brose anticipates that defense hawks will win out.
"These [budget] fights that we've been having are coming out increasingly in favor of those who believe we need more defense spending," he noted. "That's ultimately what we saw this year, and I'm sure that will continue in the next year."
Other panelists didn't expect a major breach of the bipartisan budget framework.
"There are many voices in Congress that will say, 'Stick to the deal,'" said former Defense Department Comptroller Tina Jonas. "My prediction is we will come up someplace around … the marks in the budget deal at the end of next year, [with] maybe a little fudging here or there."
The president's budget request for fiscal year 2017, expected to be released in February, will likely adhere to the agreement, said Steve Kosiak, former associate director for defense and international affairs at the Office of Management and Budget.
"I expect they will submit a budget that at its core is consistent with the budget agreement," he said. It's possible that the White House will ask for more supplemental funding, but "it's less likely than it was when they did it … [in the past] because this is a deal they really negotiated. It's not something that the Hill negotiated and they signed up to."
Photo: Brookings Institute
Topics: Defense Department, DOD Budget