Affordable Surveillance a Priority for Special Operations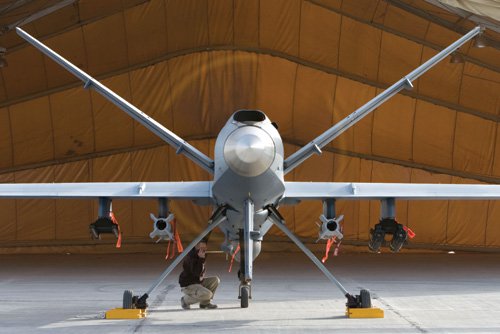 MQ-9 Reaper
U.S. Special Operations Command is looking to add more affordable surveillance, intelligence and reconnaissance systems to its inventory, the head of acquisition and procurement said.
"Affordable ISR is a need," said James Geurts during a National Defense Industrial Association breakfast. "We've got great ISR, but the demand always outpaces the capability," and the platforms can be expensive.
The unit cost for an MQ-9 Reaper armed surveillance drone is $64.2 million in fiscal year 2006 dollars. A unit includes four aircraft, sensors, ground control stations and communication systems, according to an Air Force fact sheet.
The current approach to unmanned aerial systems is not scalable over the long term when it comes to affordability, he later told National Defense in an interview. "We have many more sensing requirements than we could ever afford to put large, very exquisitely capable [unmanned aerial systems] against."
The command is looking for a full range of capabilities, from simple to sophisticated, that would allow the special operator to apply the right tool to the right mission in a more affordable way, Geurts said. "I envision the full range from something you can put in your hand or your pocket, something you can put in your backpack, something you can put in the trunk of your vehicle, something that" needs a runway.
Everything is being considered — from a micro-sized unmanned aerial vehicle weighing 20 pounds or less, up to an MQ-9 sized capability, which weighs 4,900 pounds without a payload, he said.
Part of the command's ISR strategy is to continue to drive down the price of large systems while looking for more readily producible, easier to operate platforms that would enable special operations forces to put more sensors on the battlefield and work better with allies, Geurts said. U.S. relations with international partners have become increasingly important in dealing with threats posed by adversaries and terrorist groups like the Islamic State.
There are other advantages to using less expensive systems, he said. They "could be quieter. They could be more discreet. They could operate in smaller spaces — all those would address challenges we may have with just a fleet of large, very exquisitely capable, but not always as flexible" systems.
A need that goes hand-in-hand with wider use of small unmanned aerial systems is sensor miniaturization, Geurts said. "There are a number of existing smaller UAS out there so we're also looking at how do I miniaturize sensors, how do I continue to push towards MQ-9-like capabilities on smaller platforms?"
Another challenge with sensors is that many come with the UAV built around them as opposed to having platforms with "plug-and-play" architectures that can be altered by adding or removing them, he said. "Modularity, miniaturization [and] plug-and-play architectures allow us to more affordably tailor the payloads on the aircraft for the mission we have as opposed to buying a different aircraft for every different sensing mission."
Modularity in these systems is also important because it enables special operations forces to work in a multitude of environments, he added. They are "widely deployed in countries all over the world and environments all over the world, so we've got to make sure our capabilities can be useful in tropical canopy jungles, in wide maritime environments, all the way up to Arctic environments."
Systems that SOCOM builds need to be flexible, adaptable and proficient. "If I can have some aircraft in a variety of sizes, from handheld to the larger MQ-9 and higher, and I can transition sensors in there as I need for the mission, now that becomes scalable, affordable," Geurts said.
However, the platform itself is not the only way that SOCOM is looking to save money. "I'm looking at affordability from a couple different directions," the acquisition chief said. "One is certainly budget affordability, but there's also affordability in how much infrastructure does it take to operate and how many people have to operate it."
Determining the best way to process and analyze data once it comes off ISR platforms is a huge cost driver that many observers forget about, Geurts said. Manpower has a significant price tag, and SOCOM is looking at how a machine can perform automatic processing duties to reduce the workload on service members, he said.
Gen. Herbert "Hawk" Carlisle, commander of Air Combat Command, said the question of how to use data that is off boarded from unmanned aerial systems is the greatest ISR problem, not affordability. "The biggest challenge we face is how much data we get off the systems," he said. "How do we get all of that information … even from the platforms that are not designated primarily ISR but have great ISR capabilities" such as the F-22 and the F-35?
The military needs to more effectively take advantage of the abundance of data and find smarter ways to sift through it, he noted. "How much of it falls to the cutting room floor that we never get a chance to look at because there's so much of it?"
Another key problem is determining how to best share that information with allies, Carlisle noted. "In many cases, it's a question of how do you take the data you get and make it available at a classification level that they can use and is of value to them."
Special operations forces are looking for solutions to these problems in military labs.
Pamela Melroy, deputy director of the tactical technology office at the Defense Advanced Research Projects Agency, said the lab's tactically exploited reconnaissance node (TERN) program could address the growing need for more affordable intelligence, surveillance and reconnaissance.
"We really think that TERN, because … you don't need a forward operating base, is incredibly powerful in that area," Melroy said at an Association for Unmanned Vehicle Systems International conference.
The objective for TERN, which is a joint effort between DARPA and the Office of Naval Research, is to develop a medium-altitude, long-endurance unmanned aerial system that can launch off the decks of small vessels such as littoral combat ships or guided missile destroyers, Melroy said.
The agency envisions TERN being used to provide persistent surveillance from any ship anywhere in the world. "It allows us to extend our ISR capability over a much greater percentage of the world without worrying about forward operating bases," which come with their own set of challenges, Melroy said.
The program is entering its third and final phase. In the previous phase, two companies — Northrop Grumman and AeroVironment — were awarded $19 million contracts. In September 2015, AeroVironment announced that it had not been selected for a phase three contract. As of press time, DARPA had not confirmed that Northrop was the winner of the contract, which would require the company to build a full-scale demonstrator. A DARPA spokesperson said the agency anticipates a contract announcement in early 2016, if not sooner.
Melroy said affordable ISR is not just a special operations requirement but is a need across all four services.
Affordable intelligence, surveillance and reconnaissance becomes more important as the military enters new battle spaces, she said. "I think especially in denied areas, it's incredibly important."
The Air Force Research Laboratory is also addressing this need. The programs it has in place are meant to make ISR operations "more agile, affordable and responsive in a changing environment," said William Baldygo, ISR deputy capability lead for the lab's sensors directorate.
The "agile manufacturing for ISR" program is developing a sensor pod for aircraft called "AgilePod." It "is being designed and built using new techniques to save costs, and its reconfigurable design allows for more flexible and efficient use by potentially mounting several sensors in one pod," he said in an email. In production this unit would be expected to cost about 30 percent less than a traditional pod, he added.
AgilePod is currently being built and an initial flight demonstration is planned for 2016, Baldygo said. "The potential benefits to the warfighter include improved readiness of equipment, faster turnaround time leading to a higher sortie rate and additional multi-INT [multi-intelligence] ISR collection due to the multiple sensor capability."
The "low cost attritable airframe technologies" program is a separate project investigating the use of small drones as ISR assets. While the aircraft "is intended to be reusable, the main design feature is that it should be cheap enough so that it would not be a major blow if one were lost," he said. The challenge for the program is achieving higher performance in these smaller, low-cost systems while still maintaining affordability, he noted. "This kind of aircraft would be extremely useful for intelligence collection in hostile or potentially hostile airspace."
To address the challenge of maximizing the information that is off boarded by UAVs — an issue raised by both Carlisle and Geurts — the laboratory created an experimental program with a three-step process for identifying emerging concepts and technologies related to intelligence exploitation, according to Baldygo.
Program personnel first collect data on current user practices and identify areas for improvement, develop capabilities to fill the gaps, and then evaluate the new technology in real-world scenarios. The process "can prevent wasted time and effort on projects that are not ready yet or that the warfighter does not need," he said. "It is also possible to find fairly low-cost solutions and make sure that they are widely used."
In addition to the service labs, SOCOM is asking private companies to develop solutions to address this requirement. "We're doing a number of CRADAs — cooperative R&D agreements — which allows an industry partner who's working on a potential sensor or element of this to bring it to us early in their development cycle," Geurts said. It is one of the best ways to work with those companies, he added. "We get to see something early in the process and provide our feedback, [and] the industry partner gets to get our feedback early in the design so they can take that into consideration as they mature their product to bring it to market."
SOCOM currently has an agreement in place with Draper Laboratory, a nonprofit research-and-development company. "In an effort to capitalize on existing size, weight and power for unmanned aerial systems, Draper worked with SOCOM to help determine the art of the possible by conducting an evaluation on potential solutions" for drone imaging devices, said Navy Lt. Cmdr. Matthew Allen, a spokesperson for the command.
Draper was provided with information regarding technical challenges associated with smaller UAVs and the operational uses for those systems on the battlefield.
"These exchanges under the CRADA led to SOCOM investment into a developmental effort to build a UAS imager that will have the potential to reduce the volume and weight and still maintain similar capability" to larger systems, he said.
Photo: Air Force
Topics: C4ISR, Special Operations-Low Intensity Conflict, Robotics