U.S. Government Looks to Mitigate Space Congestion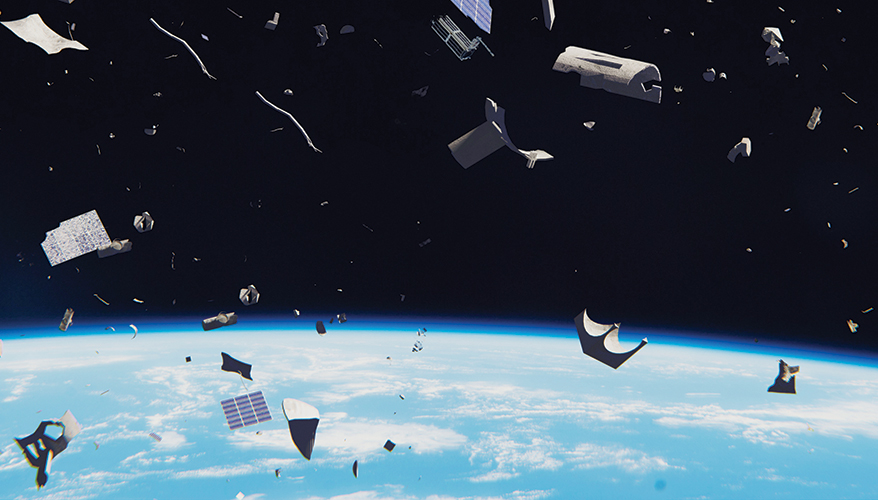 Photo: iStock
With growing space congestion and plans for companies to launch thousands of additional satellites into orbit, the federal government is taking steps to manage a swell of space systems and orbiting space junk.
The Defense Department currently tracks more than 20,000 objects in space. With that number likely to increase, President Donald Trump signed a third space policy directive, SPD-3, last year. The order calls upon the Commerce Department to manage debris mitigation efforts, space traffic and create a new protocol of standard practices for safe space operations.
"The volume and location of orbital debris are growing threats to space activities," the directive said. "It is in the interest of all to minimize new debris and mitigate effects of existing debris."
The order was drafted by the National Space Council and announced by Vice President Mike Pence.
"This new policy directs the Department of Commerce to provide a basic level of space situational awareness, for public and private use based on the space catalog compiled by the Department of Defense," Pence said last April during the Space Symposium in Colorado Springs, Colorado.
The Commerce Department has started coordinating with relevant agencies to discuss setting standards for orbital debris mitigation, a spokesperson told National Defense.
It has also opened a dialogue with those in the commercial space industry to gain understanding of its current and future needs.
The department — in conjunction with its office of space commerce — hosted the Risks and Opportunities Space Summit in March 2019 to discuss space insurance, situational awareness technology and orbital debris strategies with industry, a department spokesperson said.
The spokesperson declined to provide any further information.
Although the directive to mitigate space congestion is new, the conversation about space traffic management began in 2006 after the first comprehensive academic paper on the issue was published by the International Academy of Astronautics, said Theresa Hitchens, senior research associate at the Center for International Security Studies at the University of Maryland.
The paper, "Cosmic Study on Space Traffic Management," laid out the problems of space traffic and the framework for how one could develop a management regime from a national or international level, Hitchens said.
"Pretty much the entire conversation going on right now, whether it be a national conversation at the Department of Commerce … [or] the discussions at the UN level, are based on the concepts that are included in that paper," she said.
Moving forward, the Commerce Department has many things to grapple with as it develops a space traffic management system, Hitchens said. The first being the amount of data it is able to obtain from the Defense Department, because most of the sensors that currently track satellites are owned by the military, she noted.
The Pentagon does not share certain data about where U.S. spy satellites are positioned, she said.
Although that information is kept under wraps, Hitchens noted she could find most U.S. spy satellites with a telescope purchased at Target. Those spacecraft are also tracked by other nations and amateur astronomers.
"We're keeping things secret that really aren't secret," she added.
Another issue is how much freedom the Commerce Department will be allotted to either hire private companies or build its own capabilities to track objects in space and aggregate that data, she said.
"In other words, is the Commerce Department going to be able to gather new data and share more data than the Defense Department currently can?" she said.
The data the Pentagon is sharing now is not enough for U.S. space operators to make educated decisions about whether they need to move their satellites, Hitchens noted.
"The data that the DoD shares is so general and so vague that it doesn't give operators the tools they need to make the decision," she said.
One of the main reasons the United States decided to switch commercial space tracking management responsibility to the Commerce Department was because the Pentagon could not share all of its data, Hitchens said. "But if its secrecy requirements are going to be imposed on the Commerce Department, it's going to tie the Commerce Department's hands."
The department will begin working on ways to streamline regulations to encourage U.S. commercial satellite operators and incentivize participation in the space marketplace, Hitchens said.
It will also be tasked with creating regulations for remote proximity operations, which include the mission of active debris removal.
"Under what circumstances can a company remove debris?" Hitchens asked. "Does it have to get permission from the satellite owner or operator?"
The Outer Space Treaty, an agreement that began in 1967 and forms the basis of international space law, says that if an object is put into space by a nation, that nation owns it, even if it has broken up into thousands of pieces of debris, Hitchens noted.
"There is Russian debris, American debris — that is owned by the [respective] government," she said. "A question that will have to be addressed is, will companies in the future have the legal right to remove that debris?"
In an effort to address issues surrounding the satellite servicing industry, which includes remote proximity operations and debris removal, the Defense Advanced Research Projects Agency created an initiative known as the Consortium for Execution of Rendezvous and Servicing Operations, or CONFERS. Its goal is to develop standards and best practices for safe and sustainable remote proximity operations and on-orbit satellite servicing.
Brian Weeden, director of program planning for the Secure World Foundation, which is part of a team that won a contract from DARPA to establish the consortium, said the initiative officially opened for membership last spring.
Twenty-four companies, which range from larger businesses such as Airbus to smaller startups, are currently members, he said.
"We have two or three members … who are trying to develop technology to go and remove space debris," Weeden said.
Businesses developing megaconstellations, even if they generally have reliable satellites, will put some on orbit that will ultimately fail, he said. Those companies would be interested in removing dead satellites because they would likely be in the constellation's operational orbit, he noted.
CONFERS has published two documents outlining best practices for conducting satellite servicing.
They have "many more details about how a commercial operator should design and operate their spacecraft to meet those high level principles," Weeden said.
Among other issues the Commerce Department will be dealing with are space tracking and the development of better collision-warning capabilities. That not only includes the ability to locate objects but to also predict where they will be in the future, Hitchens said.
"This requires very sophisticated software, software models and predictability models," she said. "This is all mathematical because right now we don't have the capability — nor are we going to have it anytime in the near future — to watch every single satellite 24/7."
Meanwhile, the Air Force is working with Lockheed Martin to develop a Space Fence, which is a ground-based space surveillance system that will be used to track satellites and space debris.
"With hundreds of thousands of objects in Earth orbit, space debris and the associated risk of potential collisions threaten space-based assets and critical systems that merit protection," Steve Bruce, Lockheed Martin vice president of advanced systems, said in a company statement.
Lockheed Martin was put under contract to build the radar in 2014. It will be located on Kwajalein Atoll in the Marshall Islands and is slated to be operational later this year.
"We are about to activate the new Space Fence. That's going to provide some situational awareness," Gen. John Raymond, commander of Air Force Space Command, said in February during remarks at the Air Force Association's Air Warfare Symposium in Orlando, Florida.
The radar is also designed to improve timeliness with which operators can detect space events that could pose threats to satellites, according to Lockheed Martin.
Although the Commerce Department will manage space traffic, the Air Force will still manage space situational awareness, Raymond said.
"There is a difference between situational awareness and space traffic management," Raymond said. "Space situational awareness is a military necessity to make sure you have the situational awareness you need or the domain awareness that you need to conduct operations.
"We are going to transition the space traffic management to the Department of Commerce and we are going to focus our airmen, our fighters, on space situational awareness," he added.
Meanwhile, in February, Trump signed a directive to begin the process for establishing a new armed service — the United States Space Force. Congressional approval is required before a new military branch can be created. The initiative is expected to be a high profile issue as lawmakers work on their fiscal year 2020 national defense authorization bills.
It is not yet clear what role a space force might play in collaborating with the Commerce Department on its space-related efforts.
Topics: Space